Looking to start a new vacation tradition with your friends or extended clan? Planning a big event, like a wedding or family reunion? Here's all the inspiration you need to make your perfect getaway happen this year.

That's Just Grand
Are you ready for a trip that'll inspire you to take the scenic route like never before? There's something that'll wow everyone in your clan on the Grand Canyon Railway! With multiple departures every day from historic Williams, Arizona, you can skip the traffic (and parking!) and Make a Grand Trip the Grandest on a day trip to this majestic park. Sip a cocktail as you watch the scenery change from high desert to prairie to pine, smiling as the kids listen to folklore and music that brings the Old West to life. And stay in the recently renovated Grand Canyon Railway & Hotel for a good night's sleep after your grand adventure.
For a more private, upscale experience to help you celebrate a wedding, anniversary, retirement, family reunion, or other milestone moment, you can charter one of the newly refurbished Rail Baron trains: The open-air rear platform car (The Kansas) can accommodate 18 day passengers or six overnight guests; a parlor and lounge car (The Utah) can entertain 26 guests and has an onboard kitchen and bar; and a sleeper car (The California) can accommodate 44 guests during the day or 16 overnight and also includes a second-story glass dome top with sofa seating for stargazing. Simply hire your car (or cars!) of choice, choose a steam or diesel locomotive, and take off for the canyon 30 minutes before or after the departure of a normally scheduled train. You can also go big with a completely private charter on your own schedule.
During the holidays, don't miss Grand Canyon Railway's Polar Express, a 90-minute ride to "the North Pole." You'll sip hot chocolate and listen to the timeless Christmas story as servers dance and sing along to the music before Santa gets on the train. It's the perfect way to start the season—and start a family tradition you'll all look forward to year after year.

Ride, Retreat, Repeat
Active travel is important to many travelers—and that's especially true for Sarah Pyper, who teaches Pilates, yoga, indoor cycling, strength, and stretch classes. That's one of the reasons why VBT bike trips appealed to her from the start. "I went on my first VBT bike trip and quickly learned that they really are for anyone at any age and any fitness level," says Pyper. Case in point: Pyper recently took a VBT trip to France with her 85-year-old father and 22-year-old daughter. After a few trips with family members, Pyper started taking advantage of VBT's Group Travel Program. "I had a couple rough years and needed to reboot and reinvent myself," she says. "And as I worked to get my feet back on the ground, many of my friends and students started confiding in me about the challenges and transitions happening in their lives, too. When she'd mention how life-changing her VBT trips had been, they were interested in joining. Which is how she started organizing trips of her own.
Bonus: Pyper's own trip is free if she has 11 people in her group; if that number goes up to 17 people, she gets two free trips—plus the vacation is exclusively for their group. On each trip, Pyper teaches a fitness class before breakfast (typically yoga, Pilates, or stretch) to anyone in her group who'd like to join.
"I keep a VBT catalog on my coffee table and often flip through it, bending the corners of the pages and marking my bucket list," she says. "After group trips, I reach out to everyone and ask, 'Where do you want to go next?' while everyone is still experiencing post-trip bliss. Then we start planning next year's trip!"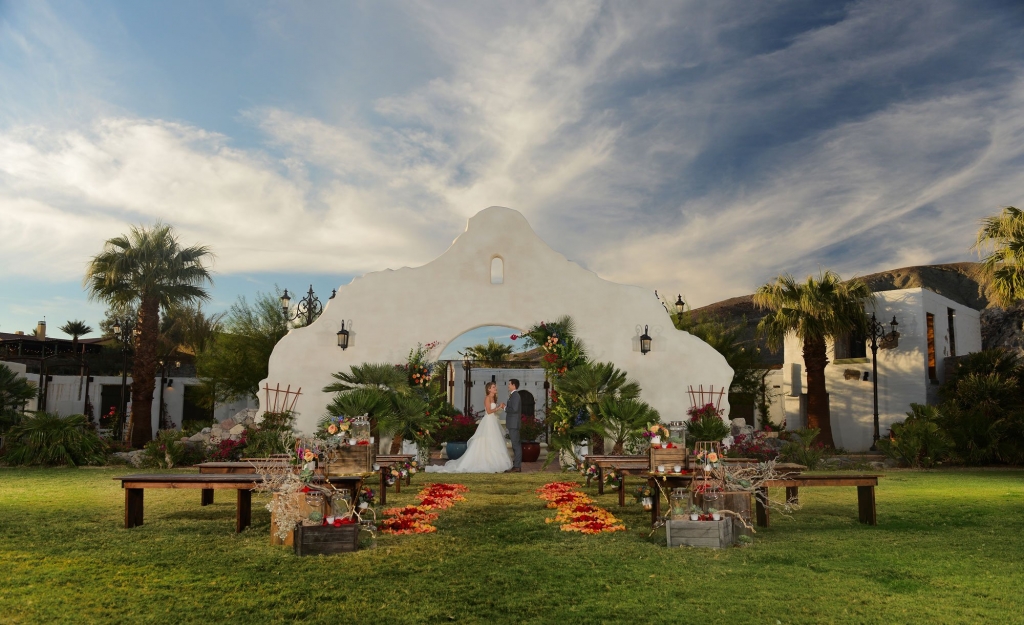 Love Is in the Air
When Kaci Jolson and her now-husband, Nick, started looking for a dream wedding location, Death Valley was an early front-runner. "The year we got engaged, Nick ran the Death Valley marathon and was excited about the possibility of us getting married in the desert," says Jolson. And while Jolson admits she was a little skeptical of getting married in the desert at first, she was all in the moment she saw The Oasis at Death Valley and met with the team who'd help them plan their big day. "After that, I was hooked—we both were," says Jolson. "We were so excited to have our wedding at this amazing resort, and we also couldn't wait for all of our friends and family to experience The Oasis at Death Valley, too."
Everything about the Jolsons' ceremony and reception was personal. "We customized drinks for every location," says Jolson. "We had special drinks during our cocktail hour on the Stargazing Deck and others for our reception in the Oasis Room. Nick even named each of them." In the weeks leading up to their wedding, Nick made 1,000 colorful origami cranes that he hung from the Bell Tower in the Mission Gardens, where they had their wedding ceremony. "Seeing them hung just the way he wanted as I walked down the aisle was so beautiful," she says. "It was just so special."
After the wedding, the couple honeymooned at El Tovar in the Grand Canyon. "We had a suite with a big wraparound deck, from which we could see the park, and ordered room service all week, ate out on the deck, and strolled along the South Rim," says Jolson. "It was the perfect way to relax and just be together as a happy, newly married couple."
For more travel experiences to Beautiful Places on Earth™ available from Xanterra Travel Collection® and its affiliated properties, visit xanterra.com/explore.