5 Death Valley Hikes That Should Be on Your Bucket List Now
The Best Hikes in Death Valley to Challenge Your Body (and Mind)
During a stay at The Oasis at Death Valley, challenge your body and give your brain a workout, too, on hikes that lead to close-up looks of Death Valley's remarkable geology and incomparable panoramas of the country's most dramatic desert landscape.
With hiking trails for visitors of all fitness levels, Death Valley National Park is definitely a place to explore on foot. As vast as the park may be (it's the largest in the Lower 48), hiking Death Valley can become surprisingly intimate when you leave the car behind and power yourself through canyons, up ridgelines, and even along the rim of a volcano. Talk about a fun and scenic way to get in your daily 10,000 steps!
While you can definitely get a nice workout at The Inn at Death Valley's new and improved exercise room (or in the spring-fed pool), it's no secret that walking is an essential part of any fitness regimen. Whether you're out for an easy stroll or a more rigorous hike, walking is the perfect way to get your heart pumping without putting too much stress on the joints.
Not only is it beneficial to the body, enhancing cardiovascular fitness and limiting weight gain, walking is good for our minds too.
So during a stay at The Oasis at Death Valley, challenge your body and give your brain a workout, too, on hikes that lead to close-up looks of Death Valley's remarkable geology and incomparable panoramas of the country's most dramatic desert landscape.
Here are five hikes that show off the diversity of Death Valley's terrain. Be sure to carry adequate water and snacks for each hiker and before heading out, check at the National Park Service's visitor center for current conditions.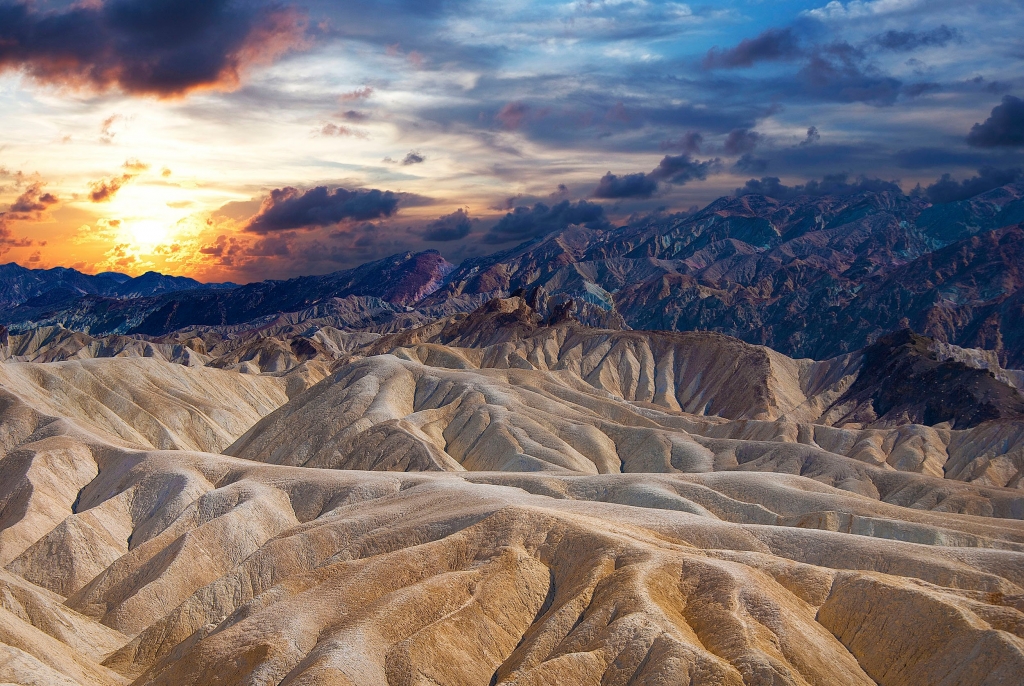 Wake Up and Walk the Badlands
One of the highlights of any Death Valley trip is to catch sunrise at Zabriskie Point, the famed overlook less than 10 minutes south of The Oasis at Death Valley. Once you've watched the starkly beautiful badlands turn violet, pink, and gold with the dawn, it's time to go down and explore this dramatically eroded terrain. The 2.7-mile Badlands Loop descends from the point and leads through a labyrinth of water- and wind-carved sediments, originally laid down as part of an ancient lakebed (yes, Death Valley was once covered by water). The slopes are virtually devoid of vegetation but especially under the soft morning light, this is one of the national park's most stunning places for a hike.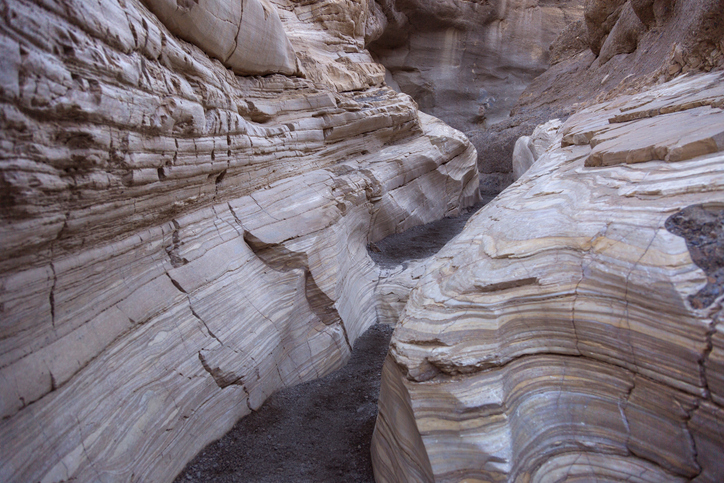 A Canyon With Polish
The hike into Mosaic Canyon leads through areas of exposed marble and breccia (the mosaic-like embedded rock fragments in breccia give the canyon its name). While not super hard, these rocks are far more substantial than the loose sediments of the badlands below Zabriskie Point.The hike begins at the end of an unpaved road just beyond Stovepipe Wells and about 30 miles from The Oasis at Death Valley. There's no formal trail but just follow the footprints through the wash and the route soon narrows down to an area of rock polished to a remarkable smoothness by gravel and small stones that course through the canyon during flash floods. You can head about two miles into the canyon by either climbing or working your way up or around a few dryfalls along the way. Eventually you'll reach a dryfall that's impassable; turn around from here for a roughly four-mile round-trip hike.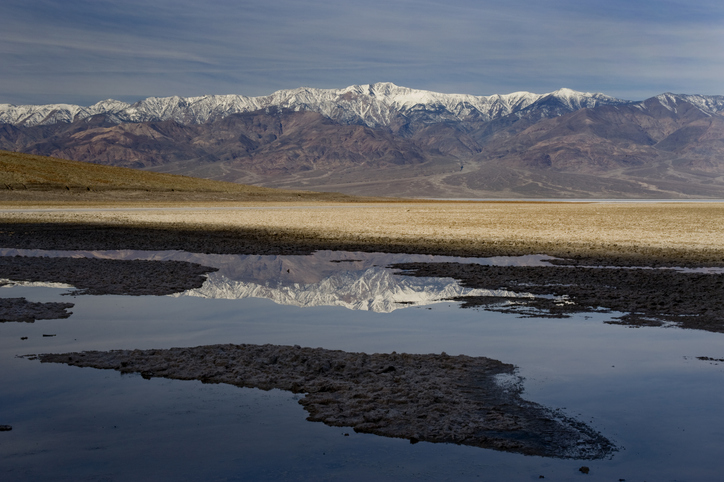 Valley Low, Mountain High
Although many tourists come to Death Valley to visit Badwater Basin, the lowest point in North America at 282 feet below sea level, most of them have no idea that the park also encompasses high-country areas that climb to more than 11,000 feet.But that prominent snow-capped summit that you can see across the valley from the inn is 11,049-foot Telescope Peak, the park's highest point. You won't want to hike Telescope Peak in winter. However, once the snow melts, the challenging 14-mile round trip to the summit is a bucket list-worthy experience.
The trail begins from Mahagony Flat Campground, a good 2-1/2 hours from the inn (like we said, this is a big park). The route ascends 3,000 feet through both forested areas and exposed, unshaded slopes on the way to the peak. The payoffs for all of your efforts are many and varied: incomparable views of Death Valley, glimpses of ancient bristlecone pines (among the world's oldest living things), and bragging rights. After all, you've made it to the top of a mountain more than two miles above the valley floor.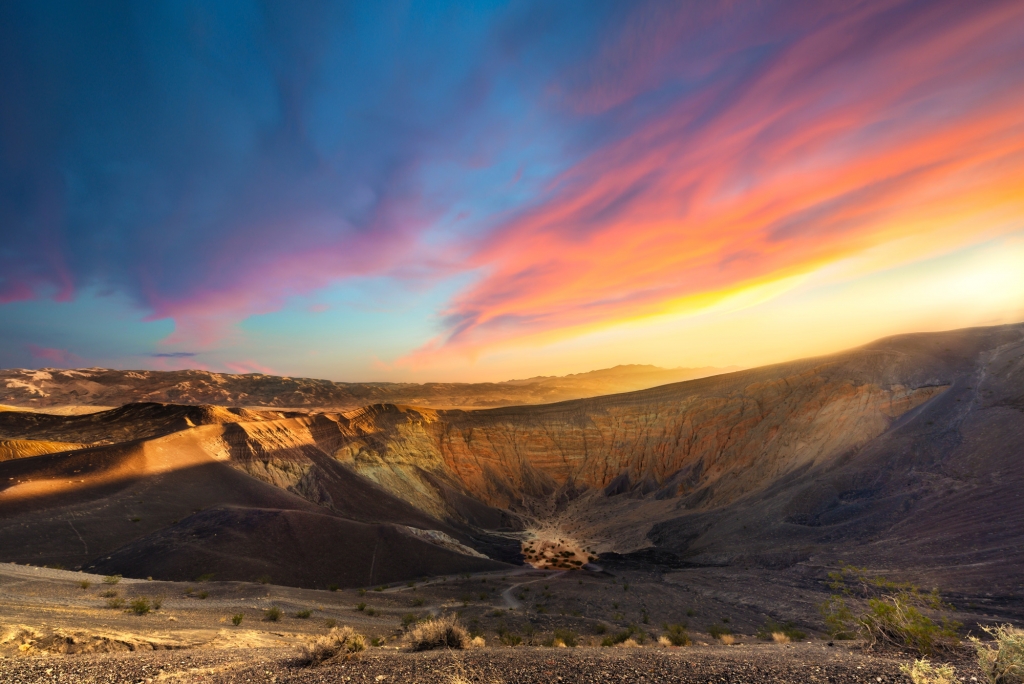 Atop the Volcano
You don't have to be a geology nerd to understand and appreciate Ubehebe Crater, about 75 minutes north of the resort. With its round shape and defined rim, not to mention the half-mile-wide crater's craggy, 600-foot maw, you would never mistake Ubehebe for anything other than a volcano.Part of a field of 13 craters in the northern part of the park, Ubehebe was created about 2,100 years ago as rising magma came into contact with groundwater and set off a massive steam eruption that sent debris over a 15-mile area. A 1-1/2-mile trail follows the rim, offering great views into the crater's depths and of the surrounding desert terrain.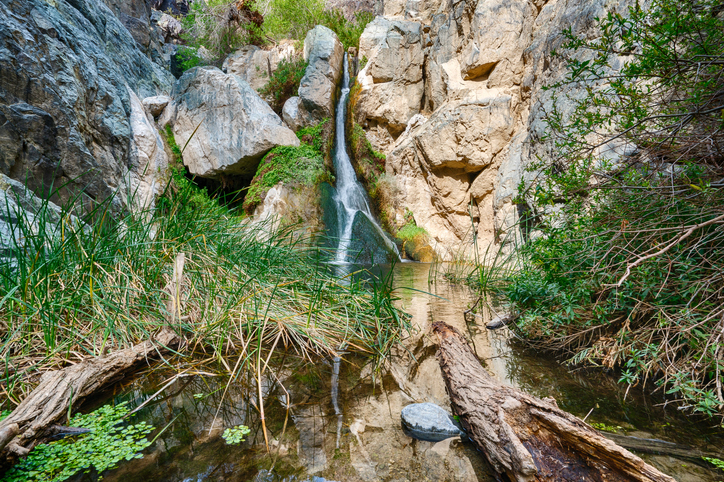 No Mirage: A Desert Waterfall
Although it's a good 60 miles from the Oasis at Death Valley, Darwin Falls in the park's Panamint Springs area on State Highway 190 is one of the best hikes in Death Valley and well worth the drive. After all, there aren't many places in the Mojave Desert where you can see a waterfall.
But fed by a spring, this modest cascade flows year-round, plunging down a mossy rock face and into a most undesert-like grotto fringed by willows. The waterfall that you can see is actually just a small section of a much taller waterfall that begins higher up. The two-mile round-trip hike isn't especially challenging but does involve several crossings of the shallow, narrow stream.
How to Explore
The Oasis at Death Valley is situated in a lush oasis surrounded by the vast and arid desert of Death Valley National Park — just 120 miles northwest of Las Vegas and 275 miles northeast of Los Angeles. The resort encompasses two hotels — the historic AAA Four Diamond, 88-room Inn at Death Valley and the family-oriented, 224-room Ranch at Death Valley. The entire resort went through a complete renaissance with an extensive renovation in 2018. It includes natural spring-fed pools, an 18-hole golf course, horse and carriage rides, world-renowned stargazing, and is surrounded by Death Valley National Park's main attractions. For information and reservations, visit The Oasis at Death Valley or call 800-236-7916.
For more travel experiences to Beautiful Places on Earth™ available from Xanterra Travel Collection® and its affiliated properties, visit xanterra.com/stories.