5 Myths About Death Valley
No, it's not all dry, drab and lifeless, as you might expect
Maybe it's the ominous-sounding name, but Death Valley National Park inspires endless myths. Site of the hottest temperature ever recorded on Earth and also North America's driest location, Death Valley certainly comes by some of its reputation honestly, especially during summer. But many people don't realize that this national park is a kind of desert paradise for much of the year, with ideal temperatures and a stark beauty like nowhere else in the world.Here, we debunk five common misperceptions.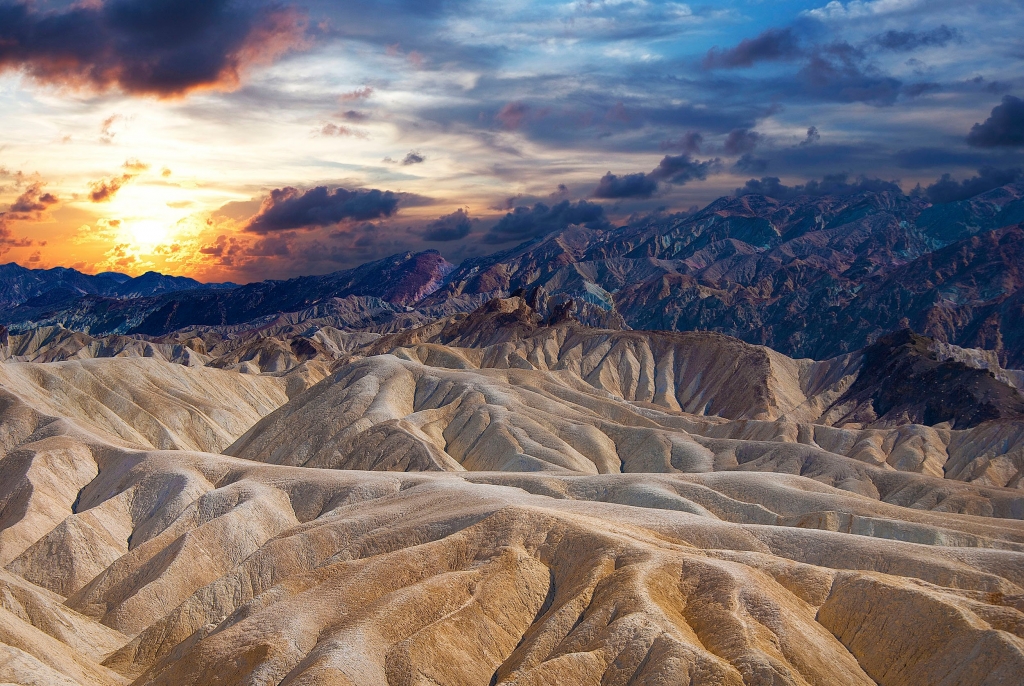 Myth 1: It's Drab and Colorless
The fastest way to undercut this misconception is to take any doubters up to Zabriskie Point, just six minutes from The Inn at Death Valley, right around sunrise. As the morning light reaches Manley Beacon, the prominent triangular peak in the badlands below the point, the rock brightens to a brilliant gold. And across the valley, the towering Panamint Range comes aglow with pinks and reds.
While Death Valley is at its most colorful at dawn and sunset, in places the exposed geology reveals the vivid shades of rock formations throughout the park.
Head down Badwater Road south of the resort and hike into Golden Canyon (named for the rich color of its fine-grained sedimentary rock) and you'll reach the elaborate Red Cathedral, a landmark that gets its rusty cast from the oxidized iron in the stone.
Or take a ride along Artist's Drive and to reach the unforgettable Artist's Palette. Death Valley colorless? Not at this geological masterpiece, where the badlands are dabbed with reds, purples, and even greens.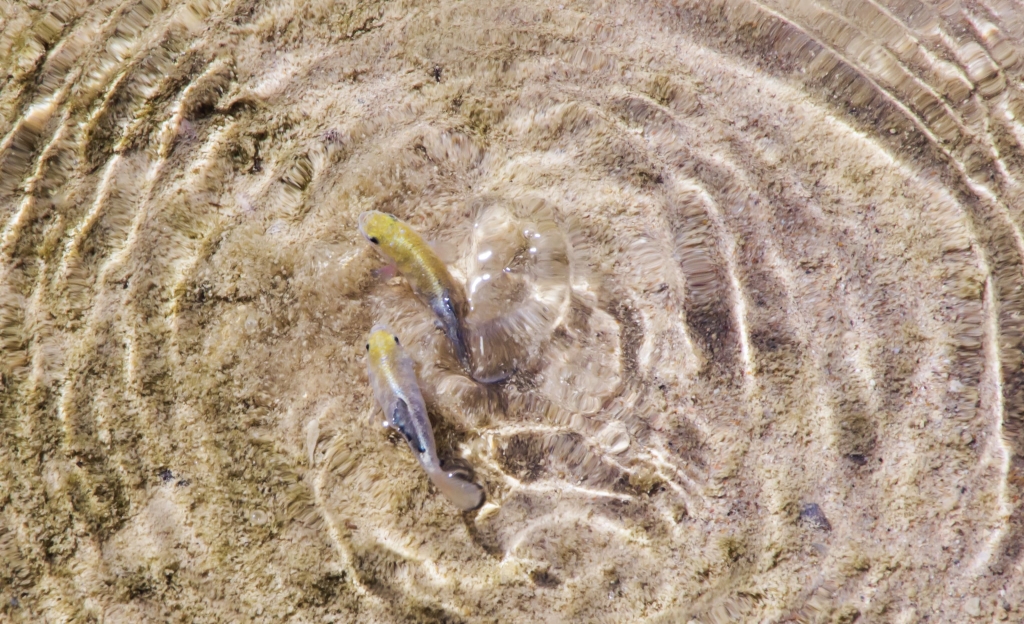 Myth 2: There's No Water
Granted, Death Valley used to be much, much wetter. In fact, a 100-mile-long, 600-foot-deep body of water named Lake Manly inundated the valley during the Ice Age. More recently a series of shallower lakes have also occasionally filled the valley.
Plenty of people still marvel at the winter of 2005, when heavy rains filled Badwater Basin with so much water that kayakers could paddle for miles along the desert floor. Although Death Valley is notoriously dry, the occasional storms that reach the area can be powerful, resulting in flash floods that carve the park's famous canyons.
The big rain years and flooding events are certainly rare. But even today, you can walk the boardwalk along Salt Creek, a seasonal stream off Highway 190, and see rare pupfish, remnant species from wetter times in Death Valley. And if you know where to look, you'll find hundreds of modest spring-fed seeps scattered around the park. In fact, The Oasis at Death Valley is part of one of these natural oases; the resort depends on and carefully manages water from a subterranean aquifer between Furnace Creek and Zabriskie Point for its pools and golf course.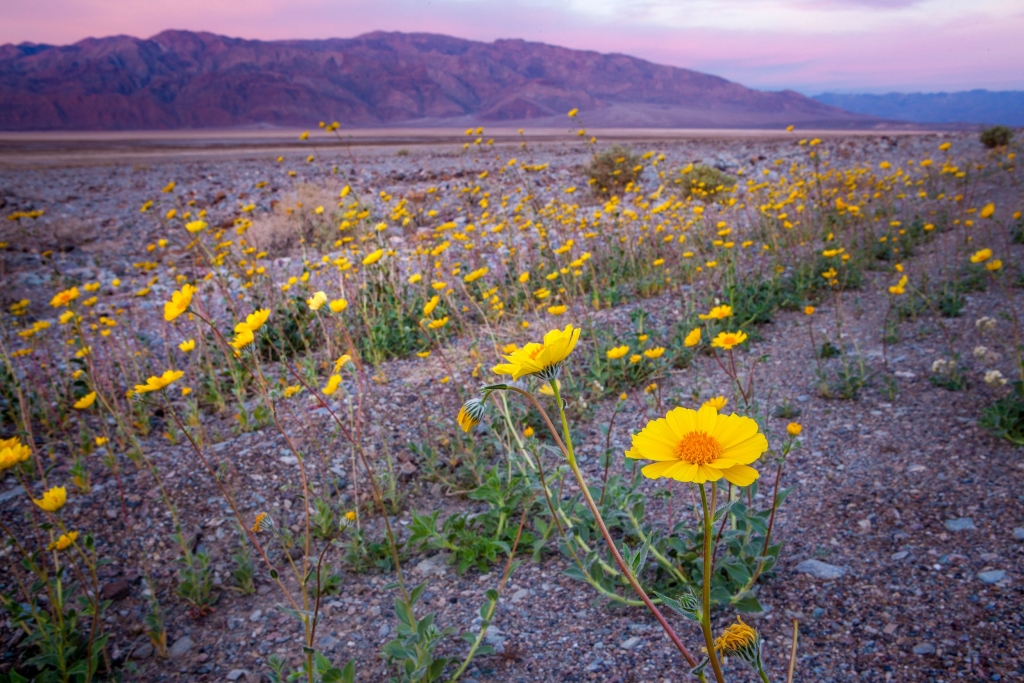 Myth 3: Nothing Grows Here
It's true that Death Valley poses a challenging environment for most plants, especially along the valley floor's barren saltpan. Even so, a number of species have found a way to survive the harsh conditions found in many parts of the national park, including pickleweed, the hardy denizen of marshy areas below sea level.
With elevations ranging from -282 feet at Badwater to 11,049 feet at Telescope Peak, the park is a surprisingly varied place. More than 1,000 plant species grow, from creosote at the lowest elevations to Joshua trees at Lee Flat and bristlecone pines in the higher mountains, which annually average 15 inches of rain.
In the right year with well-timed rainfall, Death Valley's wildflowers can put on a spectacular show, as desert gold carpets sections of the valley floor, while orange bear poppy and pink sand verbena splash more color throughout the park.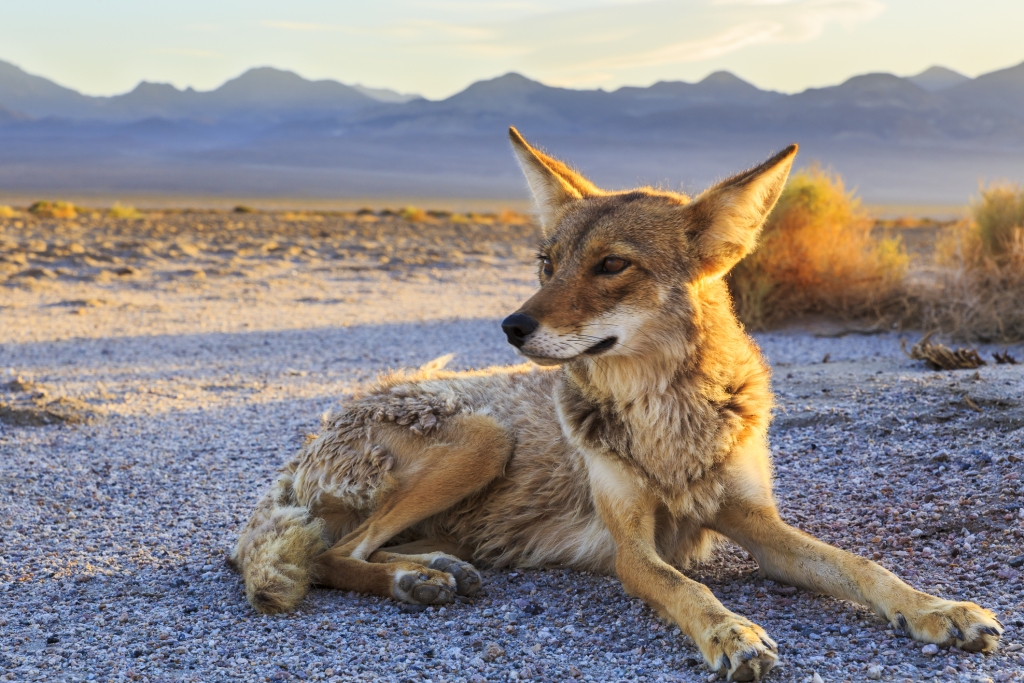 Myth 4: It's Lifeless
Go out to the Mesquite Flat Sand Dunes early in the morning and you'll see irrefutable evidence that a variety of wildlife has adapted to Death Valley's extremes.
All sorts of animals have etched fresh tracks into the soft sands of this Sahara-like expanse: coyotes, kit foxes, jackrabbits, and kangaroo rats. The kangaroo rats are so uniquely adapted to the arid conditions that they can survive on the moisture from seeds and plants. These tough little creatures may go their entire lives without ever drinking water.
At the park's higher elevations, you might spot desert bighorn sheep deftly working their way up steep, rocky slopes, while mountain lions, though present, are more reclusive. Amazingly, Death Valley also supports populations of amphibians, including the Pacific treefrog, which lives in areas with water sources, including around Furnace Creek. Survivors of the days when Death Valley was covered by water, five different species of tiny pupfish are hanging on during these decidedly drier times. Less surprisingly, Death Valley is also a reptile paradise, where nearly 40 species thrive, including Mojave Desert sidewinder snakes and desert iguanas.
With both numerous resident birds and hundreds of other species passing through during migratory seasons, savvy birders know that Death Valley offers all sorts of spotting opportunities. Even casual observers are bound to see plenty of roadrunners. The Oasis at Death Valley does its part to support the area's bird populations and other wildlife. The environmental efforts at The Furnace Creek Golf Course at Death Valley earned the facility designation as a Certified Audubon Cooperative Sanctuary from the Audubon Society.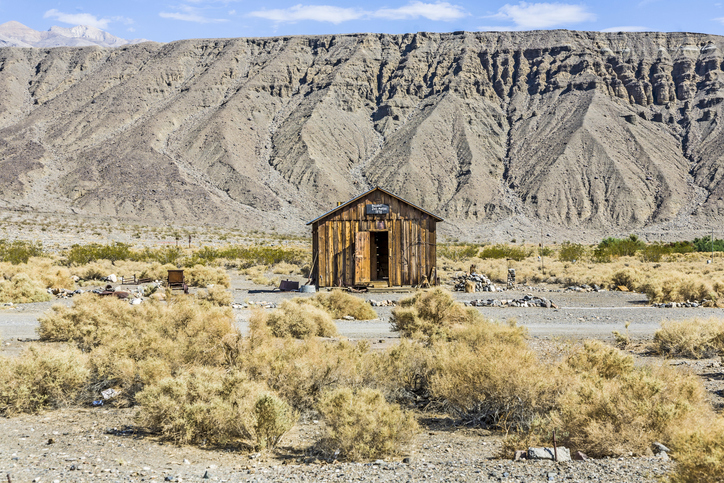 Myth 5: There's No Human History
Just as a diverse assortment of wildlife has managed to figure out survival strategies in the desert, an eclectic group of people have lived and worked in Death Valley.
Some folks, like the pioneers in wagon trains, arrived here accidentally and suffered great tragedy. But miners and prospectors came to the valley in search of treasure, while plenty of desert rats appreciated the solitude that the area provided.
Indeed, eccentrics just seem to come to come with the territory, none more so than Walter (Death Valley Scotty) Scott. He was the Wild West showman (and likely con man) who built Scotty's Castle, the famous Mission Revival landmark in the northern part of the park that's now being renovated following devastating flash floods in October 2015.
For a millennium before outsiders ventured here, the ancestors of today's Death Valley Timbisha Shoshone Band of California called the area home. They carved out an existence, ranging from the valley and into the surrounding mountains to find food sources. Members of the tribe still live in a small village near Furnace Creek.
How to Explore
The Oasis at Death Valley is situated in a lush oasis surrounded by the vast and arid desert of Death Valley National Park — just 120 miles northwest of Las Vegas and 275 miles northeast of Los Angeles. The resort encompasses two hotels — the historic AAA Four Diamond, 66-room Inn at Death Valley and the family-oriented, 224-room Ranch at Death Valley. The entire resort recently underwent a complete renaissance with an extensive renovation. The property includes natural spring-fed pools, an 18-hole golf course, horse and carriage rides, world-renowned stargazing, and is surrounded by Death Valley National Park's main attractions. For information and reservations, visit oasisatdeathvalley.com or call 800-236-7916.
For more travel experiences to Beautiful Places on Earth™ available from Xanterra Travel Collection® and its affiliated properties, visit xanterra.com/explore.