5 Secret Reasons to Visit National Parks in Winter
Fewer crowds, dramatic scenery, great wildlife viewing and so much more
Winter is a magical time in our country's national parks, when snowy landscapes showcase nature's serene beauty, when typically crowded trails become tranquil pathways, and when the cold weather ensures fewer people are jostling to take in the spectacular views .It's called the secret season for good reason.
Winter also provide an opportunity to explore the parks on cross-country skis or snowshoes and to witness wildlife in a new way. Indeed, winter provides a totally different perspective of the park experience — one that you may even have all to yourself, if you're lucky. Here are the best reasons to explore the national parks in winter.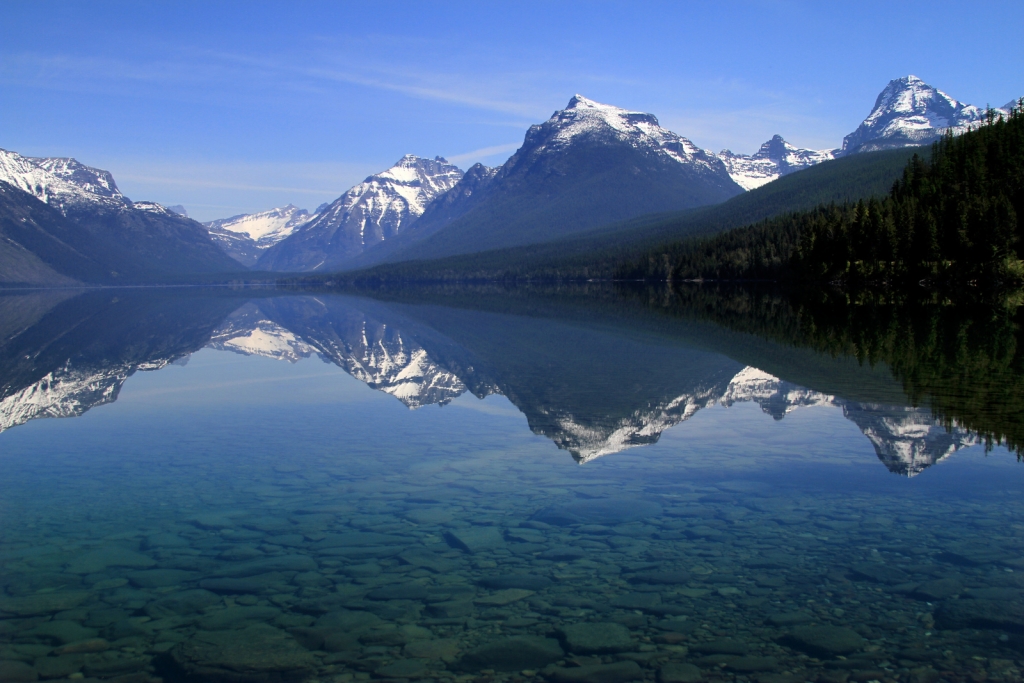 Spectacular Scenery
Winter brings a cool blanket of snow that gives the already beautiful landscape a pristine and serene feeling. There's a kind of hush all over the land that sprawls to the far horizon.
In Grand Canyon National Park, for example, fog can affect visibility the rest of the year. But the winter months offer considerably clearer skies, which enhances the views substantially. Mountain peaks some 200 miles away can be visible from some viewing spots on a clear winter day. In Zion National Park, majestic red rock canyons sparkle when it snows, becoming even more dramatic when shrouded in white. But since Zion Canyon is located at a low elevation where temperatures are relatively mild, snow seldom reaches the canyon floor.
In Yellowstone, Glacier, and Rocky Mountain national parks, the landscapes become even more striking against winter's icy backdrop, when the muted light bathes all in an ethereal glow. Yellowstone's famous geysers appear even more stunning in the cool air. And Yellowstone offers its famous guided snowcoach tours to shuttle visitors around the park in winter.
On the other hand, don't expect snow in Death Valley National Park, except for on its mountain peaks. Instead, pleasant winter weather of comfortable days and cool nights offer the perfect escape when the rest of the country is shivering. Indeed, winter is the best time to visit the "hottest place on earth," when the low angled light makes this desert landscape more beautiful than ever. Plus, whenever it rains then, the chances improve for a spectacular wildflower season, which can begin as early as late February.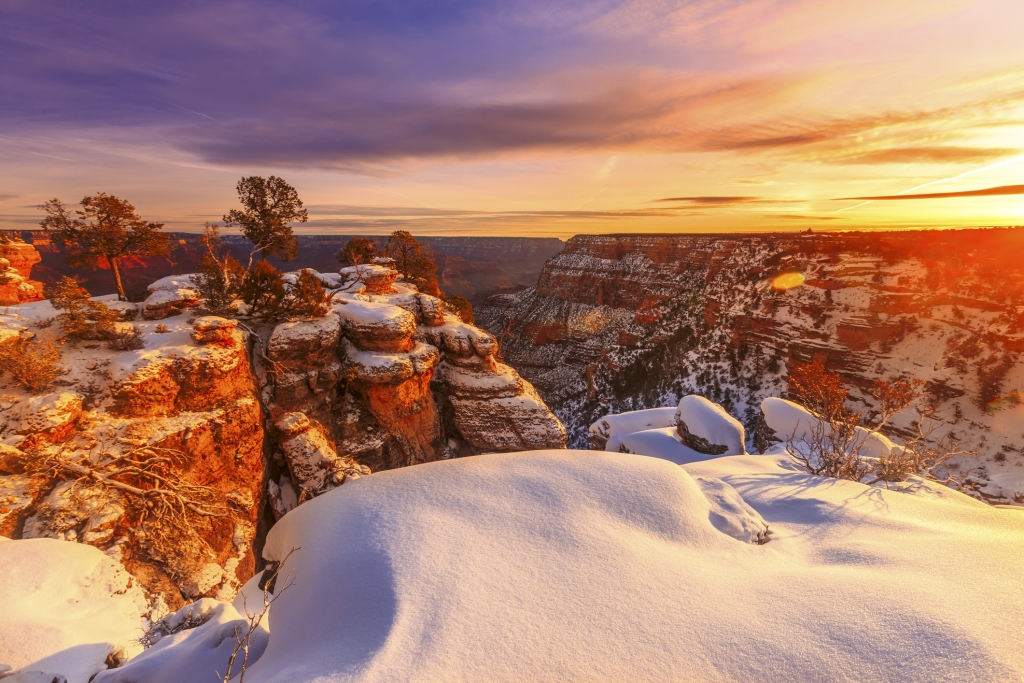 Fewer People
Frigid winter weather in parks like Glacier, Grand Canyon, Rocky Mountain, and Yellowstone may be a deterrence to many visitors, but it guarantees a slower pace and more peace and solitude than in peak periods. True park aficionados love this time, when they can commune with nature undisturbed and untrammeled by the masses. With only a handful of people on park trails, it can feel like you have them all to yourself.
Grand Canyon, for example, sees less than 10 percent of the number of annual visitors in winter. Mount Rushmore National Memorial sees only 5 percent of the visitors during December-March that typically come in July or August, even though the Black Hills of South Dakota are quite temperate in winter. That means you'll be one of the lucky few to see the iconic memorial without hoards of tourists.
Best of all, with the exception of the Christmas holidays, securing lodging and restaurant reservations can be easier in those parks that offer winter facilities, such as Grand Canyon, Yellowstone, and Zion. Yellowstone, for example, has two winter lodges — Old Faithful Snow Lodge and Mammoth Hot Springs.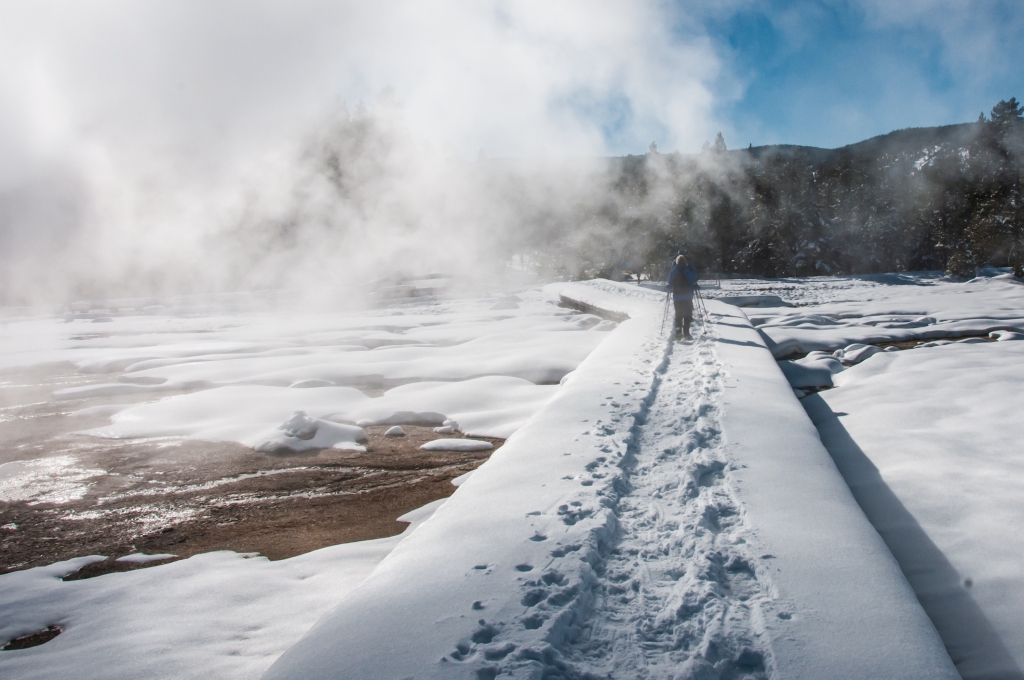 Winter Sports
Winter is the time to strap on your cross-country skis or snowshoes and head onto the parks' snow-packed trails. Snowshoeing and cross-country skiing are wonderful ways to experience off-the-beaten-path spots. The simple, yet efficient, snowshoe enables you to stride comfortably over untouched paths without getting stuck in snow. Yellowstone, for example, is paradise for cross-country aficionados with more than 100 miles of ski trails for all ability levels and the roads are groomed for snowmobiles (and snowcoaches). You can even take a whirl around Yellowstone's ice rinks.
While most of Glacier National Park shuts down in the winter months, there are still plenty of trails for snowshoeing and cross-country skiing. Rocky Mountain National Park, meanwhile, boasts world-class snowshoeing, sledding, and hiking in its numerous peaks. And backcountry skiers can cut through the landmark continental divide.
Although Zion, too, offers cross-country skiing and snowshoeing, it also has great hiking and biking in winter due to milder temperatures — just like Death Valley. In Death Valley, you can hike, bike, and horseback ride through the dramatic desert terrain and swim or even play golf at the lowest-elevation course in the world at the Oasis at Death Valley resort.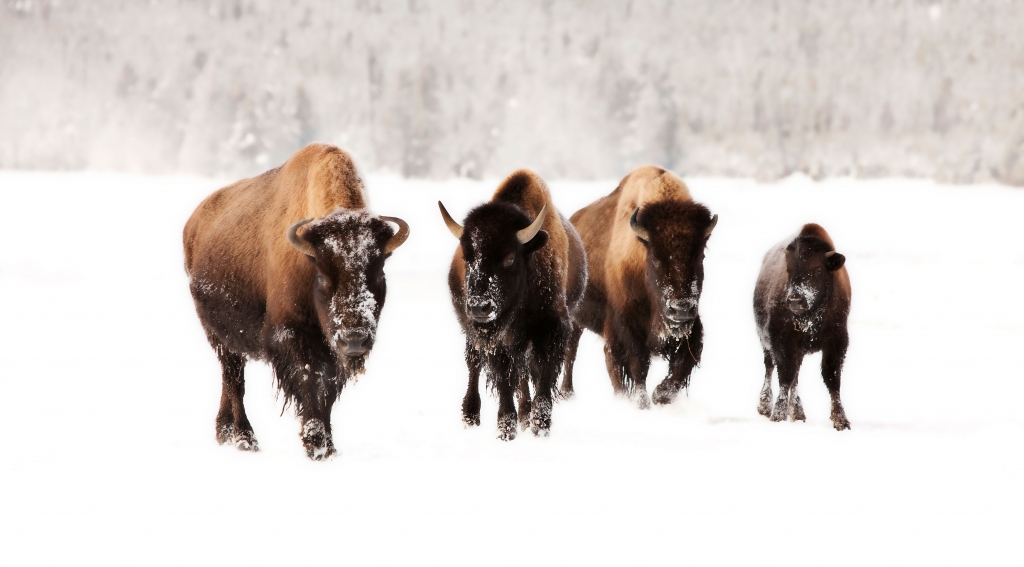 Wildlife Viewing
Bison and wolves and elk, oh my! Winter brings some of the best wildlife-viewing opportunities in the parks, when the heightened contrast against the snowy scenery makes the animals more visible — especially the larger mammals. Although bears take to their dens for a long winter's nap, other creatures are up and about, foraging for food. Plus, their frozen footprints make them easier to track.
In Yellowstone, for example, watch for bison herds trekking through the snow, their breath steamy in the frigid air. They sometimes convene near the park's thermal features for an impromptu steam bath. Elk, moose, and other ungulates can be spotted against the pristine white landscape. Yellowstone's famous wolves are in their heyday in winter. With their woolly coats, long legs, and large fleshy paws, they do well in deep snow. Not up for trekking around yourself? You can always try wildlife watching from the comfort and warmth of a snowcoach.
Wildlife is abundant in Zion, and visible as you drive through Zion Canyon and explore the park's trails. Mule deer appear frequently on the grounds around Zion Lodge. A wide variety of songbirds stay in the park during winter, along with hawks and eagles. Small mammals, such as rabbits, are also common.
In Grand Canyon, you may see mule deer, elk, rock squirrels, and other creatures foraging among the ponderosa pine forests and traipsing through fresh snow. California condors, ravens, and bald eagles can be spotted soaring above the canyon rims.
Despite its aridness — it's considered the driest spot in North America — Death Valley boasts more than 400 animal species native to the park, including dozens of reptiles, 51 different mammals (such as desert bighorn sheep) and, amazingly, even six kinds of fish. You never know what you'll see, so keep your eyes open for roadrunners zooming across the highway and coyotes feeding on fallen fruit in the date palm groves of The Oasis at Death Valley resort.

Stargazing
Since national parks are some of the last remaining sanctuaries for pristine night skies, it's no surprise that some stand out for their excellent stargazing. Because of the dry, clear air, stargazing at Death Valley is legendary. The largest Dark Sky Park in the U.S., classified Gold Tier by the International Dark-Sky Association, it hosts several astronomical events during the cold months when constellations, planets, deep-sky objects, meteor showers, and even galaxies like the increasingly hard-to-spot Milky Way are spectacularly visible. They include star parties, moonlight horseback rides provided by Furnace Creek Stables, and Mars Fest in February.Grand Canyon's night skies are also exceptionally dark, classifying it as a Dark Sky Park and making it heaven for stargazers. Two favorites spots on the South Rim are: Yavapai Point overlook, a short stroll from Grand Canyon Village, and Lipan Point, a Desert View Drive spot with pristine views of the Milky Way and constellations. At either park, stargazing is an awe-filled throwback to prehistoric times.
No matter which park you choose, after visiting in winter, you may never consider the more crowded summer months again.
Stay in one of the unique lodging options in the parks managed by the Xanterra Travel Collection®. Staying in the parks is the best way for visitors to experience all they have to offer and to take advantage of the tours and activities provided by Certified Interpretive Guides. For more travel experiences available from the Xanterra Travel Collection® and its affiliated properties, visit xanterra.com/stories.