Eat Outdoors: Best Picnic Spots in Yellowstone
These places offer idyllic al fresco dining
Yogi Bear elevated picnicking in Jellystone Park to high art. But although the popular cartoon character claimed to be smarter than the average bear, he has nothing on real-life denizens of Yellowstone National Park, who can point the way to idyllic al fresco dining spots.
Yellowstone boasts 52 designated picnic areas with tables. A few even have grills. Some considerations before you pack the picnic basket: Cooking is permitted only on self-contained charcoal grills or on cook stoves. Open fires aren't allowed except in areas with fire grates. Don't feed wildlife. Store edibles in the car to avoid attracting animals. And be certain to pack out everything you packed in — including food scraps. Also note that most sites are equipped only with primitive toilets that lack running water.
Here are some of our favorite spots to enjoy an outdoor meal in Yellowstone's spectacular surroundings.
At Yellowstone Lake
Steamboat Point Picnic Area offers epic views from the north shore of Yellowstone Lake. Pick up some grab-and-go fare from Lake Lodge Cafeteria or Lake Hotel Deli, or order box lunches, then head east on East Entrance Road. The four-table area is a wonderful spot to catch the sunset. Nearby alternatives: Fishing Bridge and Sedge Bay picnic areas.
Near Old Faithful
After watching Old Faithful work its magic, stoke your appetite with a trek along the boardwalk that leads to adjacent geothermal wonders. Then pick up some sandwiches from the Bear Paw Deli at the Old Faithful Inn or Geyser Grill at the Old Faithful Snow Lodge (open early May to early October) and head south to the 10-table Delacy Creek Picnic Area. Nearby alternatives: Spring Creek and East Lot picnic areas.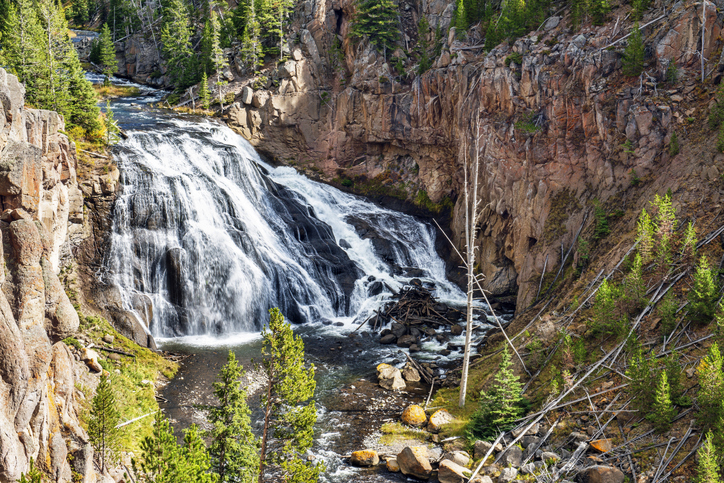 Near Norris Geyser Basin
Gibbon Meadows Picnic Area lies in a flat meadow with an edging of forest on the Gibbon River. It's popular among both fly fishers and grazing elk. After lunch, make the short drive south toward Gibbon Falls, where a half-mile loop trail is suitable for all skill levels. The picnic area has 10 tables. Beforehand, stock up on grub at the Canyon Lodge Falls Cafe, about 15 miles east of Norris. Nearby alternatives sites: Norris Meadows and Caldera Rim picnic areas.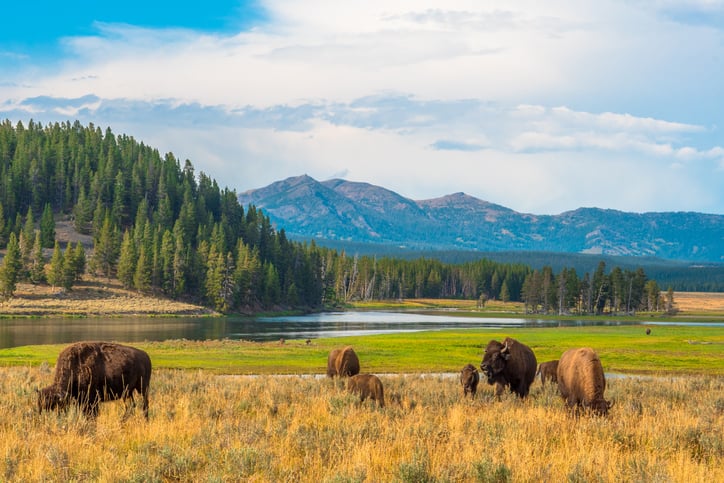 In Hayden Valley
The 20-table Nez Perce Ford Picnic Area in Yellowstone's wildlife-rich Hayden Valley makes for a fine venue for an early morning breakfast, when animals are most active. You're likely to see bison and maybe even some pelicans fishing for breakfast in the Yellowstone River. Be certain to maintain your distance (at least 25 yards) from bison, especially during the August mating season. Nearby alternatives: Cascade and LeHardy Rapids picnic areas.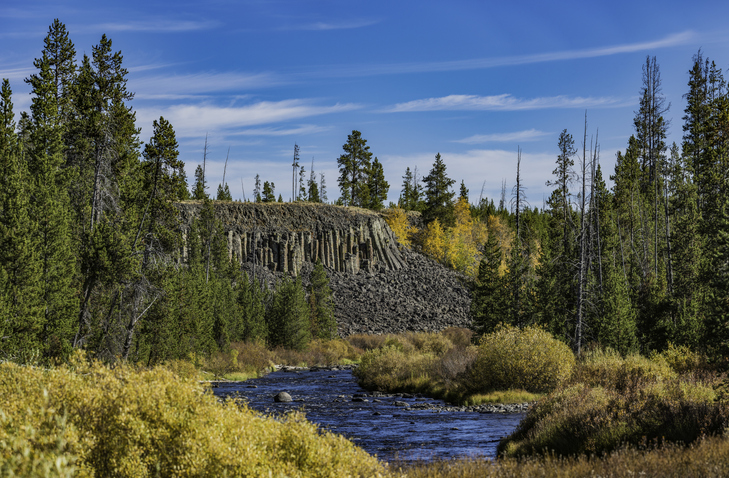 Near Mammoth Hot Springs
Sheepeater Cliff Picnic Area, south of Mammoth, sits near an imposing basalt cliff on the Gardiner River. The five-table area is flat, making it a good spot for kids to burn off energy. An abundance of geothermal features are nearby. Grab-and-go fare is available at Mammoth Hot Springs. Nearby alternatives: Apollinaris Spring and Beaver Lake picnic areas.
How to Explore
With nine unique lodging options, including the renowned historic Lake Yellowstone Hotel, Yellowstone National Park Lodges allows you to have the ultimate park experience. Staying in the park is the best way for visitors to experience all it has to offer, including the exciting wildlife watching. Once the day-visitors leave, Yellowstone remains for the in-park overnight guests alone. Yellowstone National Park Lodges offer tours and activities guided by Certified Interpretive Guides that help create memorable experiences. For more information on lodging, tours, and vacation packages visit, yellowstonenationalparklodges.com or call 307-344-7311.
For a multi-day visit of Yellowstone, consider the six-day guided walking tour from Country Walkers, "Montana & Wyoming: Yellowstone," or the six-day walking tour from VBT, "Yellowstone & Grand Teton: Walking America's First National Park."
For more than 40 years, Country Walkers has provided active and immersive travel experiences on five continents. They offer two distinct ways to explore: scheduled, small-group Guided Walking Adventures and independent Self-Guided Walking Adventures. On tour, guests enjoy superb local cuisine, first-class guides, fine accommodations, and authentic cultural and natural encounters. Visit countrywalkers.com or call 800-234-6900 for more information.
VBT Bicycling and Walking Vacations is the value leader in active biking vacations and has been rated among the "World's Best Tour Operators" by the readers of Travel + Leisure for six years. VBT offers more than 55 deluxe, small-group bicycling, walking, and barge & sail vacations in 27 different countries and 10 U.S. states. Unlike other companies, VBT also includes round-trip international airfare from more than 30 U.S. cities and select Canadian cities for all overseas vacations. Visit VBT.com or call 800-245-3868 for more information.
For more travel experiences to Beautiful Places on Earth™ available from the Xanterra Travel Collection® and its affiliated properties, visit xanterra.com/stories.