Gotta' Love 'Em: Grand Canyon's Most Romantic Spots
Mile after mile of beautiful vistas translate into idyllic intimate settings.
Grand Canyon is as iconic a destination as there is. It's not unusual for visitors to burst into tears when they first behold its endless majesty. This sense of awe is part of the Grand Canyon experience, accompanying guests as they explore vista points, raft the Colorado, or descend beneath the rim on winding trails. It's also what can make the canyon a powerfully romantic destination, offering opportunities that are steeped in beauty and laced with amour. Here are the sights, seasons, and special moments that make Grand Canyon a romantic getaway.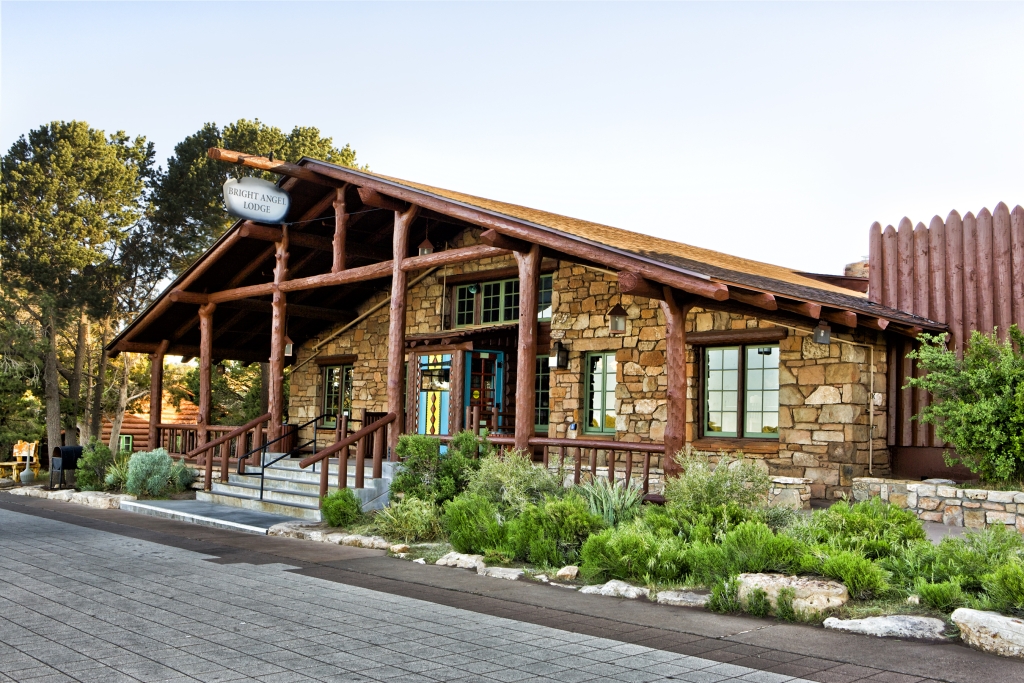 Fired Up
Nothing says "romance" quite the same way a roaring fire does. So, settle into the natural warmth of a toasty, crackling fireplace with your loved one when you're at Grand Canyon. Not only do the Bucky O'Neill and Red Horse Cabin suites of Bright Angel Lodge have fireplaces, they also come with one of the world's most spectacular front yards: the Grand Canyon itself. There's no better place to cuddle.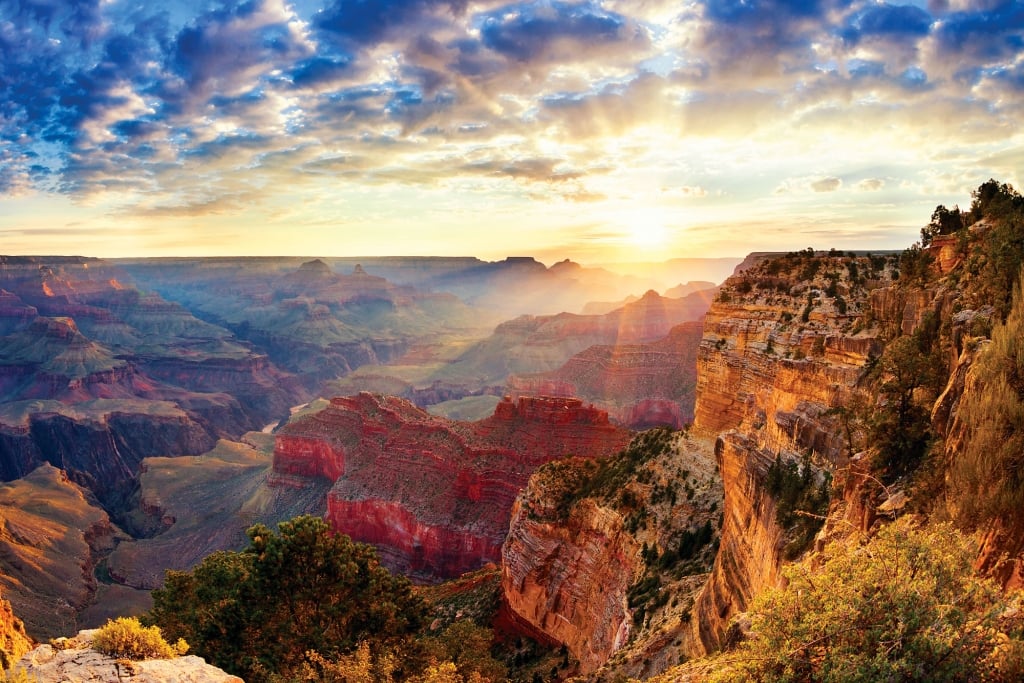 Morning Has Broken
There is nothing quite like the first light of a new day at Grand Canyon. Some of the best spots are at Mather Point near the Visitor Center and anywhere along Hermit Road. And when you're up before daybreak, chances are you'll enjoy the unique experience of having the entire canyon to yourself.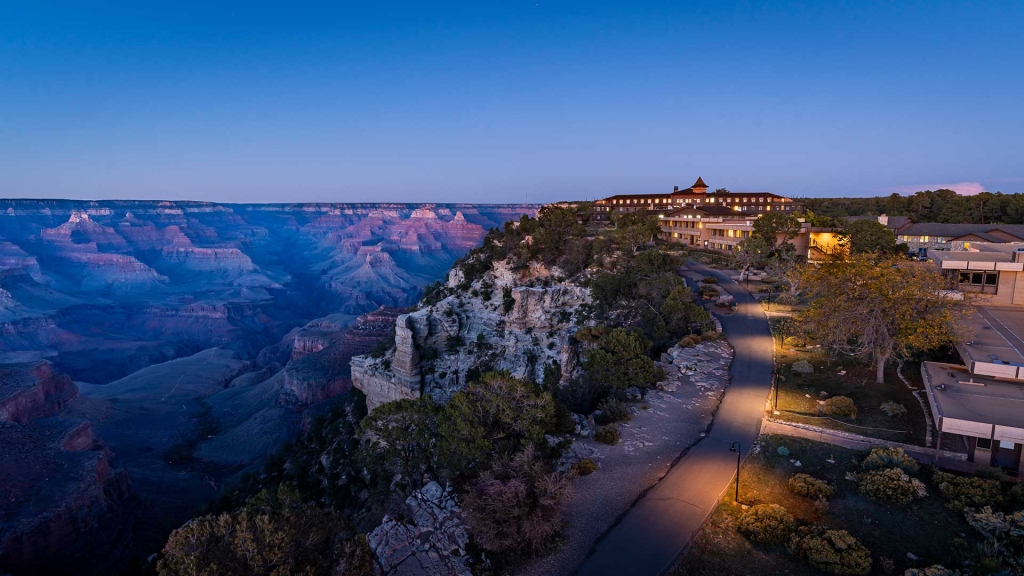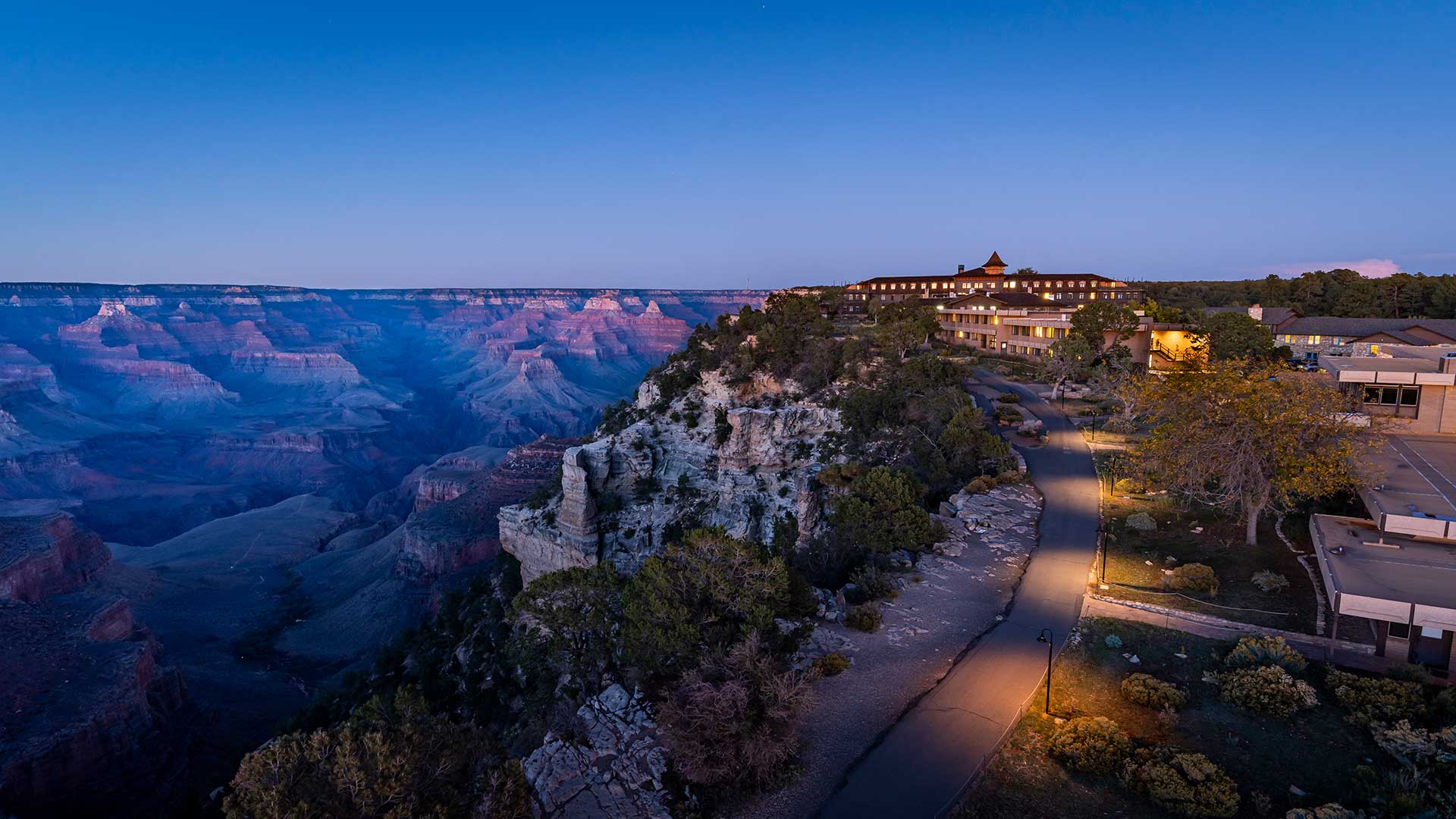 Rooms with a View
Combining history and romance, the South Rim's El Tovar Hotel has been a favorite of guests since 1905. In the wintertime, relax in the lobby beside a roaring fireplace; in warmer months the shaded north porch offers a pleasing view of the canyon. Rangers and other canyon residents know of a "secret spot" that's a favorite for watching the sunset. Just head upstairs where a quiet deck opens to some of the canyon's most spectacular views.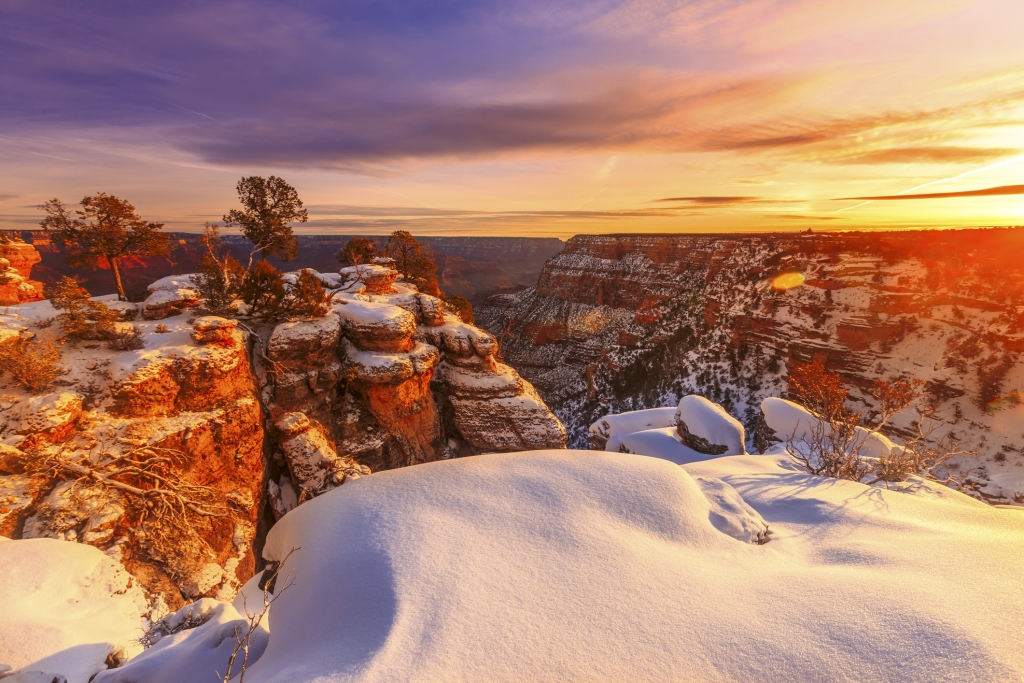 The Secret Season
Visit Grand Canyon in the "secret season" (usually November through February) and you'll find a whole lot more. With fewer guests, you may feel as if Grand Canyon was created especially for you and your sweetheart. Since winter days are shorter, the sun sets in late afternoon, the perfect time to relax in a lounge or retreat to the peace and quiet of your room.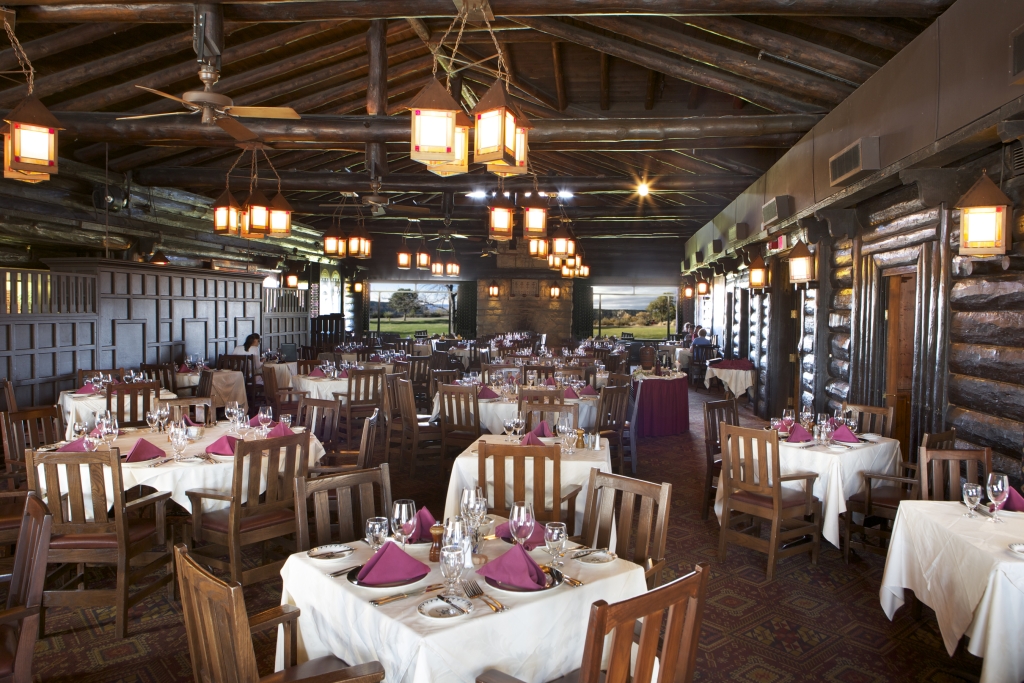 Dinner Time
No other restaurant on earth matches the setting of the El Tovar Dining Room — perfect for celebrating a special occasion with your special someone. With a classic look that captures the essence of America's national parks, it features wonderful paintings of various Native American tribes and a menu that includes dishes like stuffed roasted quail, hand-cut grilled Arizona-grown filet mignon, and sustainable salmon tostada on organic greens. To add a dash of romance, request a cozy table for two either overlooking the South Rim or near one of the dining room's two fireplaces.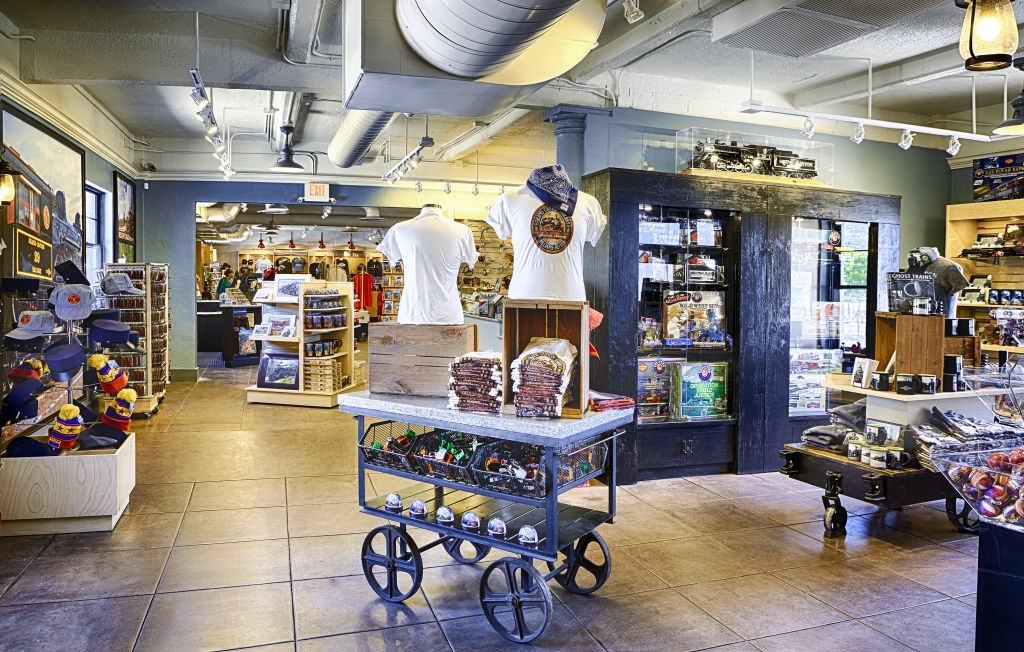 Shopportunities
Looking for a memorable keepsake or gift to mark your romantic interlude? Look no farther than Grand Canyon shops and boutiques with their unique merchandise. Arguably the finest items are found in the El Tovar Gift Shop, which features high-end items including exquisite handmade silver and turquoise jewelry — rings, earrings, brooches, pins, and pendants among them — as well as books, photographs, paintings, ceramics, and assorted souvenirs. Across the way in the Mary Jane Colter-designed Hopi House, a range of Native American-crafted products — pottery, rugs, paintings, apparel, jewelry, and the like — make this one of the finest shops in the American Southwest. Just the place for that perfect memento of your time together.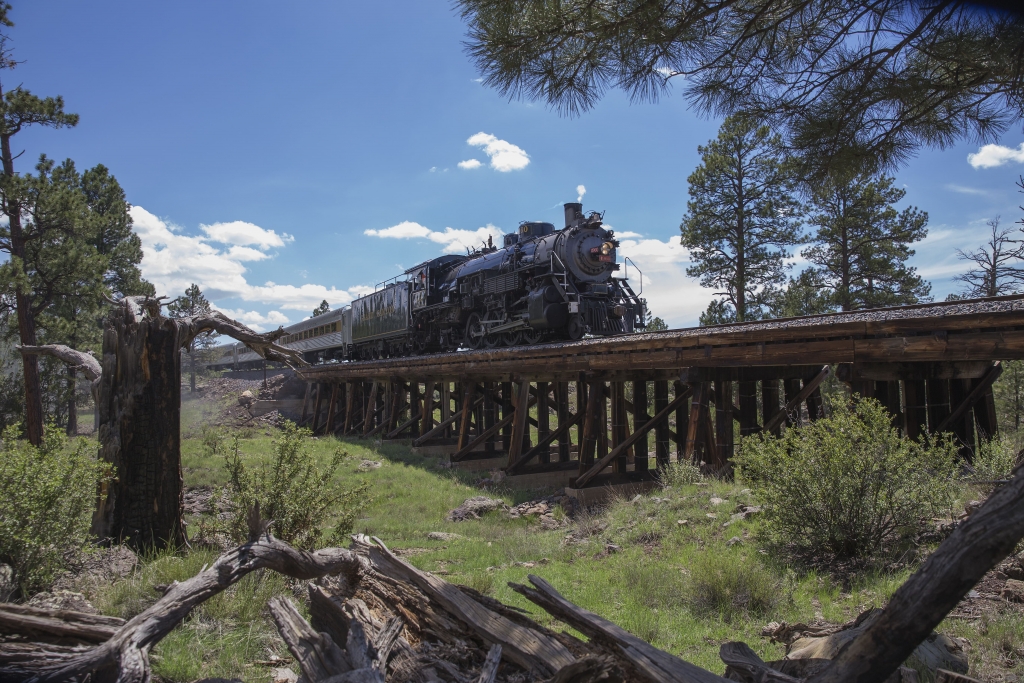 Where There's a Williams…
For a special occasion, begin your trip in Williams, Arizona and reserve the elegant Rail Baron Suite aboard the Grand Canyon Railway for an epic journey to Grand Canyon. The railway is the locomotive link that connects the national park to the wonderful retro community of Williams (which happens to be the last Route 66 town bypassed by America's interstate system). Today the town remains centered on historic Route 66, just a block away from the Grand Canyon Railway Hotel.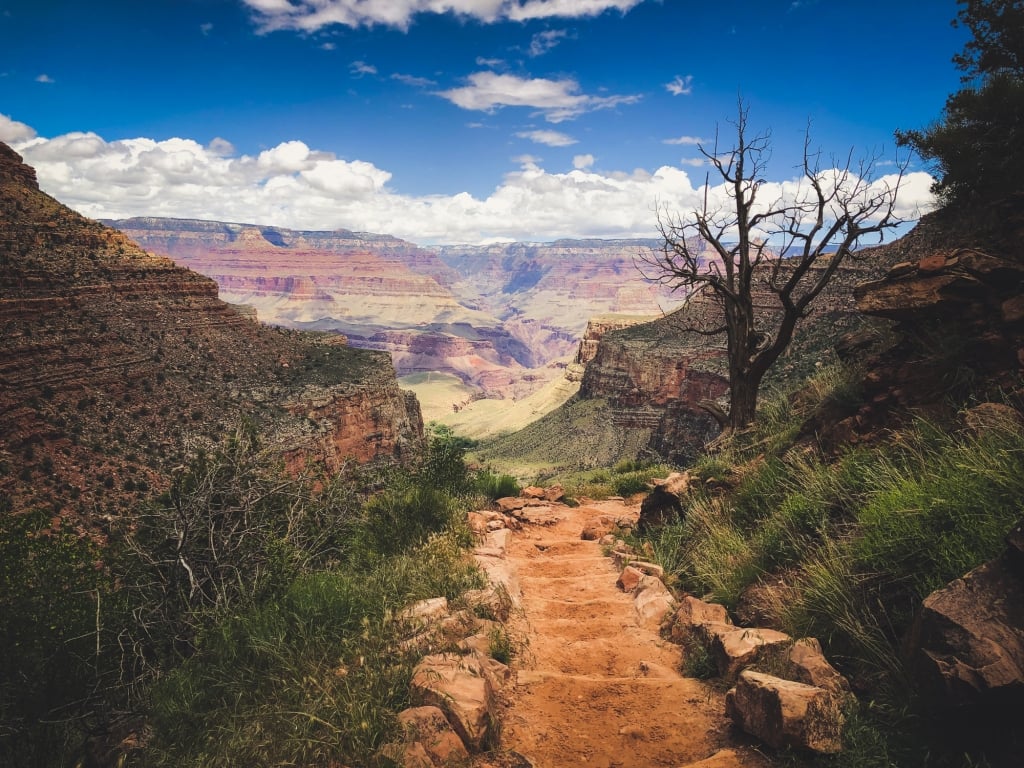 Wonderful Walks
One of the simplest pleasures in all of America's national parks is walking along Grand Canyon's Rim Trail, losing yourself in ever-changing views as you travel the Trail of Time to the Yavapai Geology Museum. Cap off your walk at the museum's large bay window where the panoramic views are unrivaled by any in the world — making this one of the most romantic spots in the entire park.
How to Explore
Grand Canyon National Park Lodges provides the premier in-park lodging, managing six distinctly different lodges. From El Tovar Hotel, long considered the crown jewel of national park hotels, to Phantom Ranch, the only lodging on the floor of the canyon, you'll find accommodations to help you get the most out of your visit to the Grand Canyon. You can also book rafting, railway, and motorcoach tours. For more information and reservations, visit grandcanyonlodges.com or call 888-297-2757.