Grand Canyon: Far From the Madding Crowd
How to find quiet and solitude at the Grand Canyon
With an expanse of 1,904 square miles, the Grand Canyon is a paradise for lovers of remote, solitary spots. But you don't have to be an ultra-fit distance hiker to escape the crowds and enjoy the quiet beauty that radiates from one of the world's most ethereal natural spaces.
Here are some tips for finding solitude in this iconic national park. (Note: Whenever hiking the trails, be sure to prepare accordingly by bringing snacks and water; wearing appropriate footwear, clothing, and headwear; packing first-aid supplies, a map, a flashlight, and a whistle; being prepared for frigid weather and icy trail and road conditions; and never hiking alone.)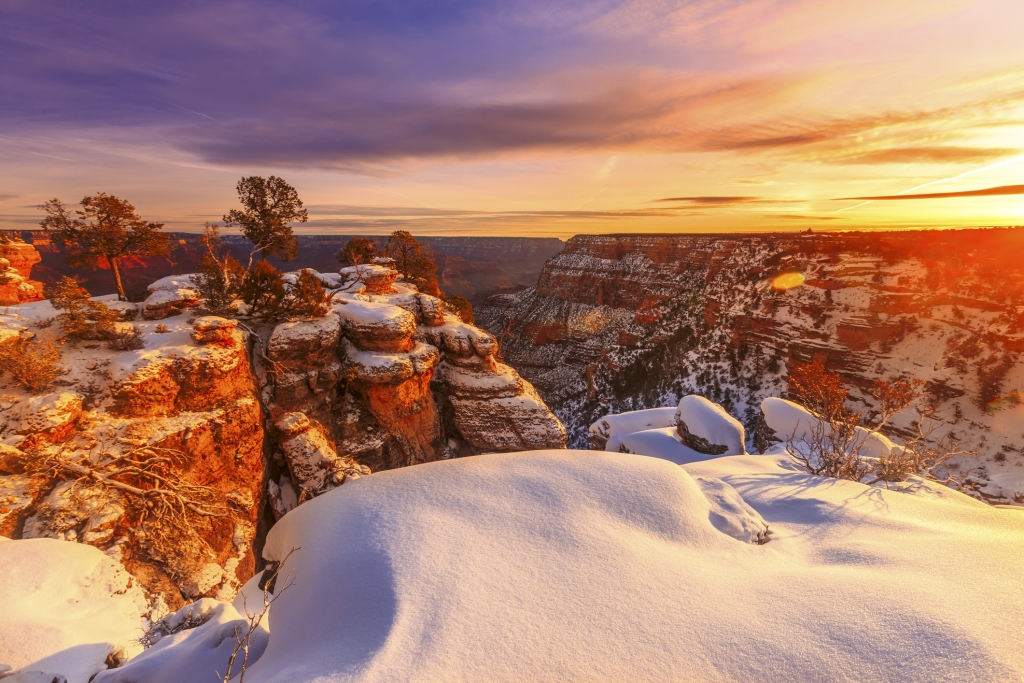 VISIT OFF SEASON
Claiming your own piece of the canyon is more than a matter of where you go. When you go makes a big difference, too. If you're crowd-averse, avoid spring break and peak summer months (Memorial Day to Labor Day). Visitation is at its lowest from January to early March, excluding holidays and between Thanksgiving and Christmas.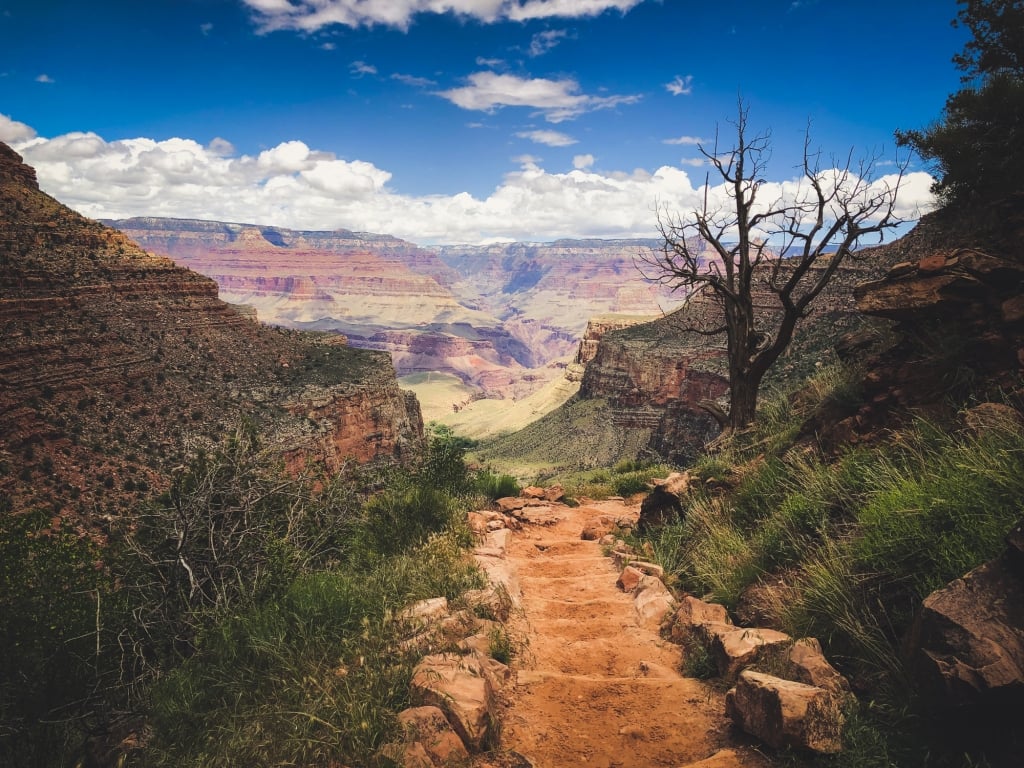 CHOOSE THE PATH LESS TRAVELLED
At the South Rim, that means avoiding the well-trod Bright Angel and South Kaibab trails. But no worry, there are plenty of routes to choose from, and you don't even have to venture far from Grand Canyon Village, the hub of tourist activity, to find them.
"We made solitude a priority as we planned out our days in the Grand Canyon," says Cole Donelson, 27, who, with his wife, Elizabeth, spent a year visiting all 59 national parks. "One of our favorite activities on the South Rim was biking the road and bike path from Grand Canyon Village to Hermits Rest. Fewer people see those gorgeous views because you can only access (the area) by park shuttle, biking or walking. And on our bikes we were able to vary our pace from the crowds on the shuttle on the way there, and then load our bikes onto the shuttle to ride back.
"Mike Buchheit, director of the Grand Canyon Association Field Institute and a 20-year resident at the canyon, is also a fan of the Rim Trail between Grand Canyon Village and Hermits Rest. You can plan a full-day hike along the rim-hugging 7-mile trail. Or hop on the free shuttle (operating nine months a year) if you get tuckered out. En route are a number of scenic overlooks.
"Pull up a rock or tree stump and have the view to yourself," Buchheit says.
Another little-used path in this area, the Hermit Trail, which is 8.9 miles one way, sees "a fraction" of the use that the Bright Angel and Kaibab trails get, he notes. But beware that it's a more challenging route for experienced hikers and requires an overnight as well as the appropriate permits.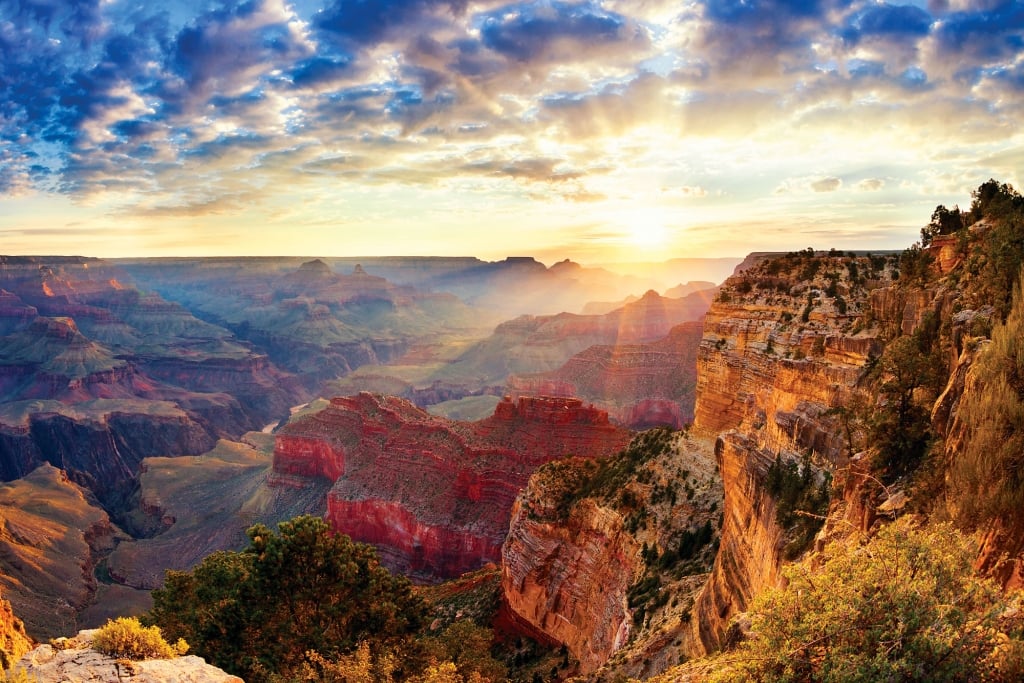 VENTURE OUT EARLY AND STAY OUT LATE
Not surprisingly, popular overlooks and trails can get busy during peak daytime hours. Beat the crowds by getting out before dawn and staying out after dark.
"We recommend this trick for almost all national parks: Go at night and do a little stargazing," advises Don Hafner of Kansas City.
In 2014, he and his wife, Shelley, embarked on a 59-week journey to all 59 national parks and wrote about it in their blog 59nationalparks.com. "Get away from lit areas and you might get to enjoy the Milky Way," Don continues. "Be careful, though. It's a long way to the bottom!"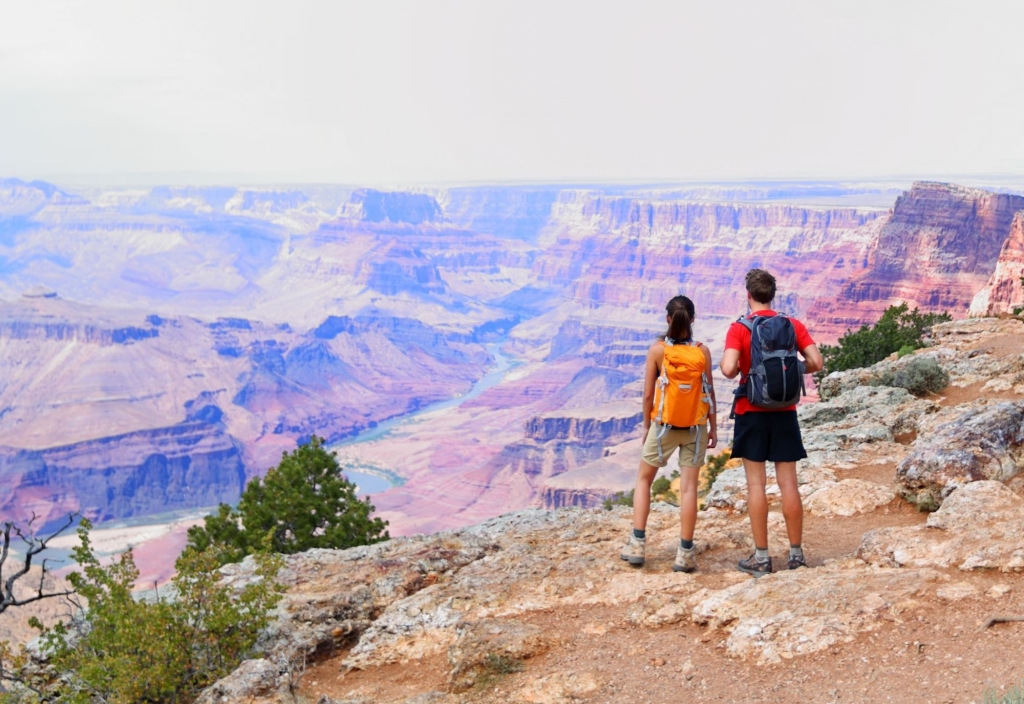 FOLLOW THE WELL-TRAVELED PATH UNTIL IT BECOMES LESS TRAVELED
The flat, paved Rim Trail with its village access is "impossibly crowded" near the main visitor facilities, notes Hafner. "Walk just another quarter mile and you will probably find yourself alone and happy."
Another bonus: The flat, paved trail is not only easy, it's also wheelchair accessible.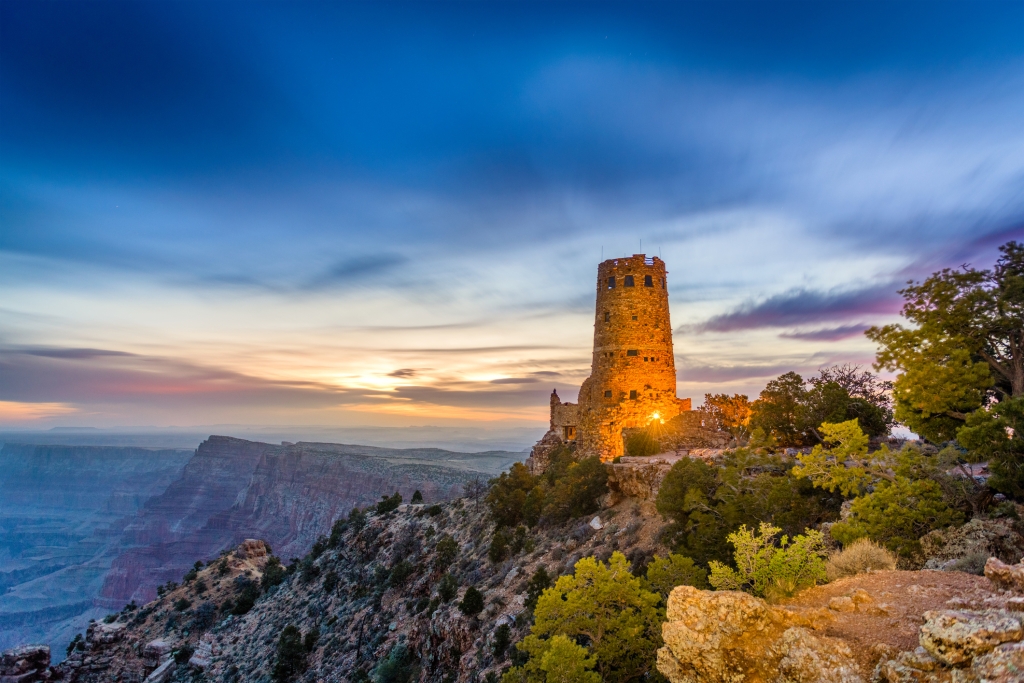 SEEK OUT UNNAMED OVERLOOKS
"To get away from almost everyone on the South Rim, visit the small, nameless pullouts along the road from Grand Canyon Village east to Desert View," says noted photographer Gary Ladd, whose books include Grand Canyon: Time Below the Rim. "If you walk a quarter mile or more from any of these nameless overlooks, you can almost be assured of having the Grand Canyon to yourself for many hours. The walking is mostly flat, but the ground is often uneven and there are trees and thickets. But it will all be yours alone.
"Desert View Drive, which follows the rim from the village area for 25 miles to the park's east entrance, sports five of these unmarked pullouts, in addition to six developed viewpoints.
Among the latter, a favorite of Buchheit's is Navajo Point, 24 miles east of the village. At 7,461 feet, it's the South Rim's highest overlook and offers great views of Desert View Watchtower and the Colorado River below.
"It's a favorite place to take photos," says Buchheit. "I'm always surprised I don't see more people there."
For more information, visit grandcanyonlodges.com or call 888-297-2757.
For more travel experiences available from Xanterra Travel Collection® and its affiliated properties, visit xanterra.com/explore.