Grand Canyon Shopping: A Surplus of Souvenirs
Merchandise ranges from simple mementos to works of art
Surrounded by little but the gradually receding incline of the sprawling Colorado Plateau, Grand Canyon is about as far as you can get from any mall. But for designers, photographers, jewelers, graphic artists, sculptors, and painters, it's close to perfect. The canyon's appearance changes depending on shadow, sun, and season, making it a natural inspiration for works of art.
A shopping excursion in the Historic Village can be pleasant way to spend a few hours, and chances are you'll find something new, and affordable, in every shop. Whether you need a souvenir baseball cap, a sweatshirt, or a one-of-a-kind artistic gift, here are some items that stand out.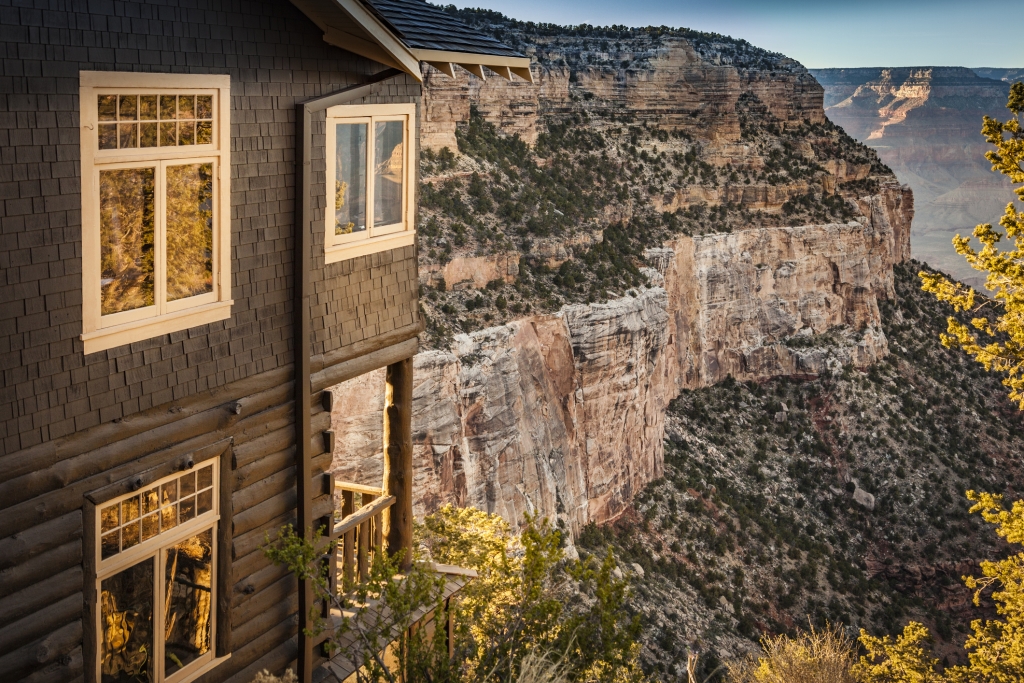 Picture Perfect
The Kolb Brothers were legendary early 20th-century photographers and filmmakers whose still photos and films brought Kolb Studio to the attention of the world. Inside their historic studio, you can view their antique cameras and decades worth of paintings by plein-air artists inspired by Grand Canyon. The collection grows larger each year as artists from around the world arrive to paint Grand Canyon's shifting light and shadow and vibrant colors — with many of those paintings being exhibited here.
Souvenir Sampler
In 1914 near the Kolb Brothers' Studio, famed park architect Mary Colter created the Lookout Studio on the very edge of the canyon. For millions of visitors, gift items emblazoned with a Grand Canyon logo or stencil are easily affordable and ultimately "giftable." You'll find those items here, as well as a large selection of photography, postcards, rocks and minerals, jewelry, and assorted souvenirs. At the Bright Angel Lodge (another Mary Colter creation), the gift shop features supplies for hiking and mule trips, as well as a selection of books, T-shirts and gifts.

What's Brewing
Some souvenirs take liquid form. Found at several of the park's restaurants are craft beers and locally sourced spirits and wines, including dozens of vine-to-bottle selections from Arizona's leading vintners and distillers. The park's premium wine list is found at the El Tovar Dining Room where more than 100 varieties of wine include chenin blanc: Sangiovese from Carlson Creek in Willcox, Ariz.; Tazi (a white blend); Dayden (a dry rosé); and Mangus (a Tuscan blend cabernet sauvignon) from Arizona Stronghold in Camp Verde. These and other selections have earned the El Tovar Wine Spectator magazine's Award of Excellence several years running. Guests can stock up on champagnes, chardonnays, pinot noirs, merlots, and zinfandels from the dining room to add to their personal wine cellars.
Explore El Tovar's cozy pub and neighboring watering holes and you'll find locally sourced beers including Bright Angel IPA from Flagstaff's Lumberyard Brewing Co., and spirits such as Copper City Bourbon from Arizona Distilling Co. in Tempe; Grand Canyon Vodka crafted by Canyon Diablo Spirits of Flagstaff; and Gold Miner Agave Rum from Arizona's oldest craft distillery, Desert Diamond Distillery of Kingman. All can be purchased to take home.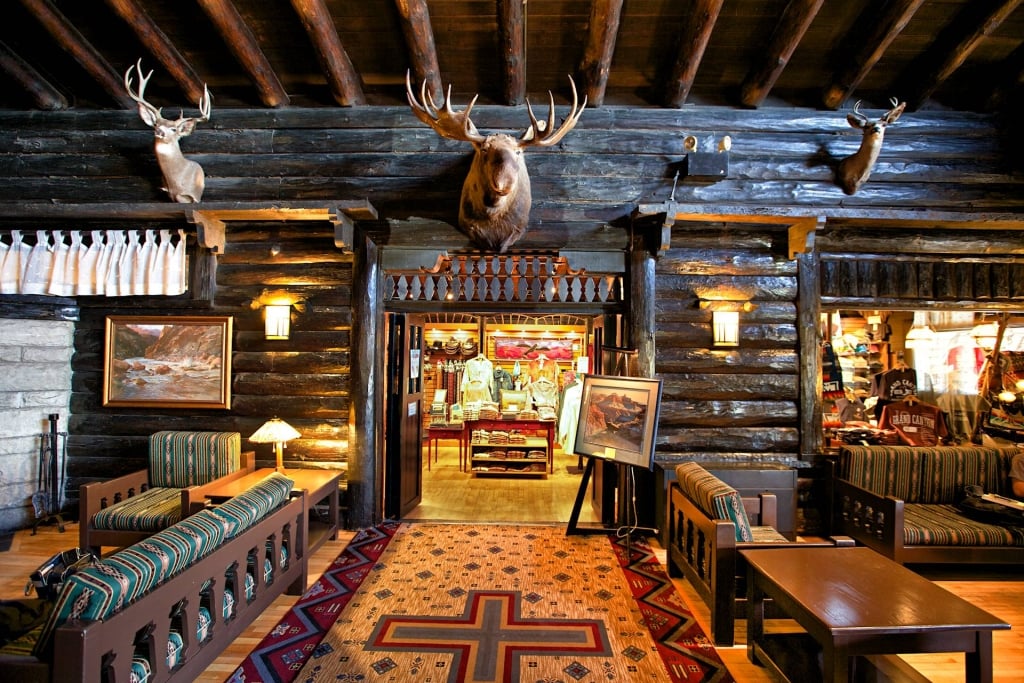 Jewelry and Pottery and Clothing, oh my!
Inside the El Tovar's first-floor gift shop, exquisite high-end items including handmade silver and turquoise jewelry — rings, earrings, brooches, pins, and pendants among them — are wonderful examples of Arizona artistry. Clothing created from soft wool and handcrafted leather often features the classic look of the American Southwest, a theme that carries over to assorted apparel, photographs, and paintings.
Beside the El Tovar is a landmark whose heritage is rooted in retail. Mary Colter designed Hopi House in 1905 as a combination residence and retail center where Native Americans sold apparel, pottery, jewelry, and other handcrafted items. Although no longer a residence, the two-story structure is still a showplace for an impressive range of gift items, notably authentic Native American arts and crafts. With limits set on pricing, the authentic pottery, jewelry, and paintings are likely to be less expensive than similar items found outside the park.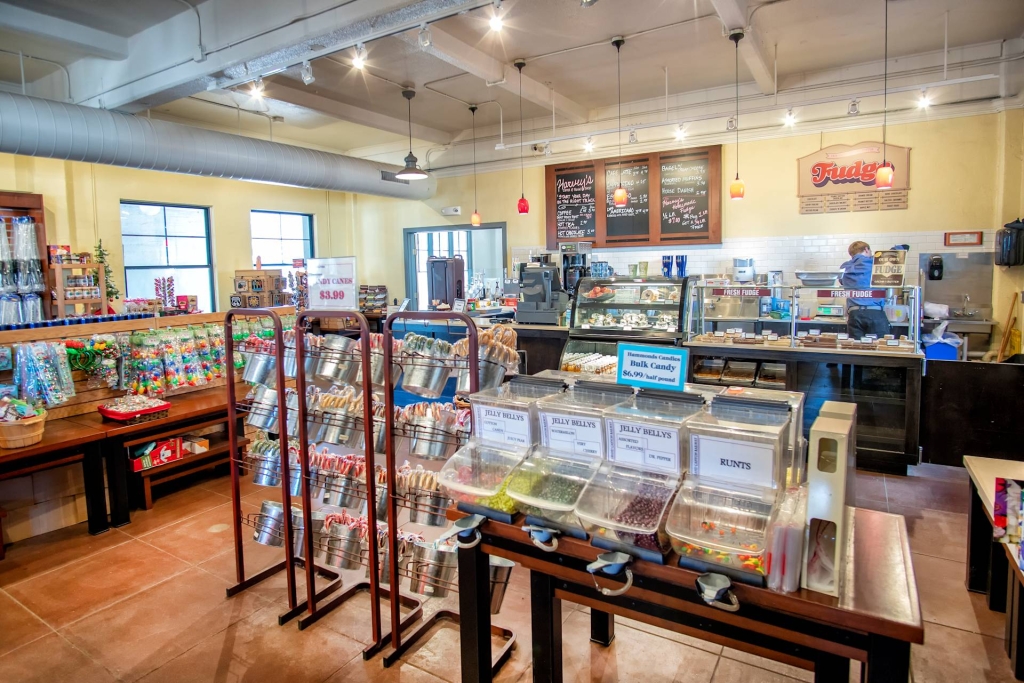 The Rail Thing
Connected to Grand Canyon National Park via the Grand Canyon Railway, the depot at the end of the line in the historic town of Williams is a "one-stop shop" for railroad souvenirs and Arizona art, making it a popular destination for anyone who enjoys trains and the Old West. And since both Grand Canyon and the Grand Canyon Railway attract visitors of all ages, the store's inventory appeals to all of them. Books range from train-themed primers rich with illustrations to well-researched histories of railroads, Grand Canyon, Native Americans, and the Old West (illustrations optional). On the opposite end of the spectrum, skilled shoppers with an eye for elegance can find handcrafted Navajo necklaces that fetch up to $500. The large store is also well stocked with T-shirts, mugs, postcards, posters, framed prints, and limited-edition signed photographs.
How to Explore
Grand Canyon National Park Lodges provides the premier in-park lodging, managing six distinctly different lodges. From the El Tovar hotel, long considered the crown jewel of national park hotels, to Phantom Ranch, the only lodging on the floor of the canyon, you'll find accommodations to help you get the most out of your visit to the Grand Canyon. You can also book rafting, railway, and motorcoach tours. For more information and reservations, visit grandcanyonlodges.com or call 888-297-2757.
For more travel experiences available from the Xanterra Travel Collection® and its affiliated properties, visit xanterra.com/stories.