How to Plan a Grand Canyon Vacation – Part I
PART I: Getting here and where to stay.
Are you dreaming of a bucket list trip to the Grand Canyon? From snaking canyons, ancient cultural sites and stunning nature displays, this is one destination that everyone should check out at least once. Planning such an important trip may seem daunting but with enough prep and research it doesn't need to be! Read on for inside tips to help you have an amazing experience when visiting the Grand Canyon. We'll cover everything from how to get here and where to stay, through to what there is to do when you arrive.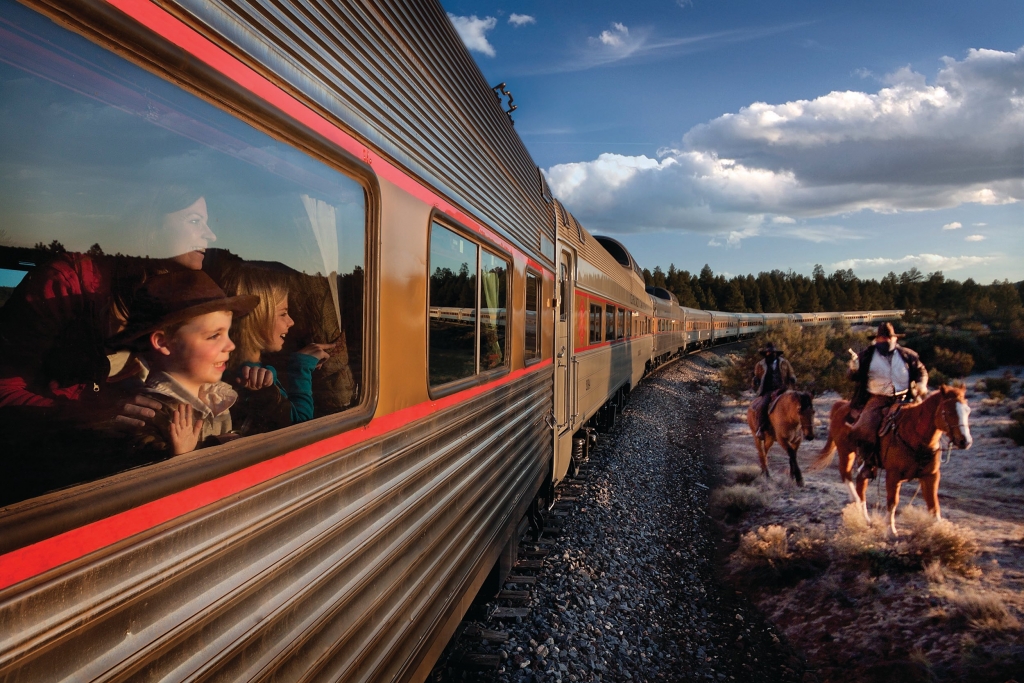 Getting There: Arrive by Train
Experience a stress-free journey to the South Rim of the Grand Canyon while also contributing to its preservation. Travel back in time and enjoy the breathtaking scenery as you embark on the Grand Canyon Railway's vintage cars, propelled by an authentic restored locomotive. In a little over two hours, you'll arrive at your destination feeling relaxed, rejuvenated, and only a few steps away from the magnificent canyon. Whether you choose to spend the day or extend your stay at the iconic El Tovar Hotel or Bright Angel Lodge, this historic adventure will create memories that you and your family will cherish forever.

Lodging: Location, Location, Location.
Experience the wonder of the Grand Canyon from the convenience of your doorstep. Stay on the South Rim and embark on your adventure right outside your door. Grand Canyon National Park Lodges offers historic, overnight accommodations in the perfect location. Choose from a range of options to suit your needs and make the most of your stay.
The El Tovar Hotel
Experience timeless elegance at this national park gem, established in 1905. Renowned as one of the most luxurious hotels in the area, it offers 78 exquisite guest rooms, a charming gift shop, a convenient newsstand, and an atmosphere-rich dining room and lounge. Immerse yourself in breathtaking views of the Canyon, just steps outside your door.
Bright Angel Lodge
Experience the natural rustic charm and rich cultural history of the Bright Angel Lodge, a Registered National Historic Landmark. With a variety of 90 room types, including cozy historic units, standard lodge rooms, and historic cabins, there's something for everyone. Don't miss the one-of-a-kind "Buckey O'Neill Cabin." While you're here, make sure to explore the lobby, where you'll find a craggy fireplace and stunning American Indian iconography on the doors and panels. Don't forget to visit the Fred Harvey History Room, where you can learn about the fascinating history of the Fred Harvey Company and its legendary Harvey Girls. The History Room also boasts a magnificent fireplace featuring a ten-foot-high geologic representation of the Grand Canyon rock layers, designed by renowned architect Mary E.J. Colter.
In addition to these historic treasures, the Bright Angel Lodge offers a gift shop, two restaurants, an old-style saloon, a coffee house, and even a seasonal ice cream fountain. Your stay at this extraordinary lodge will be filled with exploration, history, and unforgettable experiences.
For additional options, check out Kachina and Thunderbird Lodges, which are located directly on the rim, and Maswik Lodge, nestled in a pine forest just steps from the canyon.