Mining History at Death Valley
Borax, talc, and yes, even gold once drew legions to this California park
While today's Death Valley National Park visitors venture to this remote region to marvel at the stark desert beauty and to escape into the silence of the park's vast expanses, for well over a century prospectors and miners came here in search of treasure.
There was, quite literally, gold in them thar hills (as well as silver). But ultimately it was less glamorous, non-metallic minerals, such as borax and talc, that proved the most profitable. As Richard E. Lingenfelter wrote in his history, Death Valley and the Amargosa: A Land of Illusion, "Although it was the lure of gold and silver that drew men to Death Valley and the Amargosa, the country's greatest mineral wealth was not in the precious metals that lay hidden in the surrounding hills, but in the lowly salts that lay right underfoot."
According to National Park Service documents, mining in the region began slowly, probably around the late 1850s or early 1860s. Difficult under the best of circumstances, mining was especially demanding in Death Valley and the surrounding mountain ranges. The brutal heat, of course, made work conditions positively hellish. But the miners also faced the threat of attacks by Paiute Indians, who sought to drive these invaders from their native lands.
Beyond the physical dangers, primitive extraction techniques, a lack of water and fuels, and the difficulty of getting ore to market made mining here a challenging business. And most of the newly arrived miners were already struggling financially. Short of a quick strike, it was tough to keep going.
Borax had its heyday during the 1880s, then Death Valley mining briefly boomed again during the early 1900s with the discoveries of gold at Bullfrog, Skidoo, and Chloride Cliff. But the financial panic of 1907 slowed or stopped most mining, and according to the park service, virtually all metallic mining operations shut down by 1915. New claims in Death Valley ended with the passage of the Mining in the Parks Act of 1976, but it wasn't until the closure of the Billie Mine borax operation near Dante's View that all mining finally ended within the park.
Explore Death Valley and you're bound to come across numerous abandoned mine shafts, tunnels, and other remnants of the region's mining history. With literally thousands of sites, the park has an estimated one-third of all the hazardous mines found within the national park system. So obey all signs and never enter any openings; the risk of falls or being trapped in a mine collapse is simply too great.
Here's a look at a few of the major minerals mined in Death Valley.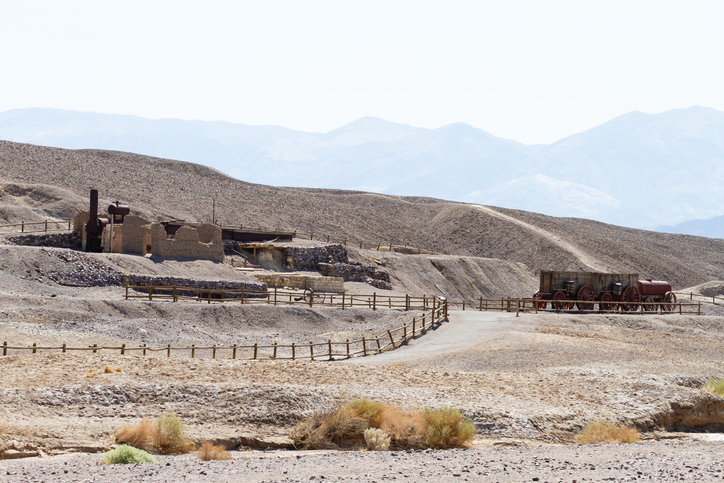 Borax
Dubbed "white gold," borax is the mineral most synonymous with Death Valley. Discovered here during the 1870s, borax had more than 100 commercial uses — from detergents to preserving meats.
During the peak of borax mining in the 1880s, the famous 20-Mule Team wagons hauled 20 million pounds of this mineral 165 miles to the closest train link in Mojave. Later, as the trademark of the Pacific Coast Borax Co., the mule teams emerged as a symbol of Death Valley. The publicity led to a growing curiosity about the area and helped launch Death Valley tourism, culminating in the 1927 opening of the Furnace Creek Inn (now The Inn at Death Valley).
For more borax mining history and to see some beautiful mineral samples from Death Valley, stop at the Borax Museum at The Ranch at Death Valley. The museum, open 10:00 am-6:00 pm daily, is housed in the valley's oldest building and displays an assortment of historic mining equipment and wagons in an outdoor exhibit area. Just north of the park's Furnace Creek Visitor Center (which also has displays on mining), you can visit the remains of Harmony Borax Works. The valley's first successful borax processing operation, Harmony opened in 1883 and could produce three tons of the mineral each day.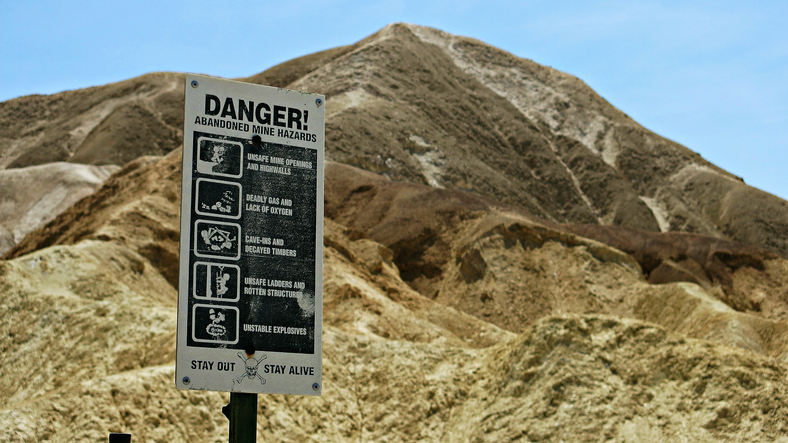 Talc
Talc, a humble clay, was second only to borax among the minerals mined in the area. Lingenfelter writes that the southern section of the valley, including parts of the Panamint Range, was home to a 60-mile stretch of talc deposits.
Seeking a source of material to supply his two Southern California pottery works, the baroquely named Lycurgus Lindsay opened Death Valley's first major talc mine in 1912. Talc is also used in the making of wall tiles, so the construction boom in Southern California in the first half of the 20th century created a large, nearby market for this mineral. During World War II, a higher-grade talc mined in the area became essential to the manufacture of electrical insulators and for other wartime uses.
Talc mining continued well into the 20th century and the Death Valley area remained California's most important source for the mineral. By the 1970s, according to park service documents, 90 percent of the state's talc production came from just two mines in the Panamint Range.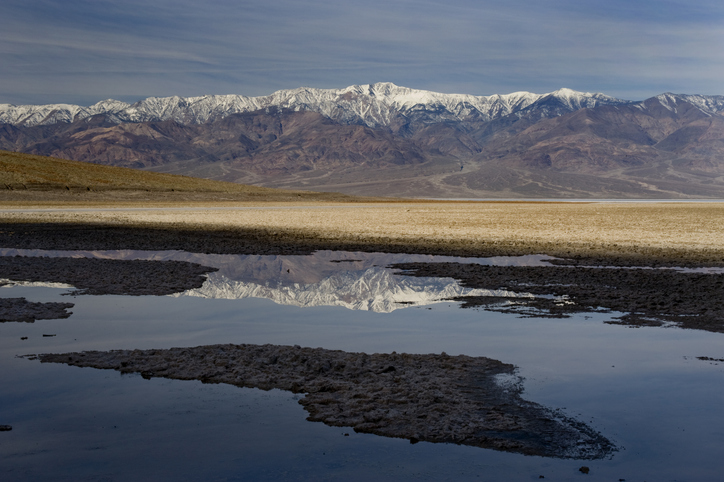 Gold
The California Gold Rush of 1849 helped spur the earliest American explorations of Death Valley as gold-seekers searching for a shortcut to the Mother Lode country traversed this inhospitable desert. Ironically, the valley's first gold was found not by argonauts but accidentally by a pair of Mormon missionaries. Bound for the South Pacific, they noticed some loose quartz while stopped at Salt Spring in December 1849 and after some digging discovered flecks of gold.
Despite the grandest dreams of prospectors and brief booms at such locations as the Bullfrog District and the Keane Wonder Mine (now closed to public access), Death Valley was never an especially productive region for gold. But high in the Panamint Range at an elevation of about 6,500 feet, Skidoo was one of the most successful gold mining sites. Founded in 1906 and using water piped in 21 miles from Telescope Peak, Skidoo mines yielded an estimated $1.5 million in gold by about 1917.
Little remains but the Skidoo town site, where 700 people once lived, is accessible off Emigrant Canyon Road by high-clearance vehicles. The ghost town of Rhyolite, just outside the park boundaries in Nevada and 35 miles from the Furnace Creek Visitor Center, is a well-preserved example of a gold rush boomtown. Spurred by the finds at Bullfrog, at one time Rhyolite's population grew to 10,000 residents.
The Ruins of Remote, Historical Mining Towns Pepper This National Park
When you visit the ghost towns in and around Death Valley National Park, you'll see little more than the foundations and crumbling walls of buildings constructed more than a century ago. So don't expect the staged gunfights and cool sarsaparillas of more tourist-oriented ghost towns. Get ready to use your imagination to bring these communities to life.
Some of Death Valley's ghost towns were once communities with hundreds — even thousands — of residents who were drawn to this foreboding region by the promise of work or quick riches. Think about the combination of blind optimism and maybe a hint of desperation that drove people into the heart of North America's hottest, driest desert in search of their fortunes. Most never found it. Many of Death Valley's onetime settlements are in remote areas. Panamint City, where 2,000 people lived in the 1870s during its silver mining heyday, is accessible either via a 13-mile round-trip hike or on a jeep trek best done by experts with winches on their vehicles.
Before you head out, keep a few things in mind:
Some destinations may require high-clearance, four-wheel-drive vehicles.
Even dirt and gravel roads normally suitable for passenger vehicles may become impassable following storms. Check on road conditions at the park's Furnace Creek Visitor Center before trying to drive to your destination.
Do not enter any mines; the walls and ceilings may be unstable.
If you're worried about wear-and-tear on your car, consider taking a tour or renting a jeep through Farabee Jeep Rentals in Furnace Creek.
Here are some ghost towns of note: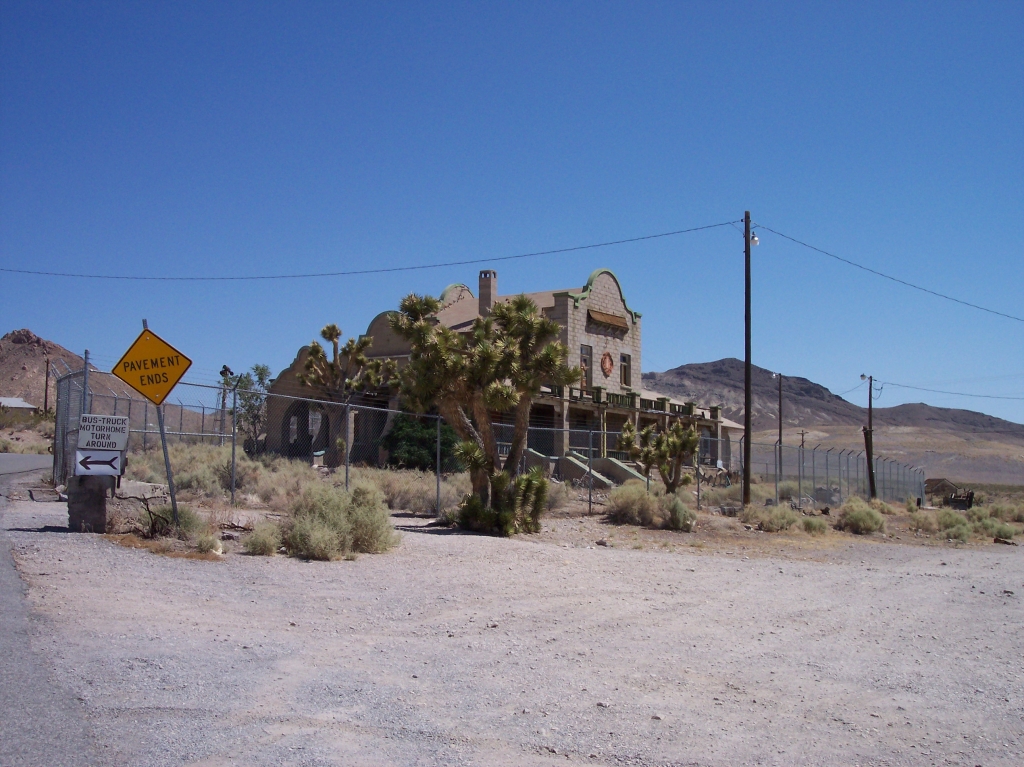 Rhyolite
Compared to the more modest mining settlements in the Death Valley region, Rhyolite was a veritable metropolis. Across the border in Nevada, about 38 miles from The Oasis at Death Valley, Rhyolite boasted a stalwart, three-story bank building and a school for 250 children. There was an opera house and symphony. Rhyolite even had its own daily newspaper and some sources say the population reached 10,000 at its peak.
Like so many things, Rhyolite began with gold. In 1904, Death Valley legend Frank (Shorty) Harris and his friend Ed Cross were camped out. When Harris went to fetch their burros, he came upon a ledge that looked promising and used his pickaxe to chip off a piece. "The chunks of gold were so big that I could see them at arm's length…Right then, it seemed to me that the whole mountain was gold." The green rock, spotted with yellow, reminded Harris of a frog's back. And so the two named their claim Bullfrog.
After the discovery, Rhyolite quickly grew. Electricity arrived in 1907, as did misfortune: A panic in U.S. financial markets decimated the banking and mining industries. Despite its early promise, the mine closed in 1911. By 1916, Rhyolite was well on its way to being the ghost town you can visit today.
You'll see a number of original buildings, including the walls of the Cook Bank and an intact train station (on private land). Rhyolite's many saloons provided a unique building material and the town is also home to a beautifully preserved house constructed from bottles.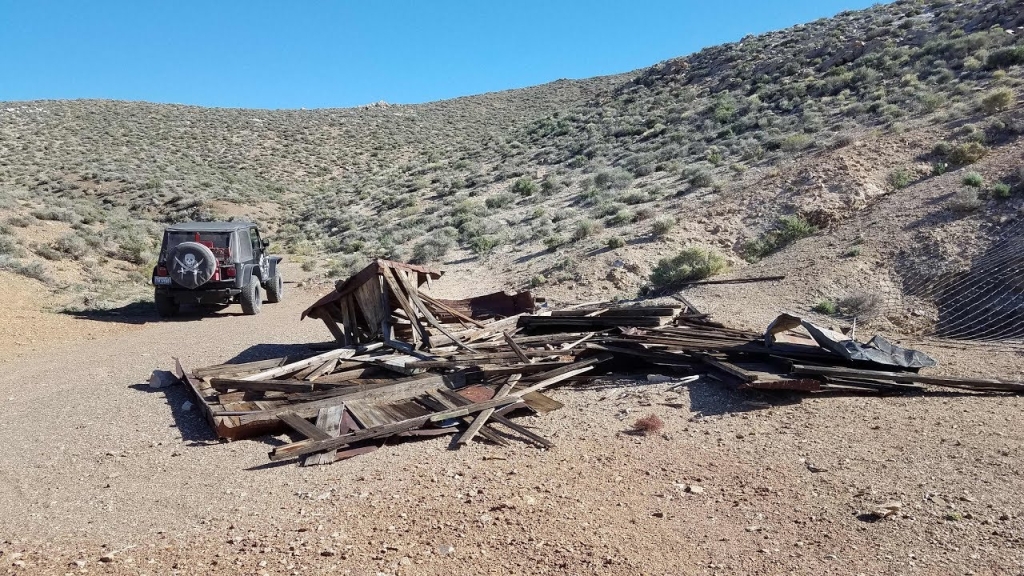 Chloride City
About 31 miles northeast of The Oasis at Death Valley off Daylight Pass Road, Chloride City in the Funeral Mountains was part of one of the earliest mining areas in the Death Valley region.
As the legend goes, A.J. Franklin, a U.S. government civil engineer, first found silver-lead ore at Chloride Cliff in 1871. When he picked up a rock to kill a rattlesnake, Franklin noticed a vein of chloride of silver. No word on the fate of the rattlesnake. After staking a claim, Franklin, and later his son, worked the area intermittently to maintain the family's stake. Eventually, prospectors fanned out from the gold strike in Nevada's Bullfrog Mining District to work the area. By 1905, Chloride City arose — in a saddle located 4,800 feet above Death Valley — as the support town for local mining operations. Limited activity continued in the surrounding mountains into the 1940s.
There's not much left here, other than the remains of three stamp mills. But the view from Chloride Cliff across Death Valley to the Panamint Mountains rivals the best in the national park.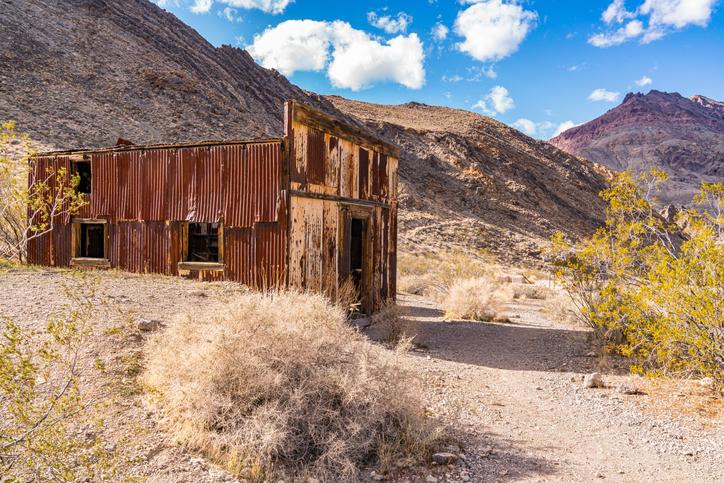 Leadfield
With a brief heyday in 1925 and 1926, this ghost town along today's Titus Canyon Road boomed later than many Death Valley mining locations.
Prospectors originally found lead and copper around Leadfield in 1905 but transportation costs made the remote site unprofitable. According to the National Park Service, in March 1924 a trio of prospectors arrived in the canyon and established claims before selling their stakes to John Salsberry, who then founded the Western Lead Mines Company. The company improved a road and built a boarding house in 1926 as it officially established the town of Leadfield.
Soon after, C.C. Julian, an oilman and huckster, invested in the company and took charge as its president. He heavily promoted Leadfield and sold stock in the company, which eventually prompted a state investigation into Julian's business practices. Even so, drilling and tunneling accelerated in the area. What killed Leadfield was not Julian's unsavory business but the low-grade ore that the company ultimately found. It simply wasn't high enough quality to make the operation profitable.
Drive the 27-mile, unpaved Titus Canyon Road and you won't find the town of 1,749 lots that was laid out back in the 1920s. There are only a few lingering remnants of what might have been: the ruins of wooden and tin buildings, as well a mill's foundations and numerous open mines.
How to Explore
While not much remains, a number of mining locations are accessible from The Oasis at Death Valley in Furnace Creek (formerly called the Furnace Creek Resort), situated in a lush oasis surrounded by the vast and arid desert of Death Valley National Park — just 120 miles northwest of Las Vegas and 275 miles northeast of Los Angeles. The resort encompasses two hotels — the historic AAA Four Diamond, 66-room Inn at Death Valley (formerly the Inn at Furnace Creek) and the family-oriented, 224-room Ranch at Death Valley (formerly the Ranch at Furnace Creek). The resort includes natural spring-fed pools, an 18-hole golf course, horse and carriage rides, world-renowned stargazing, and is surrounded by Death Valley National Park's main attractions. For information and reservations, visit The Oasis at Death Valley or call 800-236-7916.
For more travel experiences to Beautiful Places on Earth™ available from Xanterra Travel Collection® and its affiliated properties, visit xanterra.com/explore.