Nearby and Far Out: 7 Domestic Vacations That Feel a World Away
Want to feel like you've traveled to an exotic vacation spot—without leaving the country? Book a trip to one of these incredible domestic vacation destinations and prepare to be wowed.
When you think about your next vacation, it's tempting to let your mind wander to faraway lands. After all, there's nothing quite as romantic as strolling the cobblestone streets of Europe, sipping coconut water on a beach in Bali, or experiencing the other-worldly scenery in a place like Iceland, right? Not so fast. While those incredible experiences are worthy of a spot on your travel wish list, there are also many domestic destinations that are every bit as majestic—and a lot easier to get to. Case in point: The unforgettable experiences you'll have at the Xanterra Travel Collection® destinations here, all of which are so unique they'll make you feel like you're a world away even though you're practically in your own backyard.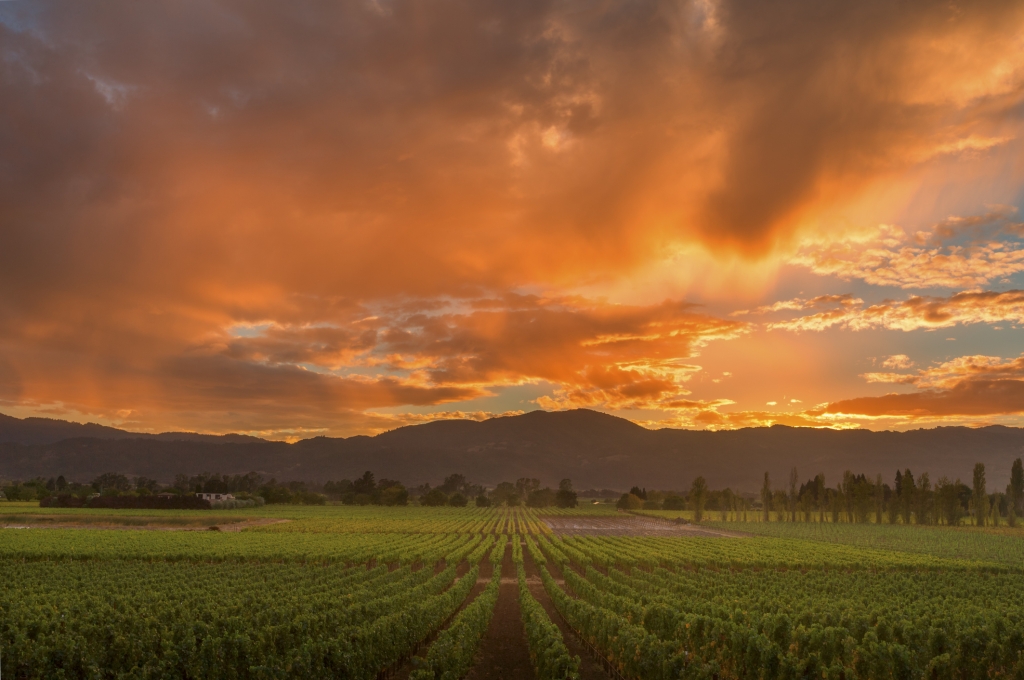 Instead of Italy's wine region … tour Napa and Sonoma
Without question, the scenic vineyards nestled among the rolling hills of Tuscany and Umbria are worth visiting—yet what you'll find in the world-famous wine regions just an hour north of San Francisco are also guaranteed to impress. The Sonoma Valley tends to have a more intimate feel than the more popular Napa, especially as you head further towards the Russian River. You'll find iconic labels as well as small-batch indie producers turning the region's diverse grape varietals into world-class wine, with tasting rooms in renovated barns and old castles. In Napa, the celebrated Silverado Trail is dotted with countless vineyards and expansive tasting rooms—not to mention Michelin starred restaurants, chic lodgings, and quaint towns best seen by bike or on foot.
Explore with VBT Bicycling Vacations
Explore with Holiday Vacations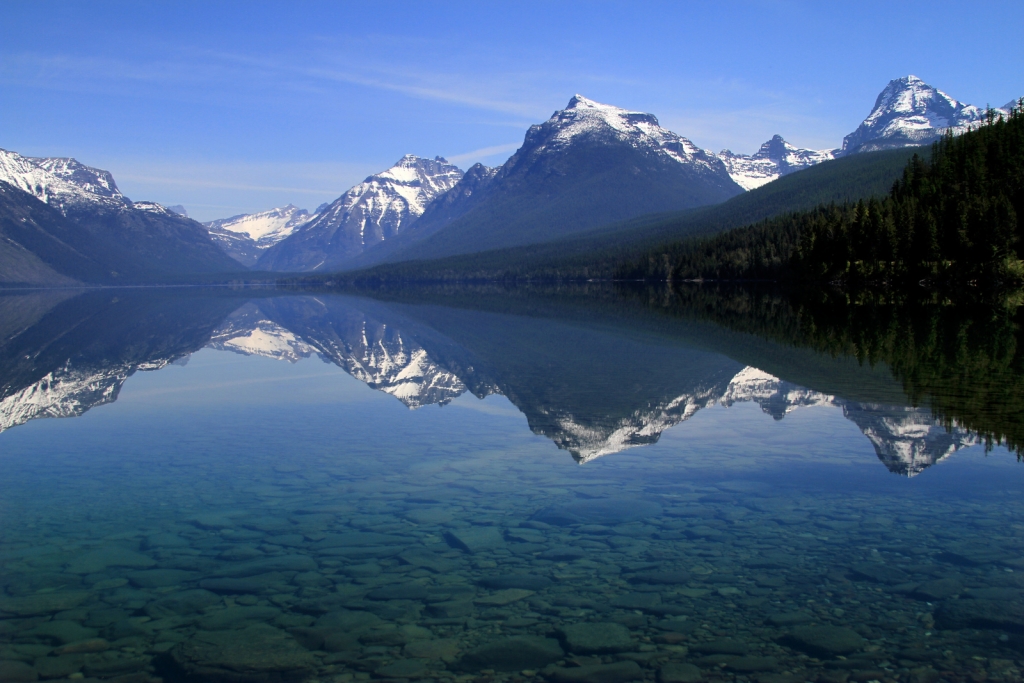 Instead of Iceland … visit Glacier National Park
While the western-most country in Europe draws travelers looking for dramatic, surreal scenery that excites the imagination, you'll find the same kind of epic landscapes in Glacier National Park. The 50-mile scenic Going-to-the-Sun Road yields one impressive vista after the next, and you can catch the views from a car, motorcycle, bike, or one of the 33 famed "Reds"—the low-emission vintage touring sedans that offer tours on the famed Going to the Sun road in the park. Even better, multiple lodging options make it easy to see even the farthest reaches of this awe-inspiring park: The contemporary Cedar Creek Lodge in Columbia Falls at the western entrance is a Three-Diamond hotel with a classic mountain-lodge feel. Bonus: With only seven residents per square mile, Montana has America's third lowest density population, which means a trip to Glacier National Park will be filled with adventures—not crowds.
Explore with Holiday Vacations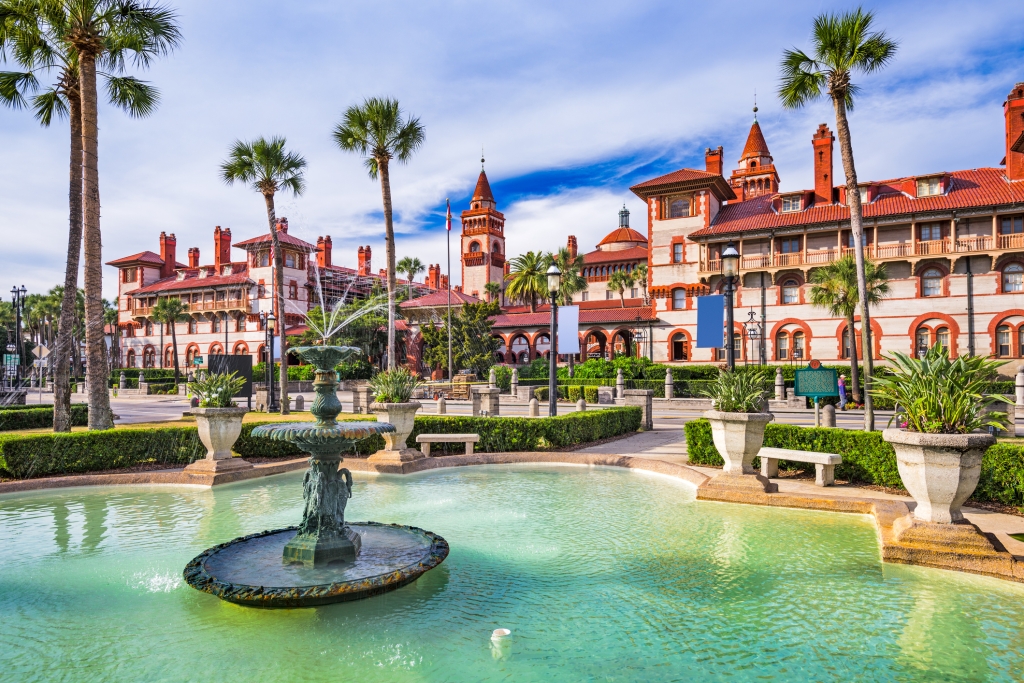 Instead of Spain … discover St. Augustine, Florida
Think you need to travel all the way to Granada or Madrid to marvel at incredible Spanish architecture? Think again. St. Augustine was settled by Spanish explorers in the 1500s, and its Spanish colonial architecture provides all the charm of an old European city. Wander the narrow cobblestone streets in the historic downtown, sampling the cuisine in one of the many award-winning Spanish restaurants serving up both traditional fare as well as new-age, fusion dishes. While you're in the area, you can also visit some of the beautiful Atlantic Ocean beaches, including Vilano Beach, Anastasia Island, and Ocean Hammock Park (which is home to a sea turtle nesting site!). Of course, no trip to St. Augustine is complete without a visit to the famed Fountain of Youth, located in the area first explored by Juan Ponce de Leon in 1513 and settled by Pedro Menendez Aviles in 1565.
Explore with VBT Bicycling Vacations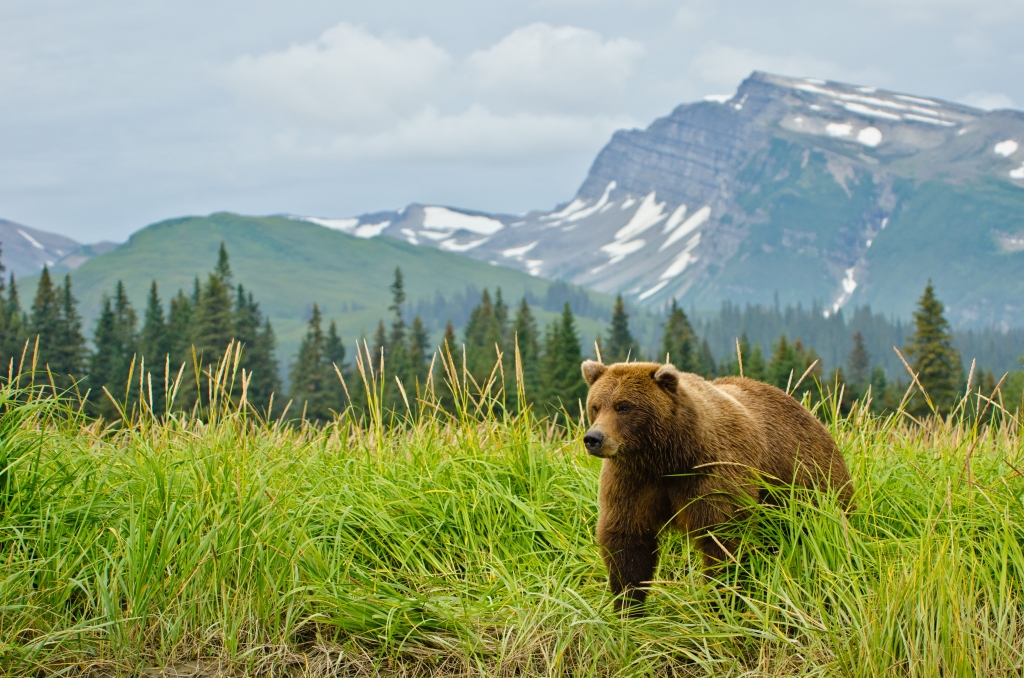 Instead of the Alps … explore Alaska
Looking for a place where mountains meet the sky in dramatic fashion? You could visit one of the eight Alpine countries in Europe—or you can travel to Alaska, where you'll find some of the highest peaks in North America and some of the most impressive wildlife and marine life in the country. It's a state filled with awe-inspiring extremes that are especially accessible when you travel by small ship: Navigating through the narrow fjords often reveals brown bears fishing for salmon and humpback whales breeching in the distance. On land, don't miss Alaska's glaciers, from Juneau's Mendenhall to the Kenai Fjords' Harding Icefield—all of which will leave you awestruck.
Explore with Holiday Vacations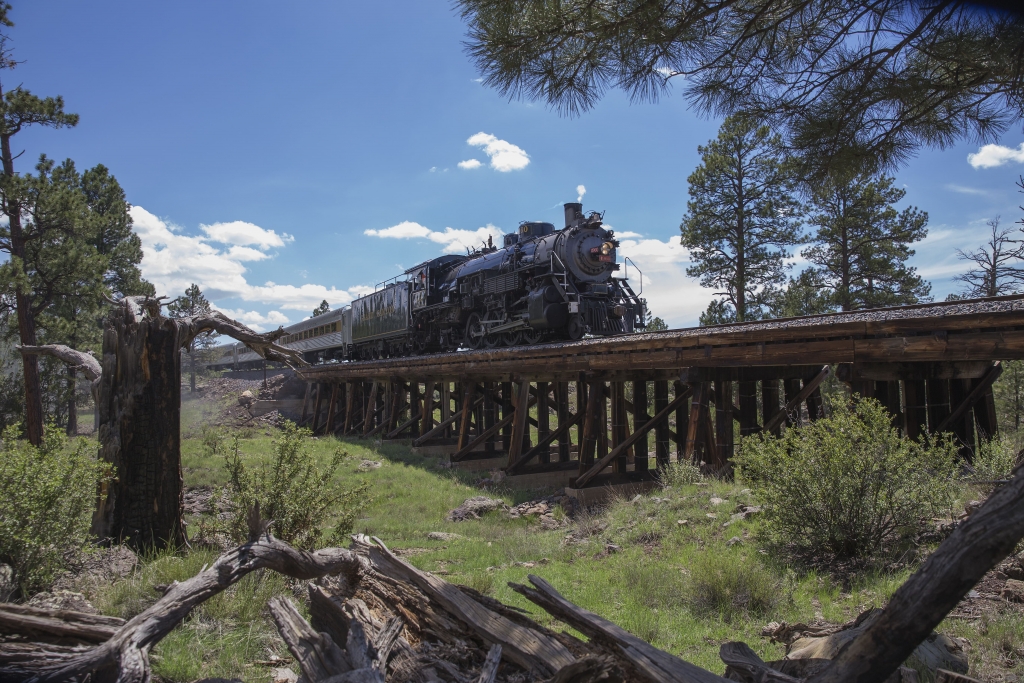 Instead of Trainline Europe … book a seat on the Grand Canyon Railway.
Traveling through Europe by train is a timeless classic—an elegant, if slower, way to drink in the impressive scenery outside your window. Yet if seeing Europe by rail isn't in the cards this year, consider boarding the historic 1901 Grand Canyon Railway in Williams, Arizona for a trip to the iconic Grand Canyon National Park. Experience the luxury of a bygone era with a stay at The Grand Canyon Railway Hotel before the 65-mile, two-hour train journey, which will give you a new perspective on the American West and its cinema-worthy scenery. Take in the sage-brush-dotted fields and Ponderosa pines as you enjoy the train's stylish interior, old-West entertainment, and exceptional service. For a group celebration, you can reserve a private car—or even the entire train—and packages can include one night at Grand Canyon's Maswik Lodge, which will give you more time to explore the park's splendor.
Explore with The Grand Canyon Railway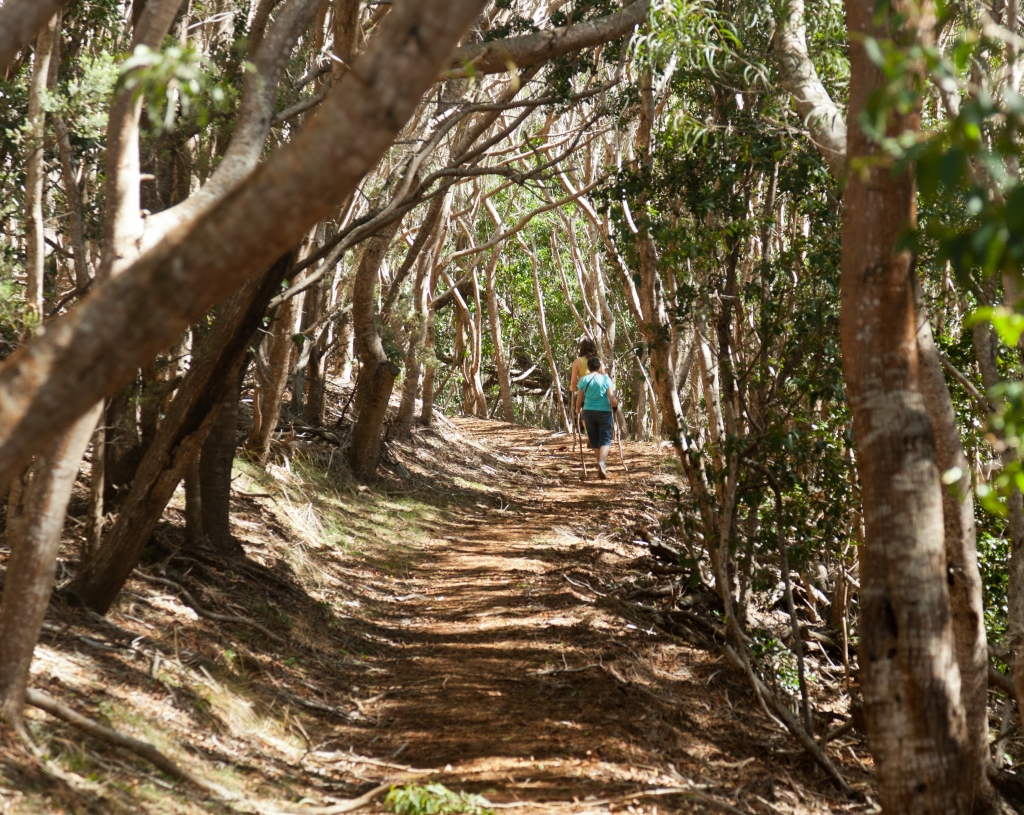 Instead of Bali … have an adventure in Hawaii.
While Bali is often top on the list for those looking for an exotic beach vacation, you'll find a lot of the same kind of laid-back vibe—not to mention active volcanos, balmy weather, and pristine beaches—on the islands of Hawaii. On the Big Island, visit Kilauea volcano, which is currently the most active volcano in the world. On Oahu, enjoy the scenery along the famous North Shore and a stop at the Polynesian Culture Center to learn more about the lifestyles, traditions, and crafts of six different island cultures. On Maui, don't miss Lahaina, an old whaling port known for its gigantic Banyan tree. While you're there, enjoy one of the most scenic drives in the world along the Road to Hana, where green-cloaked cliffs and lush valleys bursting with waterfalls will take your breath away at every turn.
Explore with Holiday Vacations

Instead of a SpaceX trip to Mars … go to Death Valley.
OK, while a ticket to outer space on one of SpaceX's rockets may realistically be a few years into the future, it is possible to book a trip now to what's arguably the most other-worldly place right here on Earth: Death Valley. There's a reason this is the desert that served as the setting for the original "Star Wars" film. Its vast mountainous landscape is unlike any other, and its shifting sand dunes, hidden canyons, and multi-hued rock formations make you feel like you're not on this planet. And while it's an arid region, the occasional winter rainstorm ushers in vast fields of wildflowers, and you'll also find pine forests, pinyon-juniper woodlands, and even spring-fed natural oases in this national park. To really explore this land of otherworldly contrasts, stay at The Oasis at Death Valley, just 120 miles northwest of Las Vegas and 275 miles northeast of Los Angeles. Either of the resort's two hotels—the historic Four Diamond Inn at Death Valley and the more family-friendly Ranch at Death Valley, both of which have recently undergone $100 million in renovations—make for an ideal respite after exploring all that Death Valley has to offer.