Northern Exposure: Canadian Getaways That Will Leave You Speechless
From biking the Canadian Rockies to touring Niagara Falls to hiking New Brunswick, try one of these tours for an unforgettable adventure
As the world's second biggest country, Canada has an astonishing diversity of landscapes: sky-high mountains and craggy coastlines, pristine forests and sprawling glaciers, vast prairies and thundering waterfalls. That makes it a magnet for wilderness enthusiasts and outdoors junkies in search of their next fix.
A variety of tour companies offer amazing full-immersion experiences from coast to coast. Here are three guaranteed to wow the naturalist in you.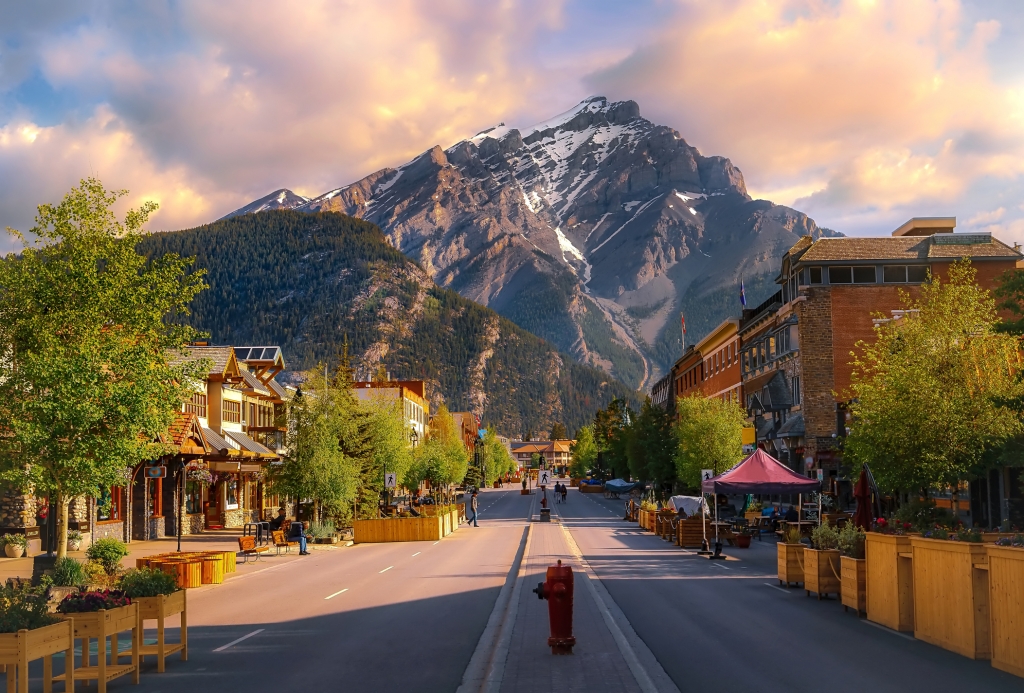 Alpine Adventure
For unforgettable vistas of scenic splendor, head to the Canadian Rockies for a seven-day biking tour, " Cycling the Canadian Rockies: Jasper, Lake Louise & Banff." This new tour from VBT follows a route from Edmonton to Jasper, Alberta.
Cycle through an alpine wonderland of snowcapped peaks and pristine lakes, rivers, and waterfalls as you traverse two of Canada's most glorious national parks, Jasper and Banff. You'll ride along spruce- and fir-lined roads, including the legendary Icefields Parkway. Stop for one Instagram-worthy vista after another: the serene waters of lakes Louise, Peyto, and Maligne, the largest natural lake in the Canadian Rockies; the vast Columbia Icefield straddling the Continental Divide; 75-foot-tall Athabasca Falls; and the deep-cut karst gorge of Maligne Canyon, with its sinkholes, streams, and caverns. Along the way you'll enjoy picnics in spectacular settings, savor traditional BBQ dinners at lodges, and explore Edmonton, Alberta's lively capital, known for some of Canada's most colorful festivals.
But it's nature's eye-popping beauty that is the star of this tour. It just might make you pinch yourself.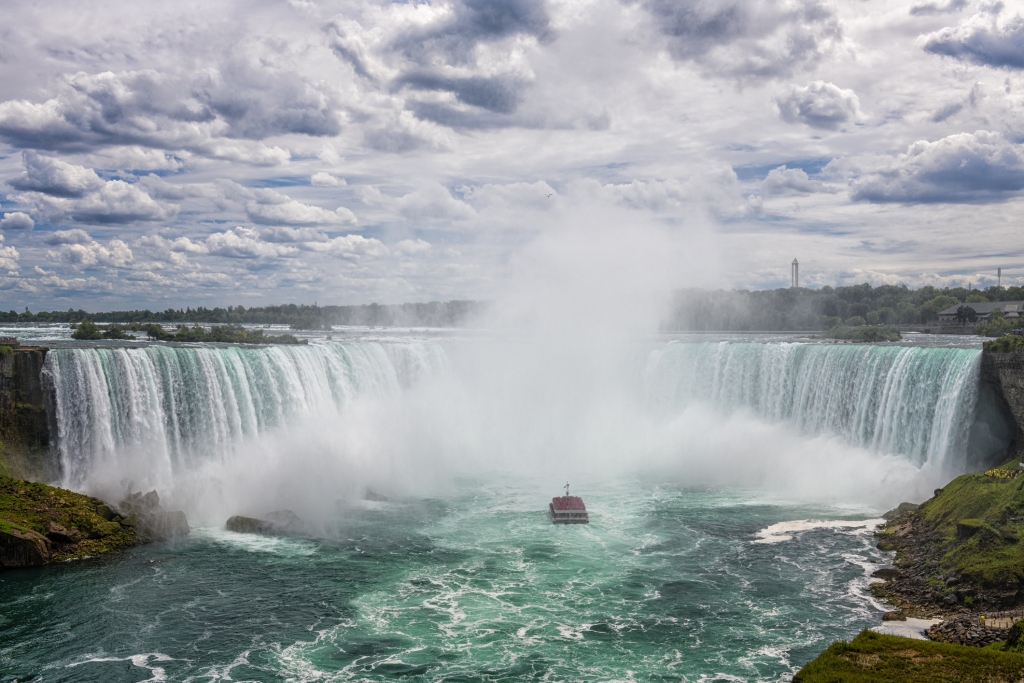 Waterfall Wonderland
Ask any traveler for their bucket list of North American sights and Niagara Falls is likely to be on it. Though not the widest or highest in the world, the iconic falls do boast the largest volume of water flowing through them — a whopping 3,160 tons per second. While Niagara straddles the U.S.-Canadian border, the best viewing spots are indisputably on the Canadian side.
That's where Holiday Vacations' six-day motorcoach tour, " Niagara Falls Getaway," comes in. Arrive at the resort city of Niagara Falls in Ontario, Canada, for the focal point of this itinerary. You'll drive the Niagara Parkway, described by Winston Churchill as "the prettiest Sunday afternoon drive in the world"; visit the Welland Canal, a man-made detour for ships to bypass Niagara Falls; and arrive at Table Rock: Journey Behind the Falls, where you descend 125 feet to the base of Horseshoe Falls via elevators. There, you'll walk through 130-year-old tunnels with viewing portals behind and under the thundering cascades and to the observation deck at the foot of this 13-story-tall wonder. For another vantage point, see the falls by boat tour, getting as close as possible to the deafening waters. Cap off the experience with a viewing of Niagara: Miracles, Myths and Magic on Canada's largest movie screen, soaring six stories high, and a meal at the revolving restaurant atop Skylon Tower, 775 feet above the falls.
Viewing one-fifth of the world's fresh water crashing down in front of you is a once-in-a-lifetime experience you won't soon forget.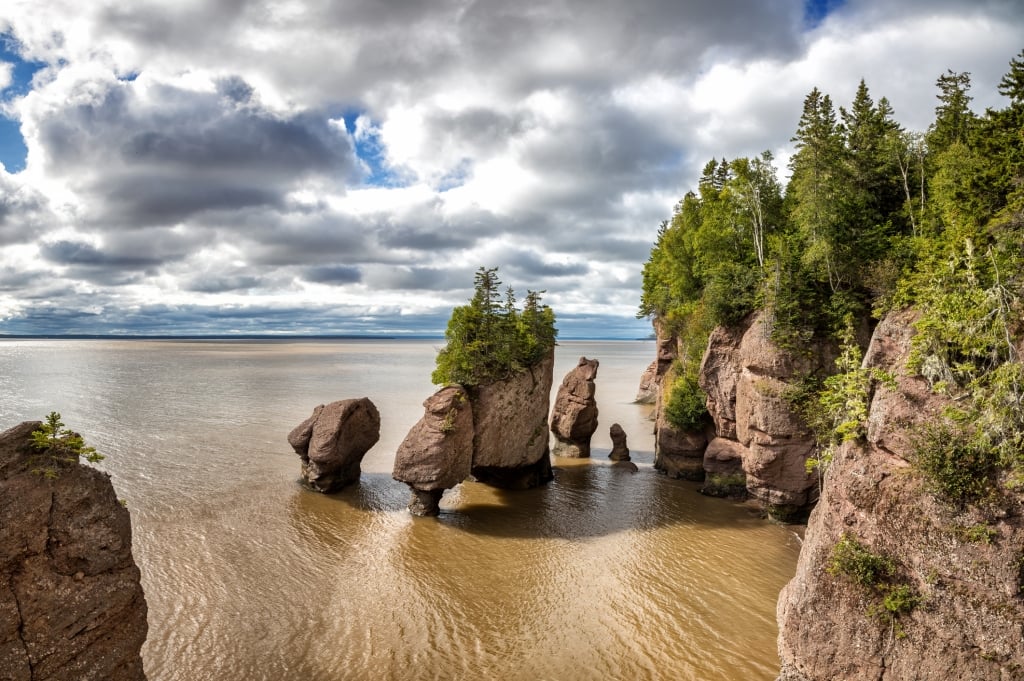 New Brunswick Beauty
Carved-out caves and soaring cliffs. Sea stacks and sprawling tidal flats. Scenic villages and rocky shorelines. These are the arresting seascapes that await on Country Walkers' seven-day guided walking tour, "New Brunswick: Bay of Fundy and Campobello Island."
Sculpted over millennia by the largest tidal surge in the world, the Bay of Fundy boasts the highest tides on earth, the rarest whales in the world, and fascinating dinosaur fossils, all of which make it one of the seven natural wonders of North America. On this itinerary, you'll hike along country trails through spruce-fir forests and vast marshes, stopping in seaside towns to experience the vibrant mix of Acadian roots, maritime culture, and lively Scottish traditions. On Campobello Island — the summer home of Franklin D. Roosevelt — delve into a little-known chapter of history as you stay in 19th-century cottages and tour the 34-room Roosevelt Cottage Museum, enjoying a private talk with a local expert. Search for some of the 12 whale species that frequent these cold Atlantic waters — plus porpoises, seals, and eagles — during a private whale watch.
Round out your visit with farm-fresh cuisine, just-plucked Atlantic lobster, and traditional maritime music. You'll leave with your toes tapping and your lips smacking.
How to Explore on Foot
For more than 38 years, Country Walkers has provided active, immersive, and unforgettable travel experiences on five continents. They offer two distinct ways to explore: scheduled, small-group Guided Walking Adventures and independent Self-Guided Walking Adventures. On tour, guests enjoy superb local cuisine, first-class guides, fine accommodations, and authentic cultural and natural encounters. Visit countrywalkers.com or call 800-234-6900 for more information.
How to Explore on a Tour
Holiday Vacations is one of America's most reputable tour companies, with more than 44 years of experience. As a nationwide provider of air, rail, motorcoach and cruise guided vacations to more than 65 destinations worldwide, their packages are inclusive of all airfare, fine hotels, meals and must-see attractions. Expert tour directors handle all travel details, assuring you a carefree and memorable vacation. Visit holidayvacations.com for more information.
How to Explore by Bike
VBT Bicycling and Walking Vacations offers more than 55 deluxe, small-group bicycling, walking, and barge & sail vacations in 27 different countries and 10 U.S. states. It is the value leader in active biking vacations and has been rated among the "World's Best Tour Operators" by the readers of Travel + Leisure for six years. Each trip includes all accommodations, many meals, two expert local trip leaders, unique sightseeing and cultural activities, and full van support. Unlike other companies, VBT also includes round-trip international airfare from more than 30 U.S. cities and select Canadian cities for all overseas vacations. Visit vbt.com or call 800-245-3868 for more information.
For more travel experiences to Beautiful Places on Earth™ available from Xanterra Travel Collection® and its affiliated properties, visit xanterra.com/explore.