Preserving Our Night Skies
Star light, star bright: Our wish is to protect the night.
As we look up to the night sky, it's breathtaking to see a clear dark sky illuminated with countless stars twinkling away; an awe-inspiring sight that can provide a sense of peace and permanence. However, light pollution is increasingly eroding this natural spectacle from many areas across our beautiful earth—including in some of our national parks where visitors flock by the thousands every day looking to connect with nature. By taking important steps towards preserving these starry displays, we can help ensure future generations will be able to still marvel at them as we often do today!

Grand Canyon After Dark
The night sky at Grand Canyon is exceptionally dark, making the park a perfect place to stand still, gaze upwards, and appreciate the drama, wonder, and magnitude of the universe. Xanterra Travel Collection® is committed to preserving that experience at this park and all others where we operate. DarkSky, previously International Dark-Sky Association, or IDA, is a non-profit organization that protects the night from light pollution by advocating for appropriate outdoor lighting. We share their values, offer financial support, and partner with them and the National Park Service to reduce light pollution and energy consumption, preserve views of the night sky, improve human health, and protect nocturnal animals and ecosystems. Following an extensive improvement process starting in 2013, which included the replacement of nearly 2,000 light fixtures, DarkSky recognized the Grand Canyon as the International Dark Sky Place of the Year.   
Advances in technology over the past two decades have made lighting a prime opportunity for reducing energy consumption and GHG emissions. Though we incorporate outdoor lighting best practices at all our locations, Grand Canyon National Park, The Oasis at Death Valley, Waterton-Glacier International Peace Park (which contains Glacier National Park), and Zion National Park have all been designated International Dark Sky Parks by DarkSky. Partnering with the NPS, we continue to optimize exterior lighting at these locations. We like to think that for every light fixture we replace, one star shines brighter and eventually, the night sky will be free of any light pollution and lit up only by brilliant constellations.

Experience the Night Sky of Zion
While most visitors see the setting sun as the end of their day in the park, those who depart before dark miss out on an incredible show: the starry night skies. Zion National Park Lodge prioritizes the protection of park resources, including the night sky, taking measures to combat light pollution.
To address the issue, our staff has redesigned the lighting layout, reducing the number of lights and modifying fixtures to prevent light from polluting the sky. The lamps are now fully shielded, thwarting light from shining up into the sky. By directing the light where it's needed, Zion Lodge has been able to reduce brightness and save energy. Their "warm white" LED lamps not only create a more pleasant experience for visitors but also benefit wildlife. Zion National Park Lodge lighting balances both convenience and safety of guests with the preservation of natural resources.
For more information on how Zion National Park Lodge partners with the National Park Service to safeguard our night skies, visit their website here.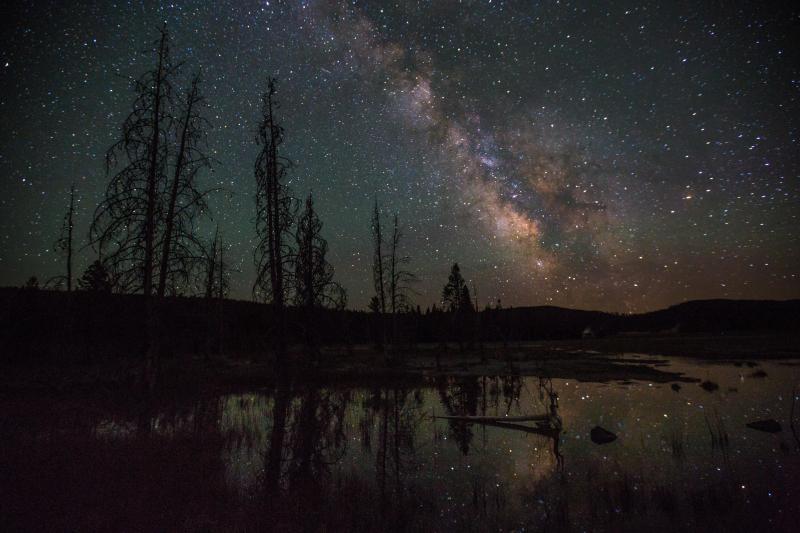 Stargazing in Yellowstone National Park
At Yellowstone National Park, the beauty of the night sky is a crucial part of the experience. As the world's first national park, Yellowstone offers visitors unparalleled natural wonders, including the Old Faithful geyser and Grand Prismatic Spring. However, even in the midst of these awe-inspiring sights, the skies at night might just be the park's hidden gem. With some of the darkest skies in the lower-48 states, stargazing at Yellowstone is an experience that simply cannot be missed. As such, preserving the night skies within the park is a top priority for park officials. Through thoughtful management, the park has been able to limit light pollution and protect the dark skies, allowing visitors to continue making astronomical discoveries for generations to come.
While visitors  typically expect to encounter bison, spurting geysers, and incredible scenery during the daytime, views of the star-studded skies always surprise and delight. Simply look up at night to experience a dazzling display of constellations, planets, and nebulae normally invisible to urban dwellers because of their cities' light pollution.
"Yellowstone National Park is a good place for star-gazing because there are no large population centers nearby. When visitors get a little bit away from the lodges, people are always amazed by the amount of stars they see," says Leslie Quinn, an interpretive specialist at Yellowstone National Park Lodges.
Although guests literally get an eyeful without equipment, binoculars sharpen the focus, revealing lesser stars and even craters on planets.
"It's marvelous to see the stars, to see light that has taken thousands of years to reach us," says Quinn. "I renew and refine my sense of wonder anytime I can look at the night sky."
Tips for Stargazing at Yellowstone
Drives
Firehole Lake Drive, a 3-mile, one-way road off of Yellowstone's Grand Loop is easily accessible but away from main areas.
Mount Washburn's peak, one of the highest points in the park, reaches 10,243 feet. Stargazers can drive to Dunraven Pass, which at 8,859 feet rates as the highest road in Yellowstone, one that provides wide expanses of sky. Be mindful that you will be driving up and down a mountain road in the dark.
Walks
Upper Geyser Basin, located near Old Faithful, offers boardwalks and broad views of the skies while being near the lodges.
Mammoth Hot Springs, near the park's north entrance, also offers boardwalks and great views of the sky.
Expert hikers can climb the trails to Mount Washburn's peak by day. Access the hiking trails from Dunraven Pass on Grand Loop Road or Chittenden Road.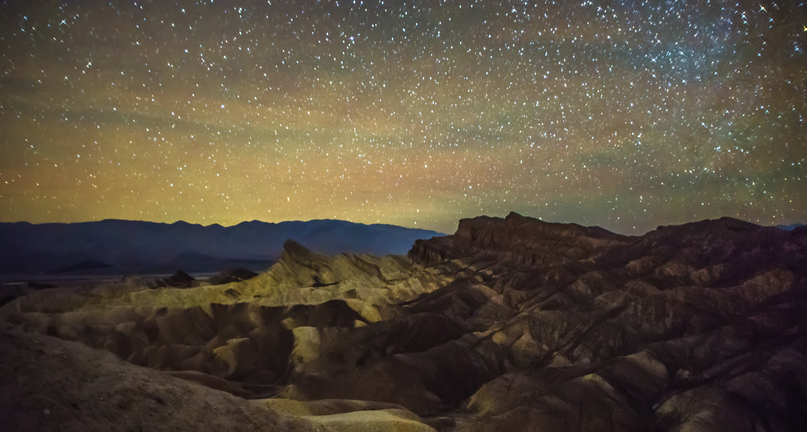 Death Valley is a Gold Tier Dark Sky National Park
Death Valley National Park is designated as the largest Dark Sky National Park in the country by DarkSky. The Oasis at Death Valley, alongside the National Park Service, has taken measures to greatly minimize light pollution in the area. Because of this, the park is designated as a "Gold Tier" Dark Sky Park, the highest level awarded.
Located 120 miles northwest of Las Vegas and 295 miles northeast of Los Angeles, The Oasis is distant enough from the major cities in the Southwest to provide unobstructed and stunning views of the night's sky, yet close enough for city dwellers to escape for the weekend. Death Valley offers some of the best stargazing in America. During the winter and spring months, Death Valley National Park Rangers host several stargazing events within the park. For a full schedule of park events please visit the National Park Service's website.
How You Can Help
Bright ideas to protect our nighttime view
Did you know that dark skies and appropriate exterior lighting can help improve sleep, prevent visual discomfort (glare), and protect ecosystems from harmful light pollution? Plus, when outdoor light is not used properly, it wastes electricity and contributes to air emissions.
Here's how you can help protect the night sky:
Report any harmful exterior lighting (e.g., lights pointing upward).

Use outdoor lighting only when needed.

Choose warm white or amber outdoor lights. Blue and white lights affect wildlife more than warmer colors.

Make sure outdoor lights have some form of shield.

Only light the areas that need lighting. 

Close window blinds at night.