Ready for Romance
Discover five island getaways that will make you fall in love all over again
Whether celebrating a special occasion or seeking solace from the hustle and bustle of everyday life, there's no better place to say 'I love you' to your special someone than at an exclusive oasis surrounded by the world's most pristine water and stunning landscape.
Are you ready to get away from it all?
Couples countdown the days of awakening in paradise to the view of turquoise colored waves and softened white sandy beaches. With hundreds of hotels vying for visitors' attention, selecting the most suitable island accommodations can often seem like a daunting task. Windstar Cruises – a fleet of small luxury cruise ships – has scoured international waters to identify five of the world's most romantic islands and the top bungalows, resorts, and overnight accommodations where starry-eyed travelers can rest their heads.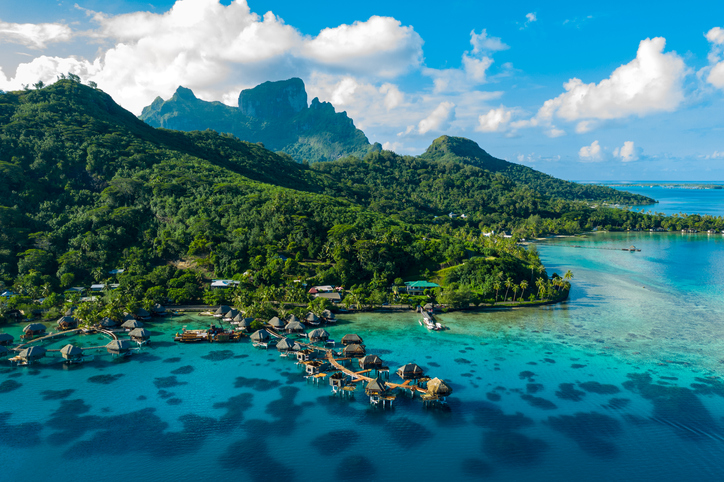 1. Bora Bora
The white sandy beaches and bluish green waters make this French Polynesian island the ultimate destination for hopeless romantics. This secluded island is surrounded by a lagoon and a barrier reef, creating an open invitation for adventurous couples to snorkel on top or dive deep to view a variety of sharks, rays, and other unique fish species. Though mainly sought after for its aqua-centric landscape, couples will find unexpected beauty in breathtaking mountainous views atop the remnants of the island's now extinct volcano, Mount Otemanu.
Where To Stay:
Among the most popular overnight accommodations are the over-the-water bungalows, scattered throughout the island's many beaches. Perhaps the best locale to get a traditional Polynesian experience while basking in the views of both land and sea, is Le Méridien Bora Bora. Romantics from around the world have laid claim at these bungalow resorts, ideally situated over the crystal-clear lagoon full of turtles and tropical fish. Conveniently, guests sailing on Windstar's Wind Spirit cruises can add an overnight bungalow package to their Tahiti cruise, experiencing the unforgettable romance of both a sailing yacht and an overwater bungalow on one enchanting trip.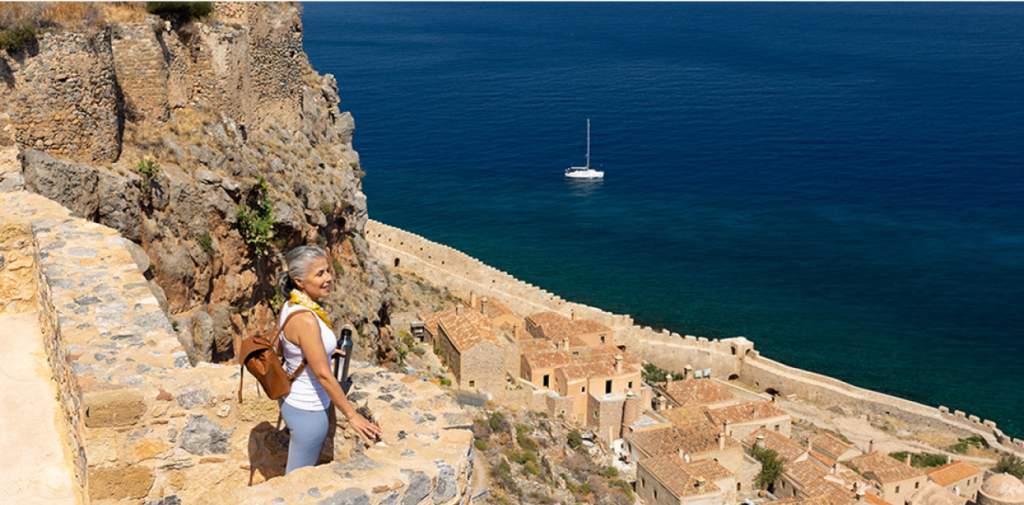 2. Santorini
This Greek island in the southern Aegean Sea is a geological caldera following a volcanic eruption that destroyed the earliest settlements on a formerly single island. This historic natural occurrence set the scene for one of the world's most romantic island retreats. The rugged landscape and picturesque villages provide the perfect setting to warm up to the one you love and gaze at the beauty of a gold sunset falling behind majestic blue waters. Island goers can complement their beach getaway by walking the land of one of many flourishing vineyards, while sipping a white Greek wine made from grapes indigenous to the island of Santorini.
Where To Stay:
Situated conveniently near the airport and Fira, the island's main town, Andronis Luxury Suites boasts 25 romantic luxury suites cascading down the side of this Greek island, near the cliff edge of Oia Village. The property's stunning architecture, multi-level balconies, and serene ambiance make this award-winning haven irresistible to couples looking to rekindle their passion. Whether enjoying a couples massage amid flowing waters of a cave interior, or scooping up a stylish dress by a local designer, visitors will leave without questioning why this is one of the most sought-after Mediterranean escapes. Or take your love story to a new level aboard a Windstar Cruises yacht, voted the most romantic cruise line. See the beauty of Santorini as part of a Windstar Gems of the Aegean or Greek Isles & Turkish Delights cruise. It's so easy to leave your luggage in your stateroom and spend the entire day exploring the decadent scenery of this island before returning to the comfort and privacy of your waiting yacht.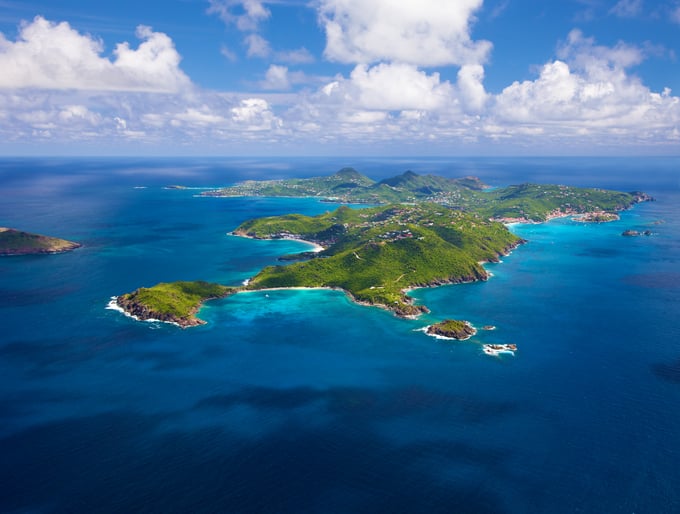 3. Saint Barthélemy
Known for its white sandy beaches, designer shops, and candlelit restaurants, this French-speaking chic Caribbean island (commonly referred to as St. Bart's) is the embodiment of romance. The capital of Saint Barthélemy, Gustavia, sits on a yacht-filled harbor surrounded by gingerbread cottages and is often visited by the world's most renowned celebrities. Couples can rest on shore and enjoy the sights and sounds of kite surfers flying by, or nuzzle up on a catamaran while sailing past the nearby beaches and sipping from the island's signature ti punch.
Where To Stay:
Couples can truly enjoy the pristine waters surrounding St. Bart's as viewed from the balcony of a suite aboard Windstar Cruises' San Juan & the Virgin Islands cruise. The 7-day excursion – kicking off from its newly added U.S. port in San Juan – cruises around both the U.S. and British Virgin Islands, making its second stop along the shoreline of Gustavia. Among the most romantic of the shore excursions available to Windstar guests is the Sailing Catamaran Adventure, which whisks couples away on a sailing and snorkeling experience along the beautiful west coast of the island to the Marine Park at Colombier Bay. For those who prefer to stay on land, couples can also enjoy an intimate tour highlighting the island's history and most popular tourist spots.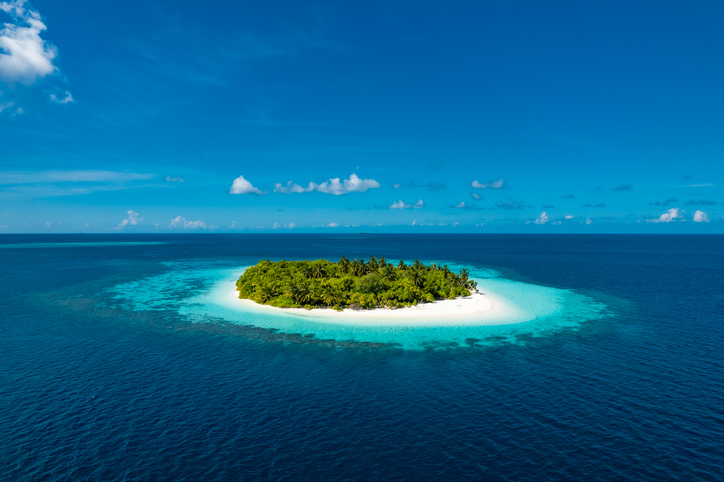 4. Maldives
Known for its beaches, blue lagoons, and extensive reefs, the Maldives is a romantic tropical oasis situated southwest of India and Sri Lanka in the Indian Ocean. The pearl string-like islands of the Maldives are protected by a reef structure, providing an endless selection of activities for visitors, alongside an awe-inspiring landscape that is perfectly tailored for loving couples looking to escape the daily grind. For those looking to explore the island, the capital, Malé, makes use of its popular reef by housing a renowned fish market and award winning restaurants for both novice and seasoned foodies alike.
Where To Stay:
Situated in the central southern part of North Male' Atoll, the exclusive property of Baros Maldives is easy to reach by travelers, yet provides the feeling of being so far removed from the world. Couples can retreat to this secluded resort's 45 Beachside and 30 Water Villas to bask in the sun or lie under the stars atop a private veranda or sun deck. As a special perk, couples can enjoy a romantic voyage on Nooma, a traditional handcrafted Maldivian sailing dhoni.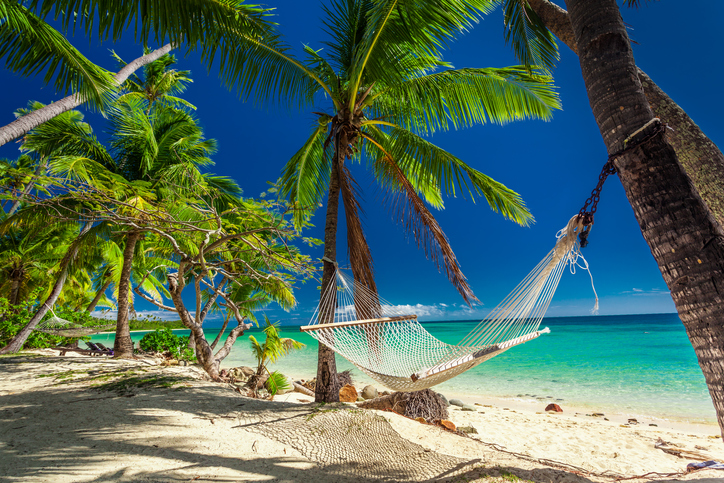 5. Fiji
Located in the waters of the South Pacific, Fiji is a household name among romantics, and its reputation for luxurious private locales doesn't disappoint. The island's white sandy beaches, crystal-clear waters, and unspoiled landscape offer an ideal backdrop for the most romantic of all getaways. Rounding out the incredible views that couples are sure to appreciate is the relaxed, easy-going and friendly culture that the island locals exude. Perhaps that is why they are coined "some of the happiest people on Earth."
Where To Stay:
Boasting an array of world-class five-star resorts and hotels, it might be tough for couples to choose the right one for them. Though the Yasawa Island Resort & Spa certainly lives up to its "heavenly" namesake. When guests aren't basking in the luxury of the resort's 18 beachfront bungalows, they are invited to visit one of 10 private beaches to partake in a romantic picnic or snorkel and dive throughout the famous Blue Lagoon. For couples looking for ultimate privacy, the resort allows guests to reserve their own private beach for the day.
For more travel experiences available from the Xanterra Travel Collection® and its affiliated properties, visit xanterra.com/stories.