The Incredible Green Machine
The Grand Canyon Railway is leading the way with eco-friendly measures
Passengers riding the Grand Canyon Railway from Williams, Ariz., along a scenic 65-mile route to the canyon's South Rim might not realize it, but they may have less impact on the environment than the awe-inspiring scenery has on them.
Xanterra Travel Collection®, which owns and operates the Grand Canyon Railway excursion train, the Grand Canyon Railway Hotel and manages many lodges and concessions at the South Rim, is committed to treading lightly on this splendid, but delicate, landscape.
"We've already picked the low-hanging fruit," says Grand Canyon Railway & Hotel's director of sustainability, Morgan O'Connor, of the company's early eco-friendly efforts. That includes installing LED lighting in 90 percent of the Grand Canyon Railway Hotel. The lodging that adjoins the historic train depot in Williams sports occupancy sensors that switch off heat and air conditioning when guestrooms are unoccupied. Toilets are low flow. And as rooms are remodeled, they're outfitted with furnishings certified "green" by the Forest Stewardship Council. Carpeting is made from recycled materials. And paints have minimum off gassing.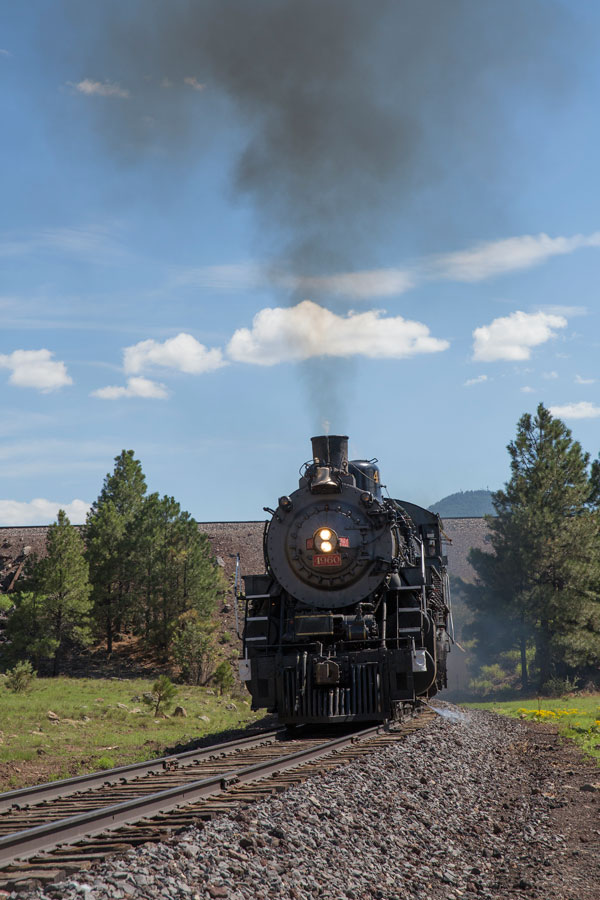 Among the railway's other current and pending eco-friendly measures: Its two historic steam engines run on recycled waste vegetable oil (WVO). Fat from fryers around the region (including Xanterra's Grand Depot Cafe and Grand Canyon restaurants) is collected and treated and then used to fuel the trains' boilers that create steam. "Yellow grease," as it's known in the industry, is 100 percent renewable. Each round-trip journey powered by the railway's steam engines yields a 25,000-pound reduction of C02 emissions compared to engines running on ultra-low sulfur diesel. So consider that the next time you order French fries at the Grand Canyon restaurants.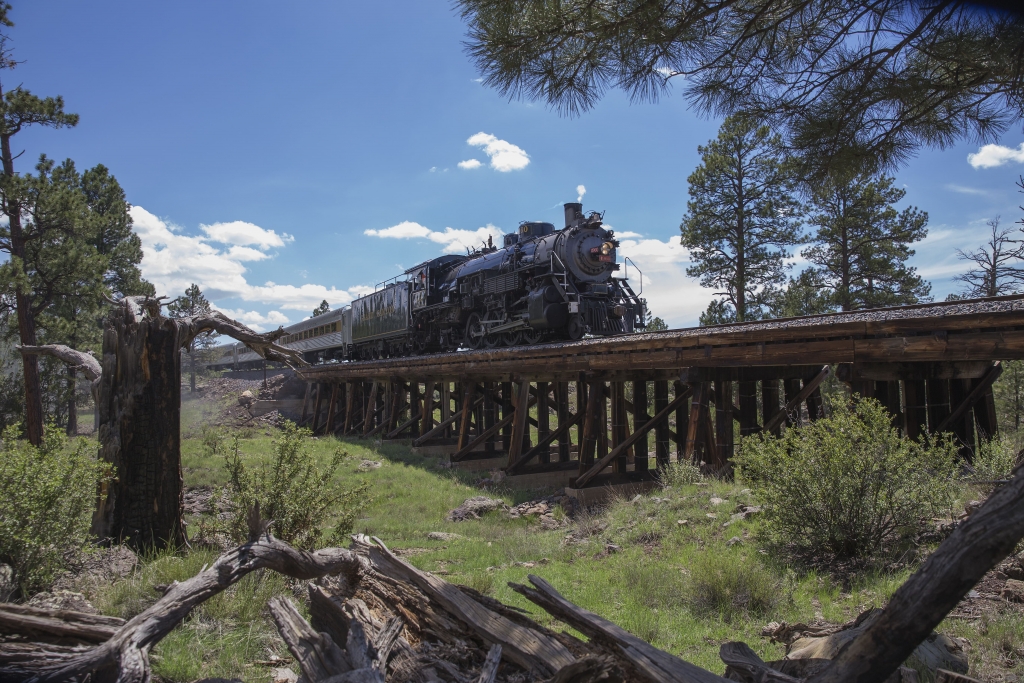 The Grand Canyon Railway harvests rainwater and snowmelt to use in the operation of its steam locomotives. In 2016, the company captured 143,000 gallons in a stormwater retention pond at its railway maintenance yard. The majestic steel locomotives require exterior lubricants to keep the wheels (and other parts) turning. The railway has undertaken an aggressive campaign to phase out petroleum-based lubricants and replace them with renewable, soy-based ones. In rehabbing its diesel locomotives, the railway replaces the engines with more efficient parts that run on cleaner-burning ultra-low sulfur diesel fuel. Bins for compost material and recyclables are on every train. The food waste is sold to a local company that turns it into compost. Some of the railway's hotel and restaurant water supply in Williams is heated via solar panels, an initiative that expanded in 2018. Since purchasing the railway in 2007, Xanterra has achieved over 98% reduction in hazardous waste production, thanks to the elimination of heavy solvents and other chemicals traditionally used for cleaning rail cars. "Not only do we have a safer environment for our employees and guests, we're doing the right thing," O'Conner says.
For more information and reservations, visit thetrain.com or call 800-THE-TRAIN (843-8724).
For travel experiences available from Xanterra Travel Collection® and its affiliated properties, visit xanterra.com/explore/.