Shop with Purpose: Yellowstone Offers Local and Sustainable Gifts
Repurposed and locally made items make unique souvenirs from our nation's first national park
The days of made-in-China items for sale in Yellowstone National Park Lodges' gift shops are long gone, as Xanterra Travel Collection® — operator of many of the park's retail outlets — has increasingly focused on carrying U.S.-made and sustainable products as part of its overall goal of sustainable practices.
Almost 80% of the inventory in Xanterra's Yellowstone stores is made in the U.S.A. You'll still find souvenir staples like ball caps, key chains, and shot glasses. "We're a hospitality company, and we want to give people choices at various price points," says Dylan Hoffman, Xanterra's Director of Sustainability.
But along with the expected trinkets, you'll find innovative eco-friendly items, like tumblers made from recycled wine bottles. Printed with images of a bear, bison, or elk, the glasses have been a huge seller since they were introduced several years ago.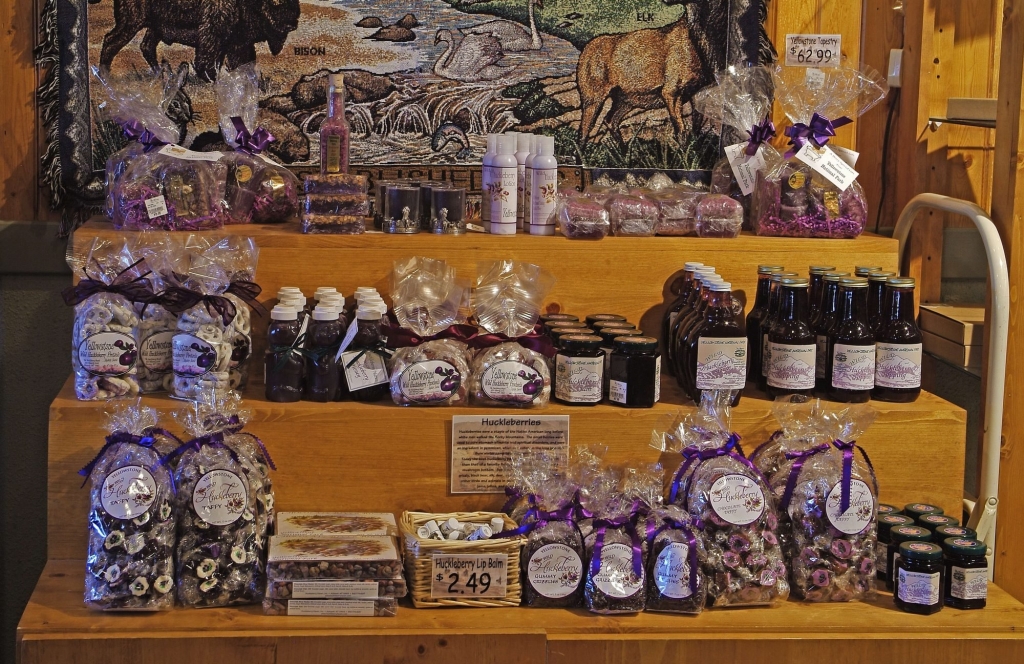 Xanterra buyers also scout local trade shows for homegrown fare. At the Lake Hotel's gift shop, for instance, you'll find Montana-made Windrift Hill goat milk soaps and lotions in scents like Grandma's Raspberry Patch. Artful necklaces and earrings in the Vazza collection, also at the Lake Hotel, feature Montana agate. At the Old Faithful Inn, you can watch artist-in-residence James Reed create his dry brush watercolors on canvas and then purchase one in the shop. And if you didn't capture your own wildlife close-up during your visit, you can buy an award-winning image taken in the park by photographer Steve Hinch.
Carl Sheehan's stoneware pottery adorned with Yellowstone-inspired landscapes is a popular seller in both the Lake Hotel and Old Faithful Inn shops. The former Old Faithful artist-in-residence now runs his Fire Hole Pottery business from nearby Bozeman, Mont. But he still makes monthly appearances at the lodge and figures sales in the park account for 70% of his income.
"It's very important to my business," he says.
Xanterra has also introduced an educational component to its stores. For instance, informational graphics will be featured in the Mammoth Springs Hotel gift shop when it re-opens in August noting the impact of climate change on various Yellowstone species.
"We often look at climate change as a nebulous global issue," says Hoffman. "But decades of record-keeping in the park gives us a comprehensive data set to draw on. And it shows a variety of impacts, including warmer winters and less snowfall. In the last 50 years, the park has seen 30 fewer days of snow on the ground at the northeast entrance, and 80 fewer days below freezing. That can make an impression on the visitor who came here to see wildlife that is adversely affected by changing habitat conditions. Our goal is to make a personal connection."
How to Explore
With nine unique lodging options, including the renowned historic Lake Yellowstone Hotel, Yellowstone National Park Lodges allows you to have the ultimate park experience. Staying in the park is the best way for visitors to experience all it has to offer, including the unique shopping. Once the day-visitors leave, Yellowstone remains for the in-park overnight guests alone. Yellowstone National Park Lodges also offers tours and activities guided by Certified Interpretive Guides that help create memorable experiences. For more information on lodging, tours, and vacation packages, visit yellowstonenationalparklodges.com or call 307-344-7311.