The Pioneer Woman: Mary Colter
This trailblazing architect left an indelible mark on the buildings at the Grand Canyon
Apart from its magnificent geologic formations, Arizona's Grand Canyon is also noteworthy for the design of its iconic structures. What visitors to the site may not know, however, is that some of the most memorable structures are the brainchild of one of the country's earliest female architects, Mary Jane Colter.
When the Fred Harvey Co. opened the West to comfort-seeking tourists in New Mexico, Arizona, and beyond with its Harvey House restaurants and hotels, it turned to Colter for help. And she obliged with a captivating and groundbreaking building style.
Colter was an interior designer, and later chief architect for the Fred Harvey Co., whose businesses helped shape the early visitor experience to the West. The former St. Paul, Minnesota, art teacher designed or decorated 23 buildings during more than four decades with the company. Her legacy lives on – and nowhere is it more visible than at Grand Canyon National Park.
Colter's genius lay in the fact that, rather than mimicking European architecture, she drew inspiration from Native American and Spanish Colonial design. Her creations were meant to blend in with or enhance their surroundings. That's certainly the case with her lovingly preserved works at the canyon. They include:

Hopi House.
Opened in 1905 across from El Tovar, the Pueblo design is based on a traditional terraced Hopi dwelling. It was created as a market for Native American crafts and still serves that function, though in early years, craftspeople also lived and worked in the building. Native American dancers still perform outside on the raised platform on select dates just as they did in the early 1900s. A kiva (a room Puebloans use for religious ceremonies) lies behind a weathered door Colter relocated from a Hopi home. Be sure to visit the second floor to view collectible native-made art.
Lookout Studio.
Built in 1914 and set on a promontory that juts over the canyon rim, this stone gift shop/scenic overlook melds so perfectly with its surroundings that it's hard to tell where the canyon ends and the lookout begins. Find a perch on one of its three viewing decks and watch hikers make their way up the Bright Angel Trail.
Hermits Rest.
Colter created a fanciful backstory in designing this 1914 way station, originally used as a rest stop for Fred Harvey tours destined for the now-defunct Hermit Camp. It's presented as a shelter once occupied by a mythical hermit. Outside, it looks like a pile of rubble. Inside, there's a floor-to-ceiling arched stone fireplace. The log bench and two wooden armchairs are original Colter designs. The road to Hermits Rest is open March through November.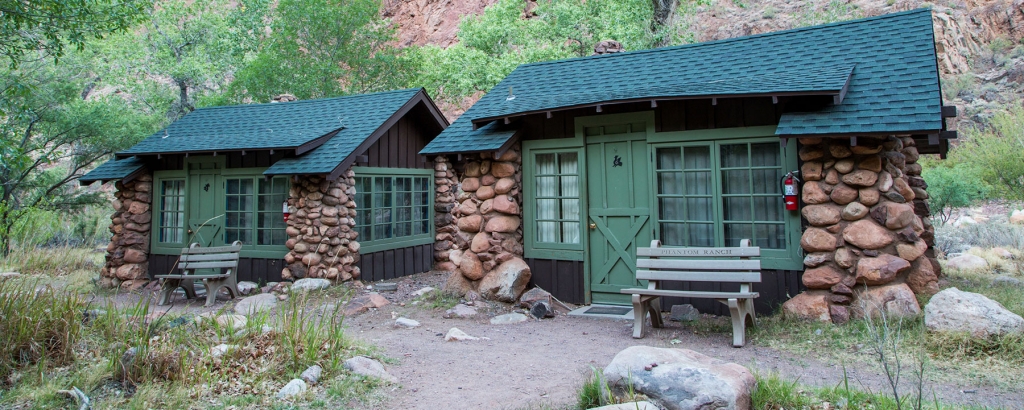 Phantom Ranch.
Located on the floor of the Grand Canyon near the shores of the Colorado River, this rustic outpost is the only lodging facility within the canyon itself. Open for mule riders in 1922, it's built of rough-hewn wood and native stone to blend harmoniously with the natural setting. (It's accessible by foot, mule, or via Colorado rafting trips.) Hikers can stay in Colter-designed cabins that sleep two to 10 visitors or in more recently added male and female dormitories. Communal meals are served in a central dining cabin.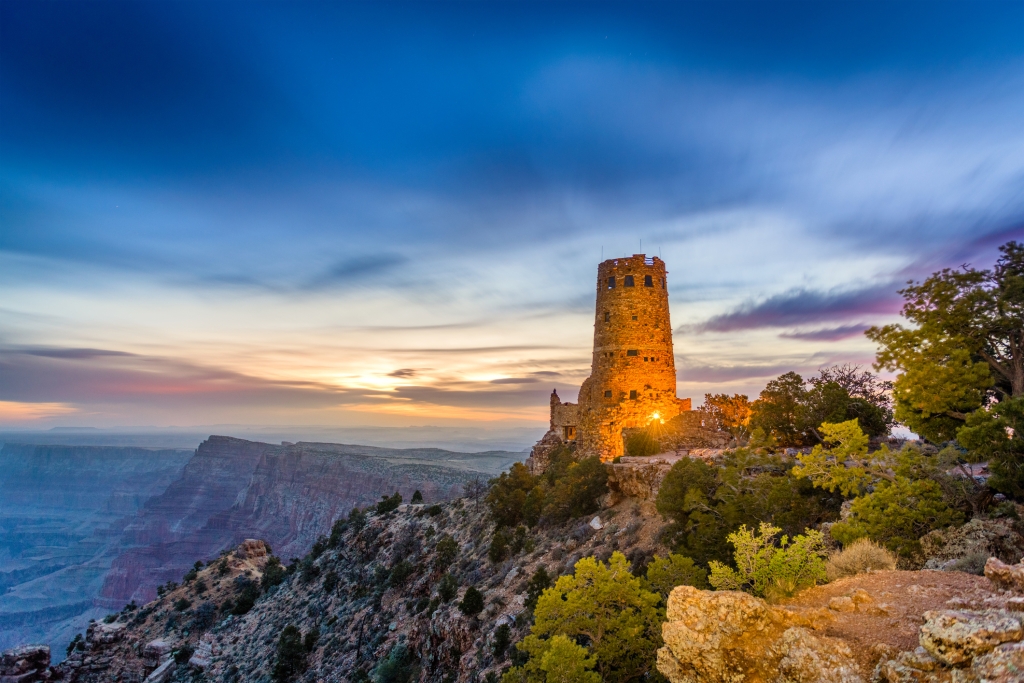 Desert View Watchtower.
This stone tower built in 1932, offers stunning canyon views that stretch up to 100 miles on clear days. Its design echoes prehistoric Pueblo structures believed to have been used for food storage. One room is representative of a kiva. Artwork throughout is by native artists. It lies 25 miles from the park's Historic Village District.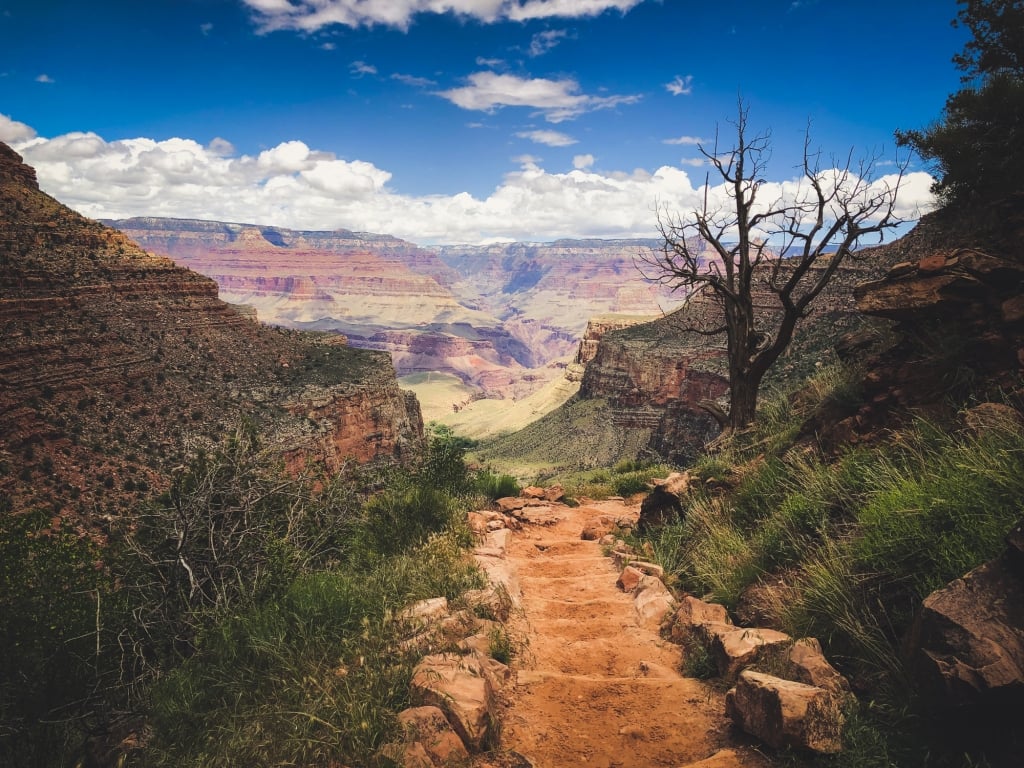 Bright Angel Lodge & Cabins.
The rustic log-and-stone building was built in 1935 as an affordable alternative to the grander El Tovar, a five-minute walk away. Check out the massive stone lobby fireplace topped by a thunderbird design. And don't miss the Bright Angel History Room, which has a section devoted to Colter. Included in the display is dinnerware she created for the Santa Fe Railway featuring ancient Mimbres pottery designs that originated with the indigenous peoples of the Southwest. The room's "geologic" fireplace was designed by Colter to replicate the layers of stone that form the canyon.In honor of their historic significance, four of Colter's structures — Hopi House, Lookout Studio, Hermit's Rest, and Desert View Watchtower — were added to the National Register of Historic Places and declared a National Historic Landmark in 1987.
For more information, visit grandcanyonlodges.com or call 888-297-2757.
For more travel experiences available from the Xanterra Travel Collection® and its affiliated properties, visit xanterra.com/stories.