There's No Place Like Home
Sit in the lap of luxury aboard Grand Canyon Railway's historical dome cars.
In nearly every documentary on the rich bounty of America, a montage of images is shown to reflect who we are as a nation. Fading in and out are scenes of California's rocky coast, Kansas wheat fields, a New England lighthouse, the Statue of Liberty and, quite often, a sleek train skimming across a vast expanse of America. The Grand Canyon Railway wants to put you in the picture. And the train's Luxury Dome Car will put you there in style.
A Night of Good Rest, A Day of Old West
To be clear, there are trains… and there's the Grand Canyon Railway, which immerses you in a truly American experience. Far more than mere transportation, it is transformative. And it all begins in the town of Williams, 65 miles south of Grand Canyon's South Rim.
Each morning, guests arrive from all over, many having spent a quiet evening at the Grand Canyon Railway Hotel. No matter which direction a passenger comes from, the railway is ready to put everyone into an Old West state of mind. As the train waits patiently on the track, guests fill the stands at an open stage near the hotel for a fun-filled showdown between a stern sheriff and a band of comic cattle rustlers. When the crowd-pleasing show ends (spoiler alert: the good guys win), kids and adults pose for pictures with the cast and their horses. A few feet away, gleaming in the morning sun, the train huffs and wheezes as it prepares for the journey. Then passengers step aboard. And step back in time.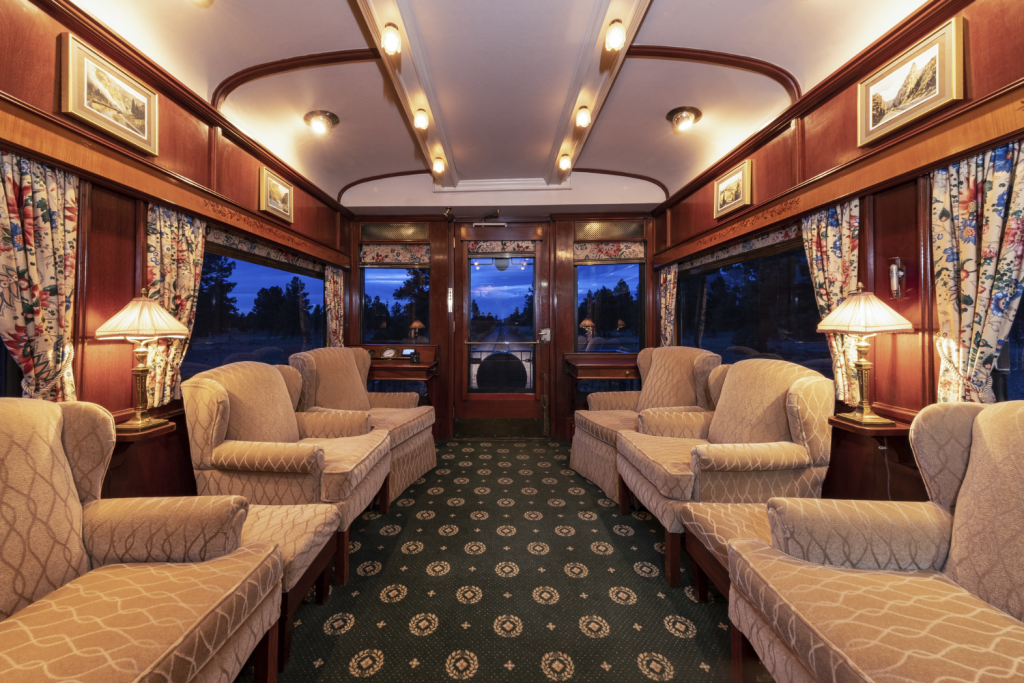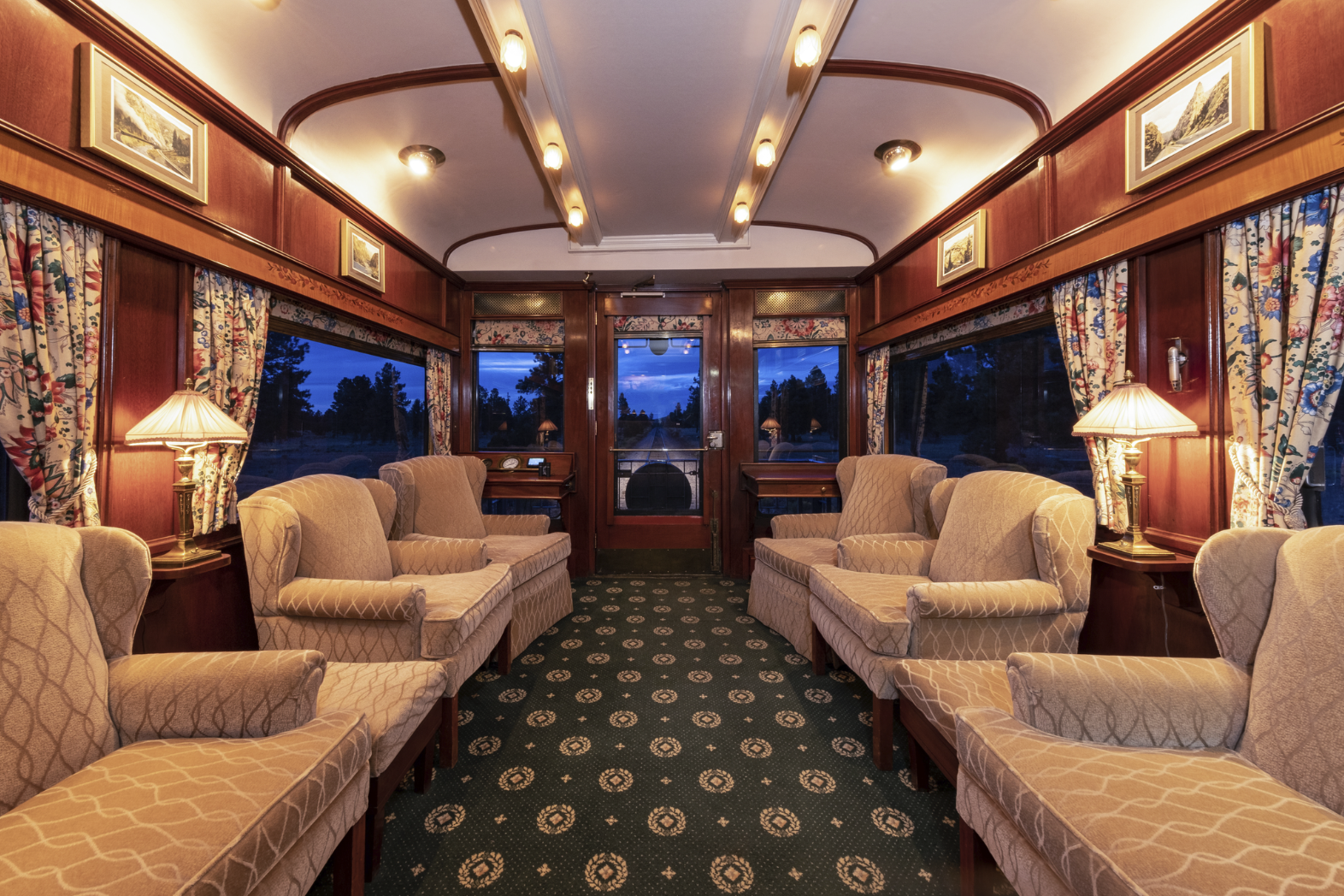 Seeing is Believing
There are three seating choices aboard the Grand Canyon Railway. For train aficionados, they all represent a unique collection of historical railway cars, fully refurbished to their original authenticity.
They range from standard cars with comfortable seats and wonderful views at the front of the train to the Luxury Parlor Cars decorated in Gilded Age glamour at the tail end. A new class of service, Luxury Dome Class, was introduced in 2012 that has proven very popular: the Fred Harvey Luxury Dome Car first entered service in 2012 and a second car, the Mary Colter, in April 2017. Both twin 85-foot-long refurbished cars, dating to 1955, seat 66 passengers.
Step up a short flight of stairs, slip into your reserved seat, and before you and behind you, overhead and side-to-side are unlimited vistas. Surrounded by nothing but a clear glass canopy and panoramic side windows, the world around you is on full display. From here, you will witness a view that will delight you for the next two and a half hours and spark memories that will last a lifetime.
Even as you depart the Williams station and hear the distant whistle calling from the cab, you'll see how the extra elevation creates an unparalleled, constantly changing viewing platform. As you scan the depot, turn your attention to the stores and shops that line Route 66 through the heart of Williams, then look past the engine to the track ahead. It will slowly dawn on you that this will not be an ordinary train ride.
It will be an extraordinary one.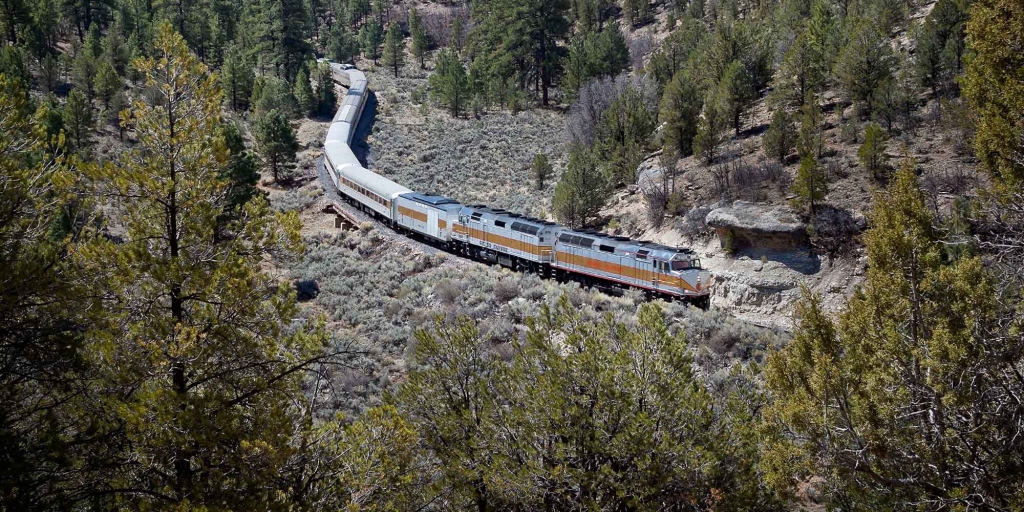 The steady motion of the train can be hypnotizing as you follow its 65-mile path up and over Arizona's 5,000-foot-high Colorado Plateau, sliding into long curves, wrapping around corners — while relishing a unique view of America.
Revealed from horizon to horizon, the sky connects to the land at every corner, bringing to mind the Native American concept of the Great Circle where directions, as well as seasons, sun, earth, air, and water are created in perfect balance.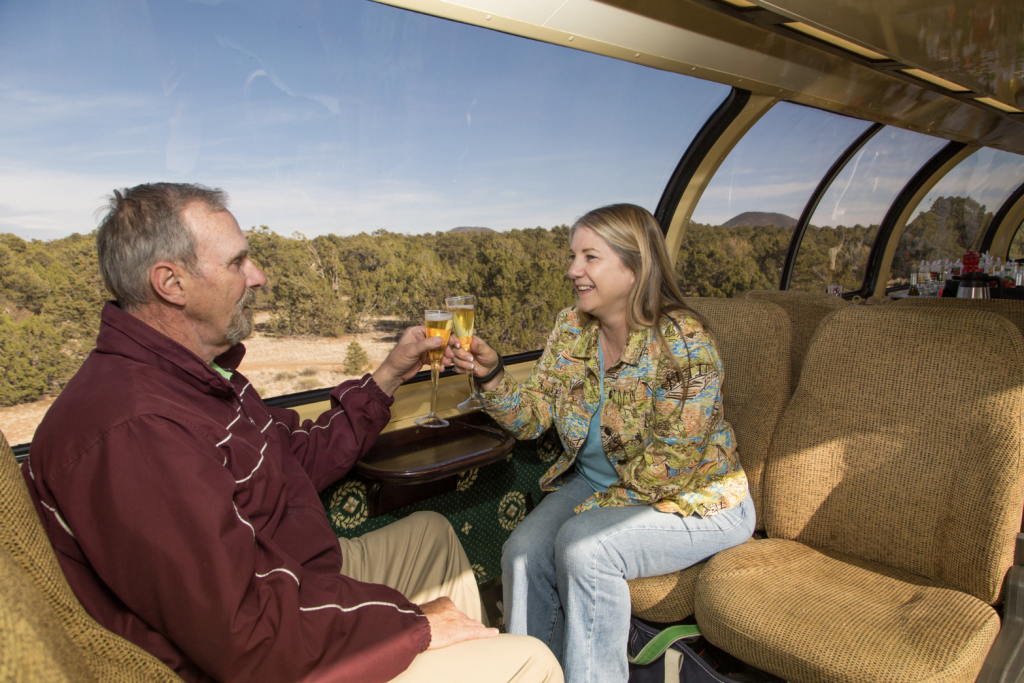 As a passenger in the Luxury Dome Car, you can fully explore the train. In the rear cars, parlor seats, brass lighting, and vintage photos reflect a bygone era of elegance. A nice bonus is a bartender who can pour anything from a soda to scotch as well as a scotch and soda. Also available is a wide selection of complimentary snacks, sweets, pastries, and hors d'oeuvres.
A celebratory complimentary sparkling wine toast salutes the the return trip to Williams.
Step to the rear where the view from the open-air platform is as pleasing as from the Luxury Dome Car, with the wide-open plains stretching east and west and the land behind you receding with every click of the wheels.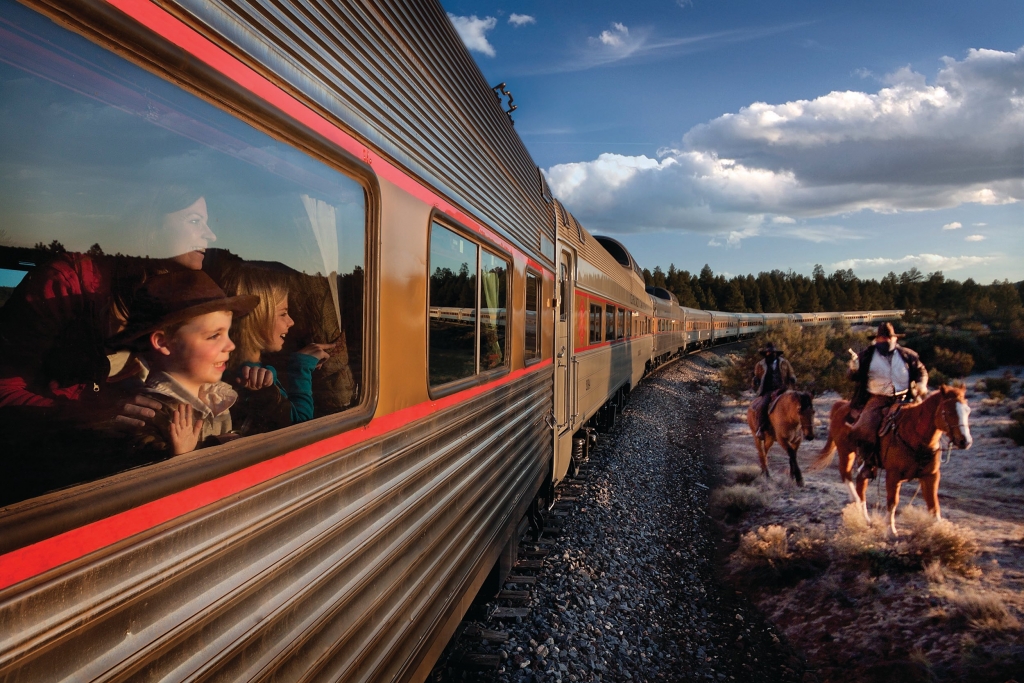 That's Entertainment!
Back in the Luxury Dome Car, views of red buttes, scrub brush, and the pinyon pines of the high desert appear. History can be seen at nearly every turn; when you enter Coconino Canyon and imagine the challenge workers faced to lay tracks here more than a century ago and when you see brittle telephone poles capped with glass insulators — a visible sign of cutting-edge communication, circa 1920.
One of the most enjoyable moments blends history with entertainment as a cowboy singer travels from car to car to serenade passengers with classic trail songs. Standards like "Cool Water," "Song of the Sierras," and "Twilight on the Trail" evoke images that are clearly connected to the western scenery outside your window.
As the train slows and you pull into the station at Grand Canyon Village, you may realize that only one other American experience rivals the journey you've just enjoyed.
The return trip.
How to Explore
There's no better way to make a grand trip grander than on the historic train to Grand Canyon. Travel more than 120 round-trip miles through beautiful northern Arizona. The Grand Canyon Railway has been departing daily from Williams, Ariz., since 1901. Spend a night in Williams next door to the train depot at the AAA Three Diamond Grand Canyon Railway Hotel. Just walking distance from quaint downtown Williams and Route 66, the modern hotel has a grand lobby, indoor pool and hot tub as well as Spenser's Pub with its handcrafted 19th-century bar. Packages with train travel and overnight stays in Grand Canyon National Park and Williams are available. For more information and reservations, visit thetrain.com or call 800-THE-TRAIN (843-8724).