What to Know Before You Hike the Grand Canyon
It's one of the best ways to experience this iconic national treasure
Almost 5 million visitors arrive at the Grand Canyon annually. For the hundreds of thousands of visitors who hike into the canyon each year, it's one of the most rewarding ways to experience this world wonder. It's also an ideal way to leave most of the visitors behind.
That said, preparation is paramount for a safe journey. As the National Park Service notes, "The difference between a great adventure in Grand Canyon and a trip to the hospital (or worse) is up to you."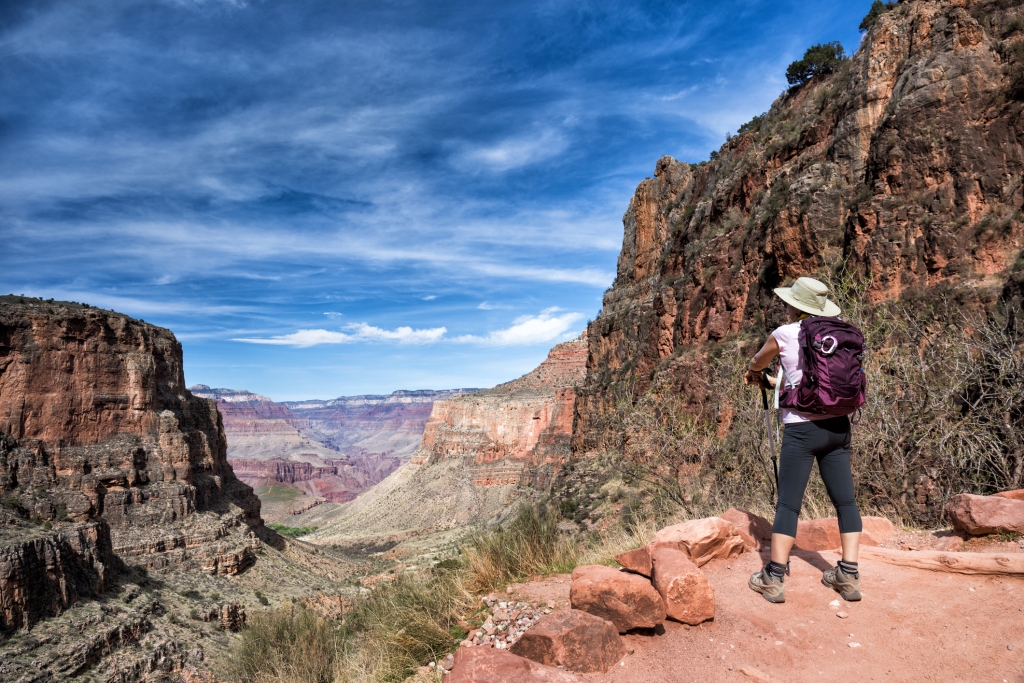 What you should pack depends on the season in which you're hiking, the length of your trip, and your destination. The National Park Service recommends these 10 essentials for summer, especially for hikes beyond the 1.5-mile rest house or Cedar Ridge.
Water and electrolyte drinks.
Food. Salty snacks are recommended for hikes lasting more than 30 minutes. For longer treks, plan to consume twice the amount of your usual daily intake.
First-aid kit with band-aids, ace wrap, antiseptic, moleskin, etc.
Map. While many trails are well marked, maps are helpful as backups.
Pack to carry the essentials.
Flashlight/spare batteries. These allow you to hike out during the cool of the evening.
Spray bottle. Fill with water to cool yourself down.
Hat/sunscreen to keep the sun off and protect your skin.
Whistle and/or signal mirror for emergency use.
Waterproof clothing such as a poncho or jacket. This is especially useful during monsoon season (mid-July to early September).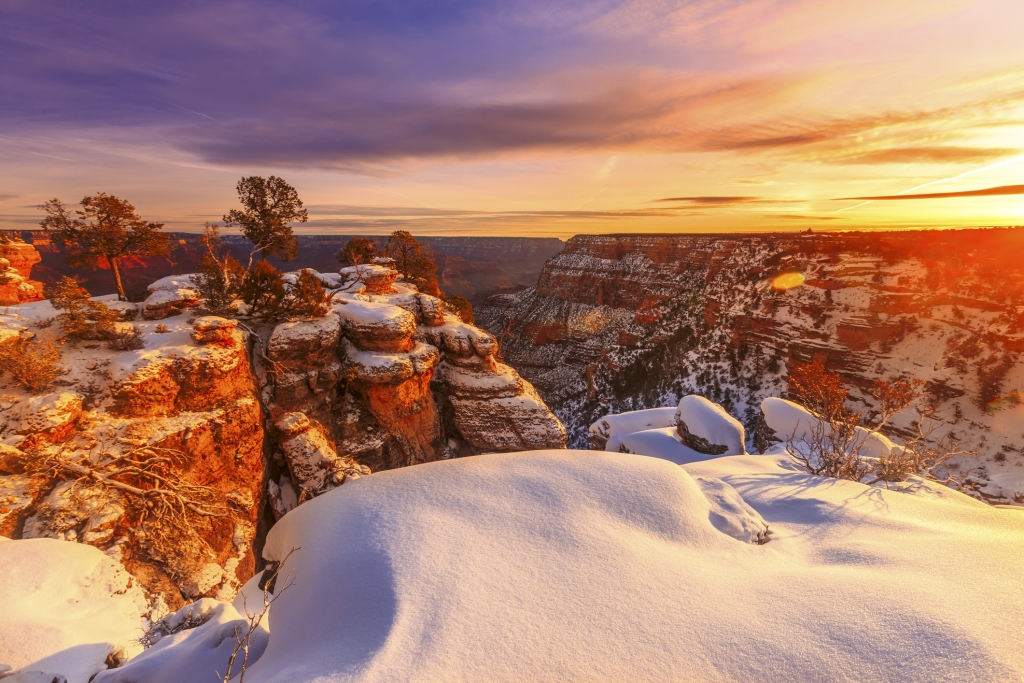 In winter, forget the spray bottle but be sure to take waterproof boots and warm socks; over-the-shoe traction devices for icy conditions; warm, waterproof clothing (plus a spare set in case you get wet); and hiking poles for icy trails.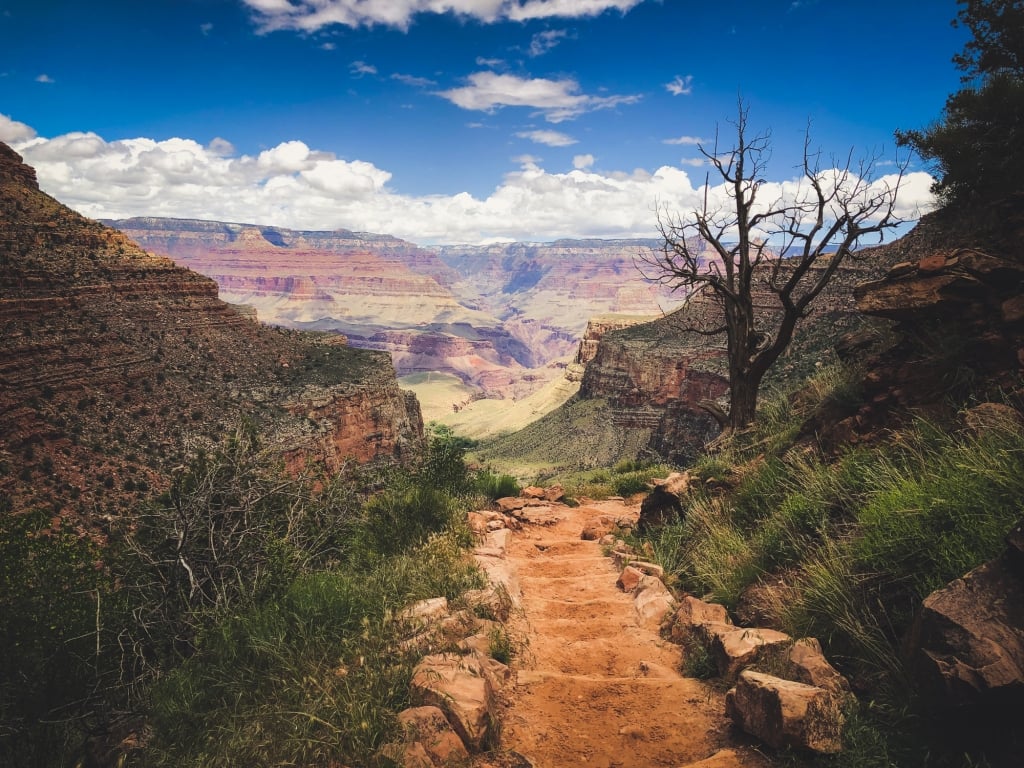 You needn't be a CrossFit fanatic to manage a canyon trek. But you should have a general degree of fitness, especially at elevations of 7,000 feet. The Bright Angel Trail, which drops from the South Rim's Historic Village, is not only well maintained but offers wonderful vistas and is easily accessible. A good choice for those who want to just dip under the rim is to go as far as the trail's first tunnel. It's not too steep, the views are great, and it's less than half a mile round trip.
Rest houses with seasonally available water and toilet facilities lie a mile and a half and 3 miles down the Bright Angel Trail. Either distance is a good option for a day hike. Hikers should check trailhead signs for trail hazards, water status, and updated conditions. The 9-mile round-trip trek between the rim and Indian Garden is a popular option if you're in very good shape and get an early start. Picnic tables among leafy foliage make it a pleasant lunch destination. It is not advisable to day-hike beyond this point.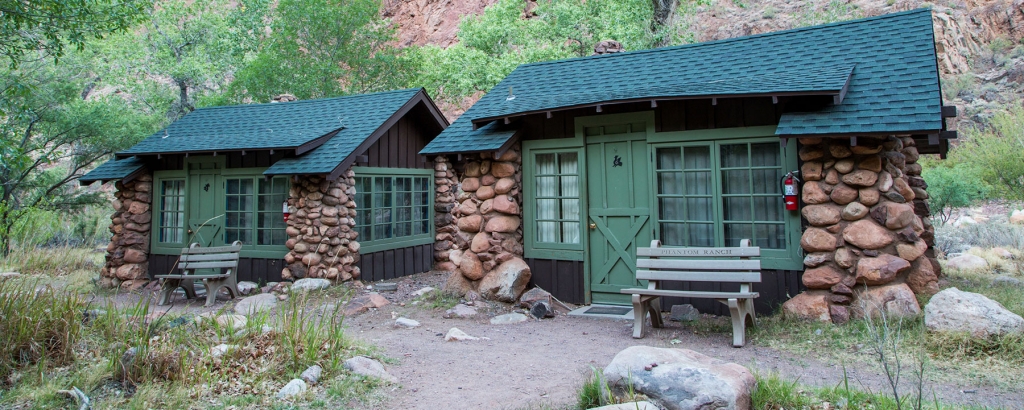 For an unforgettable trek to the canyon floor — and one that doesn't require hauling a ton of gear on your back — make reservations at historic Phantom Ranch. The rustic stone-and-wood cabins date to the 1920s and are the only below-rim lodging. Four dormitories sleep 10 each and are designated male and female; smaller cabins sleep four to 10. And all provide clean bedding and towels. There's even a canteen serving breakfast and dinner with hiking necessities, snacks, and beverages available for purchase. But reservations are required for food purchases at the canteen.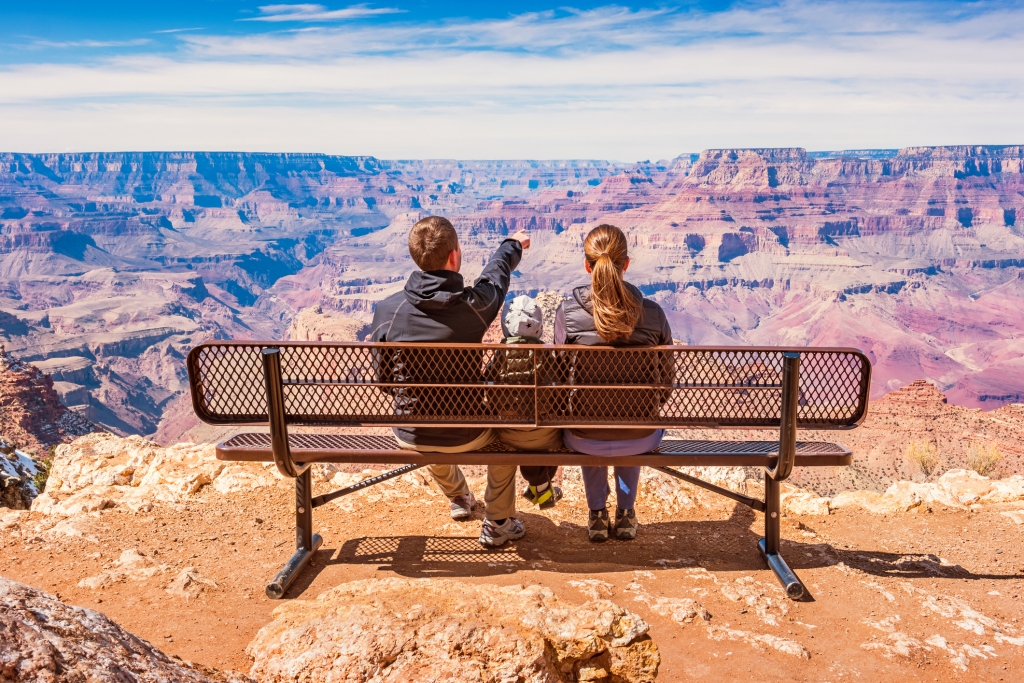 Some other basics to know before hiking the canyon:
Always have a solid plan. Don't forget to tell people where you are going and stay with that plan.
Don't hike alone.
Signage at trailheads include estimated hiking times to certain points. But it's easy to get seduced on the trail and go for just one more vista around the next bend. Don't lose sight of the fact you have to hike out.
Avoid hiking between 10:00 a.m. and 4:00 p.m. in summer, the hottest part of the day.
Drink to quench your thirst, but don't over-hydrate. Too much water can lead to hyponatremia, or "water intoxication," when the level of sodium in your blood is abnormally low.
Figure it'll take two to three times as long to climb up as it took to hike down.
Even if you plan to be out of the canyon by sunset, pack a headlamp or flashlight in case you're delayed and have to return after dark.Wear broken-in footwear. New boots can cost you a toenail or worse.
Temperatures rise as you descend into the canyon. Summer temperatures on the canyon's floor can exceed 115°F (with a heat index closer to 130°F in full sun) and 100°F just a few miles below the rim. Pack a bandana to dip in water and wrap around your neck or place on your head.
Uphill hikers have the right-of-way. So do mules, regardless of their direction. Move off the trail on the uphill side, keep still, and don't resume your hike until the last mule is at least 50 feet beyond you.
Consider using trekking poles. They'll make the hike easier on your joints. You can even rent them in the park at Canyon Village Marketplace.
Get specific trip-planning information from the rangers at the Backcountry Information Center.
For more information, visit grandcanyonlodges.com or call 888-297-2757.
For more travel experiences available from Xanterra Travel Collection® and its affiliated properties, visit xanterra.com/explore/.