Why Slovenia Is the One European Country You Need to Visit
Reveal this undiscovered gem at the crossroads of Europe's most iconic destinations
Certain landscapes appear on almost every world traveler's bucket list: a deserted beach fronting sapphire Mediterranean waters, medieval cities traversed by ancient rivers and dotted with street side cafes, highland meadows of vivid green framed by snow-capped alpine peaks, hillsides mantled in terraced grape arbors climbing towards a rustic winery. While globe trekkers may disagree about the particular destinations best suited for each of these vistas, I think it's safe to say that few would put Slovenia at the top of their list; this is a shame, because they should. Slovenia is all of those landscapes rolled up into one tiny country.
To understand what makes Slovenia so special, you first need to find it on a map. The country sits at the very top of the Adriatic, shoulder to shoulder with Italy and Croatia, its back to the Alps and the broad Hungarian steppe. As such, it's situated exactly at the crossroads of Europe's most iconic destinations: Austria's mountain villages, Italy's Venetian wine country, the Adriatic's sun-swept seacoast, and central Europe's distinguished Renaissance cities. Though Slovenia's total area is roughly equal to the state of Massachusetts, it manages to embody all of those settings in one country.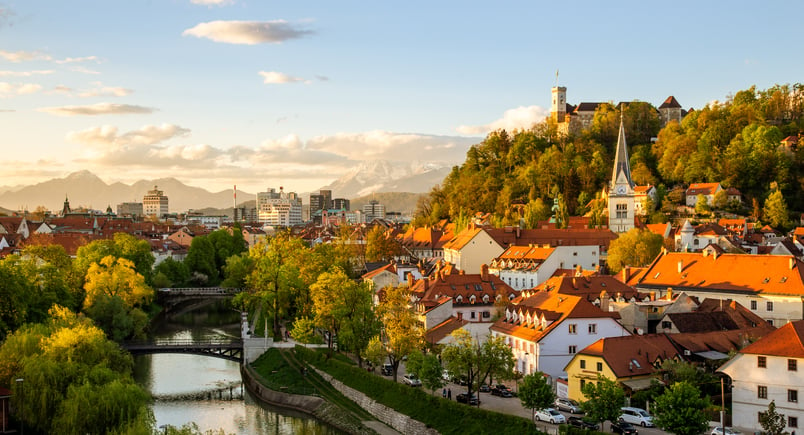 For most travelers, their first exposure to Slovenia's charms comes when they fly into Ljubljana, the national capital. Located in the heart of the country, the city proudly wears its many influences on its sleeve. With waves of construction in Roman, Venetian, Viennese, and French styles, its architecture is a beautiful melding of many traditions. Ljubljana is most often compared to Prague—and for good reason: the renowned architect Jože Plečnik, who designed parts of Prague Castle, created many of the city's bridges, prominent buildings, parks, and plazas. But perhaps that comparison doesn't do it justice: with restricted car traffic, a vibrant, perpetual street party of a café scene, and the graceful arc of the Ljubljana River carving a green-bordered path through the city, it has a magic all its own. It's no wonder the EU named it the "Green Capital" or Europe for 2016.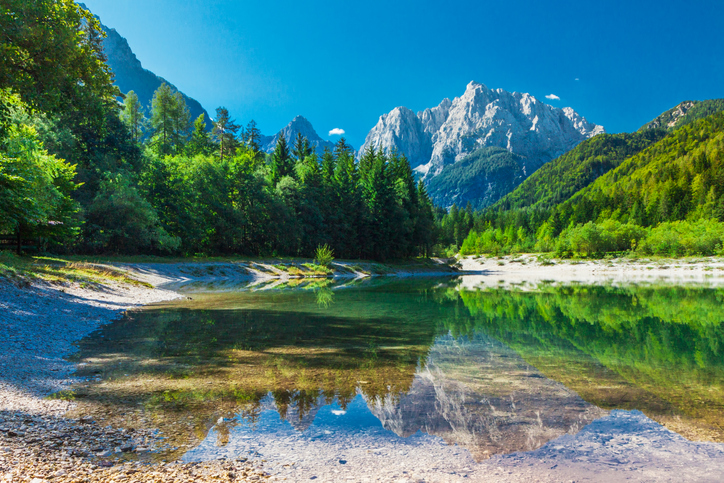 In northwestern Slovenia, Triglav National Park presents vistas of the Julian Alps: craggy peaks, pine forest, and fields of alpine flowers like Turk's cap lilies and gentian. Walkers here would be forgiven for thinking they were in Austria, which borders the park to the north. Strolling beside the glacial, blue-green Lake Bohinj—admiring views of snowcapped pinnacles and lush green meadows—it's incredible to think that this is within an hour's drive of Ljubljana. While in the region, don't miss out on the iconic Lake Bled, a serene body of water watched over by the towering orange-roofed Bled Castle and plied by traditional pletna boats.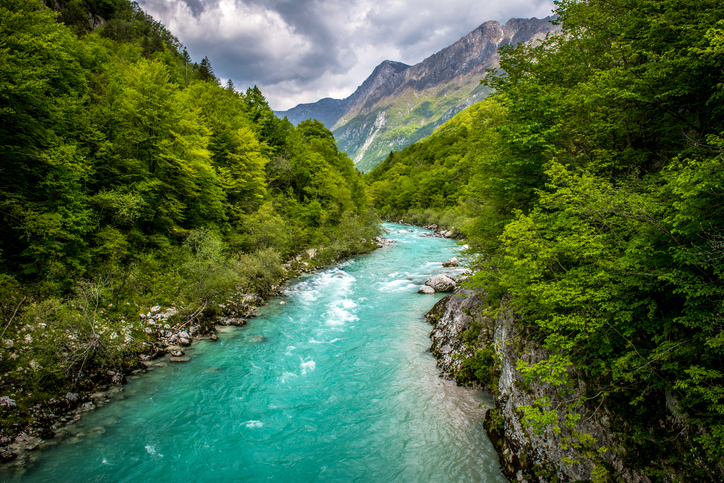 Western Slovenia, along the border with Italy, takes on a more Mediterranean character—thanks in part to the temperate breezes that follow the Soča River Valley up from the Adriatic. It's here, among the hills and orchards of the Goriska Brda region, that Slovenia is making an international name for itself in viticulture. Using ancient techniques—such as aging wine in large earthenware vessels lined with beeswax called qvevri—these vintners have been producing world-class Rebula, Pinot Grigio, Merlot, and Cabernet Franc. Try them for yourself during a stop by Klinec, a family-run vineyard in the hilltop town of Medana, whose terraced fields create a lovely backdrop you'd swear was straight out of Italy.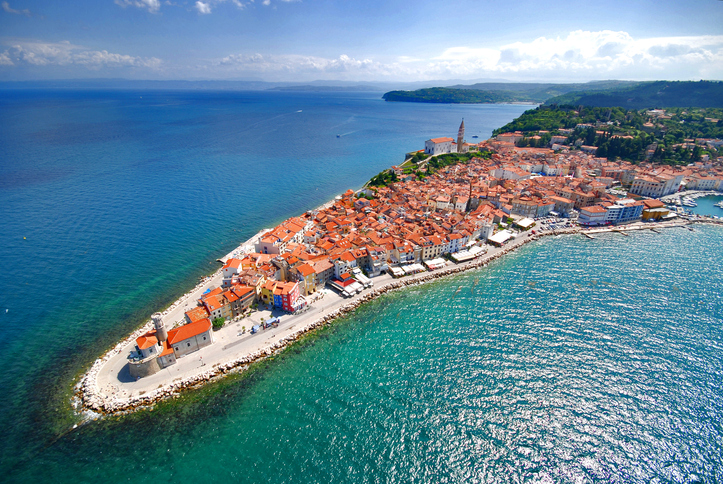 Round out your travels in Slovenia with a visit to Piran, a seaside town on the Adriatic coast that could be Venice's long lost younger sibling. In fact, the city was a former territory of the Venetian empire and boasts a freestanding bell tower that's an exact scale replica of the St. Mark's Campanile in Venice. With its neo-gothic alleyways, historic townhouses painted sherbet colors, quaint marina, and charming seaside restaurants, Piran has just the feel of an Italian fishing village. In fact, it's only missing one thing: the tourists.
If Piran is a jewel of the Adriatic coast, salt is the currency that made it sparkle. For centuries, Venetian traders made their fortunes on the Sečovlje salt flats, an otherworldly region (now a nature park) just a short drive from Piran. Here, workers still harvest the mineral in the traditional manner, surrounded by an eerie white landscape that hosts a unique mix of flora and fauna, such as white herons, and rare halophytic plants. Walking here, passing tranquil evaporation pools and stands of seagrass, it's easy to see why Slovenia is so special. Along with offering vistas similar to the best of Europe, it presents landscapes unlike anything you'll find anywhere else.
How to eXplore
Recently Slovenia has become one of Country Walkers' more popular destinations, and while on tour, guests enjoy the superb local cuisine, fine accommodations, and authentic cultural and natural encounters that make this country so special. For over 37 years, Country Walkers has provided active, immersive, and unforgettable travel experiences on five continents. Whether you choose to travel with Country Walkers' first-class guides in a small-group guided walking adventure or choose a private adventure with your closest friends and family, your itinerary will allow you to discover the very best that this beautiful country has to offer. View Country Walkers' current Slovenia itineraries and departure dates here.
If you'd rather see Slovenia while on the seat of a bike, VBT Bicycling and Walking Vacations offers a spectacular 10-day itinerary across Slovenia, Austria and Italy, where alpine splendor, pristine lakes such as Lake Bled and Worthesee Lake, and a tranquil mountain lifestyle converge. VBT is the value leader in active biking vacations and has been rated among the "World's Best Tour Operators" by the readers of Travel + Leisure for six years, and they offer over 55 deluxe, small group Bicycling, Walking and Barge & Sail vacations in 29 different countries and 10 U.S. States.
For more travel experiences available from the Xanterra Travel Collection® and its affiliated properties, visit xanterra.com/stories.