Working (and Living) on the Edge: Grand Canyon's Unusual Occupations
From mule wrangling to ranching on the canyon floor, specialty jobs require employees with the right stuff.
Whether working in air-conditioned comfort or spending their days in the great outdoors, employees of Grand Canyon National Park Lodges, work in a most extraordinary setting alongside one of the world's Seven Natural Wonders.
Granted it's not the perfect jobsite for everyone. From members of the leadership team to employees in restaurants, retail, lodging, and stables, each has to physically adapt to Grand Canyon's high desert elevation (approximately 7,000 feet at the South Rim) and mentally adjust to its remote location (roughly 225 miles north of Phoenix and 260 miles east of Las Vegas). While this suggests it could be a lonely existence, each year more than six million visitors arrive to experience Grand Canyon's unique and majestic environment. Considering it takes a significant number of people to staff a park that covers nearly 2,000 square miles, there are always new hires to become future friends.
As it turns out, the most tightly knit group of workers are out of sight of most guests — and most employees. These are the men and women who live and work within the depths of the Grand Canyon itself.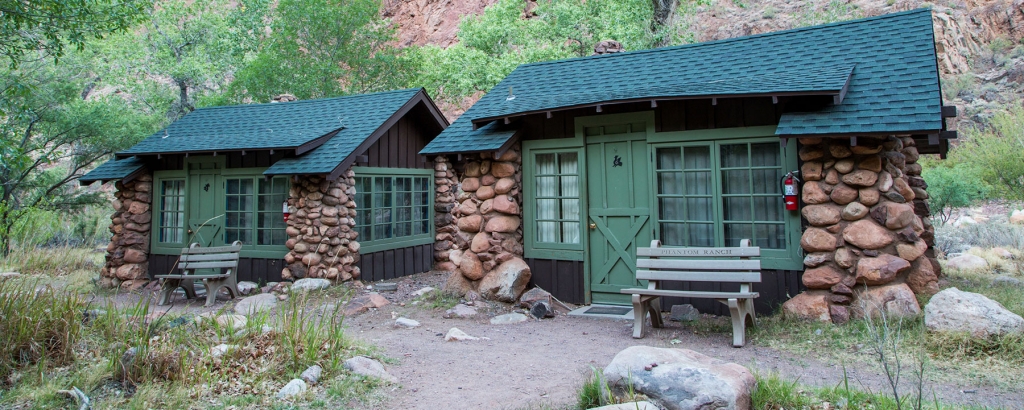 Getting to the Bottom of It: Phantom Ranch Maintenance and Historic Preservation Crew
One mile down, roughly three dozen employees – united by a shared sense of independence, ingenuity, and adventure – work at the bottom of the canyon as they tend to all of the services a resort requires: cooking, cleaning, housekeeping, entertainment, maintenance, laundry, and retail sales. These are the employees of Phantom Ranch, the rustic and historic lodging located on the floor of the Grand Canyon.
Two roles, in particular, require a special degree of flexibility and knowledge: facility craftsperson and historic preservation staff.
"The Phantom Ranch facility craftsperson has to take care of plumbing and electrical systems, the laundry, kitchen equipment, and refrigeration systems," says Michael Head, Assistant Director of Engineering for Grand Canyon National Park Lodges. "This craftsperson also maintains the fire protection and fire suppression systems and the HVAC systems for heating, ventilation, and cooling, which is no small task because on a typical summer day the temperatures can fluctuate from over 100 degrees at noon and drop to a cool 60 degrees in the evening. They'll also be responsible for the overall maintenance of structures, which means they'd have to be skilled in carpentry, painting, pest control, and roofing — and sometimes have to repair furniture."
This Jack or Jill of all trades also tends to the critically needed pumps and motorized equipment that keeps water flowing and engines running; cares for the grounds and landscaping and irrigation systems; oversees the compost and recycling programs; and assists the livery team in keeping the barns and corral area for the mules cleaned, organized, and maintained.
While a maintenance person at a typical resort has easy access to spare parts and supplies, it takes an elevated level of planning and ingenuity to keep everything in running order in this setting. Just as it does when it comes to preserving a historic structure like Phantom Ranch. That requires an additional set of unique skills based on a deep respect for its cultural value.
Just ask Joel Bredeson, who came to his role as the ranch's Head of Historic Preservation with a love of history, a degree in mechanical engineering, and years of experience in construction and carpentry. With the original buildings at Phantom Ranch approaching their centennial (they were built in 1925), Bredeson is well aware of the importance and challenges inherent with the job.
"You need to be able to fix anything and everything at any time, and since you live on site you are on call 24/7. To keep everything operating, you have to be able to think outside the box. You have to realize there is only one Phantom Ranch and it has been given to us to protect and preserve, and I believe the past is worth preserving for the future. So, you always have to remember these are historic landmarks and there is a great responsibility to retain the look, character, and integrity of all the buildings."
Like the facility craftsperson, Bredeson faces similar obstacles in performing his job duties.
"Nearly anywhere else I could just run to town and get repair parts," he explains. "But that's not possible at the bottom of Grand Canyon. First, I've got to call someone at the top of the canyon and then those parts have to be brought in from Flagstaff, which can take a couple of days. And when they reach the park, they have to be dispatched to the bottom by mule. So even when an emergency repair is necessary, you'll often have to make a temporary fix until you can bring in the right parts."
It's not just distance that presents a challenge. While the hot and dry environment is surprisingly beneficial for the buildings of Phantom Ranch (summer highs here frequently surpass 110 degrees), Bredeson notes the biggest issue is keeping guests cool in the summer, which most do by sitting in Phantom Creek (despite the air conditioning). Keeping them safe and comfortable is also paramount, along with maintaining the integrity of the facility. Bredeson accepts it all as part of an even greater benefit.
"People wait their whole life, travel from all over the world, and invest a lot of money to spend one day here," he notes. "And I get to live here! You can't put a price on that because there is really no place on earth like this."
The Park's Perks
By living and working together in what could be described as one of the world's most beautiful (and sometimes harsh) environments, employees working below the rim prove they're well above average. Considering the physical demands of getting there, the extreme heat of summer, the icy grasp of winter, the prolonged isolation, and the dependency on supplies hauled in via mule, why would anyone want to sign up to work on the canyon floor?
"One of the greatest rewards is that they're witness to iconic views day and night," says Head. "Plus, they're with an amazing group of co-workers and managers who are caretakers for one of the Seven Natural Wonders of the World."
While the Phantom Ranch community changes as visitors arrive and depart, the core constituency is a tight-knit group of self-starters; a team that shares a love of the outdoors and then shares that enthusiasm with guests from around the world. Working here also includes perks you'll find nowhere else on earth.
"When you live and work at Phantom Ranch, you have to see yourself on a mule ride, cooling off in the nearby creek, or resting on the banks of the Colorado River," Head explains. "You'll watch the sun rise and set over the rim of the canyon, stargaze each night, share stories around the campfire…Working here is a once-in-a-lifetime opportunity."
Yet for all its natural beauty and comfort relative to its setting, Phantom Ranch is remote and far removed from the modern conveniences of most towns and cities. Just getting there involves arriving via raft or hiking nearly eight miles down to the canyon floor and what can feel like an 80-mile hike heading up. One way to bypass that long march is catching a lift on a mule.

It's a Mule's Life: Wranglers, Farriers, and Trail Crew
John Berry has one of the most stable jobs in America. Literally. As Stable Manager at Grand Canyon, he continues a tradition that began well over a century ago when mules were first used as transportation. To this day, the iconic image of a mule train snaking along the rim or cautiously and methodically carrying people and supplies into the canyon is recognized around the world. Underlying the entire operation is an emphasis on safety and decades of experience.
"I've been around livestock my whole life and I've worked in pack stations for 25 summers," Berry explains. "So becoming the Stable Manager — some call it the Livery Manager — for the world-famous Grand Canyon mules is an honor. In fact, it's a job I dreamed about having when I was younger."
The dream of working at Grand Canyon may appeal to thousands of people, but few may possess the qualifications that lead to a full-time position at one of the nation's largest year-round livery operations. The positions include wranglers, farriers, and members of the trail crew — each of which bring special skills and training to their roles.
"Before a mule can go out, it has to have its shoes on," Berry explains. "So Grand Canyon's farrier is responsible for keeping all of the mules' feet shod; attaching and adjusting their protective shoes. But even when a mule is ready to go, it's not going anywhere until members of the trail crew have done their part."
"If you've ever hiked either the Bright Angel and South Kaibab trails, you know how steep they can be and how much physical effort it takes just to walk them. So, for the people responsible for maintaining those trails you can understand how demanding it can be as they haul in and replace and pack the dirt and maintain the trails so the hikers and mule teams can explore the canyon."
Which brings us to the wranglers, the employees who have the extraordinary responsibility to help dress out the mules and then guide visitors on rides into the canyon and around its rim.
"Of all our team members, wranglers are the ones that visitors will recognize," says Berry. "They're the people responsible for making sure everyone enjoys the trip, learning (the canyon's) history, seeing it from different perspectives, and doing it safely. Some guides will lead a two-hour ride along the rim, and a senior wrangler will lead a day trip plus two trips to Phantom Ranch at the floor of the canyon each week."
But in the end, they have the privilege of "what I think is the best part of my job: living and working at Grand Canyon and giving people from around the world the trip of a lifetime."
How to Apply
For more information or to view current job openings, please visit Xanterra Jobs.